Best known for couture wedding gowns, Galia Lahav is one of the major players in the wave of Israeli designers making a mark on the international bridal industry. (photo from Instagram)
With fashion accessible at our fingertips via e-commerce, shopping apps and social media, the past few years have seen the rise of emerging designers from around the world. Along the way, a number of Israeli designers have won favour with the international fashion crowd, particularly celebrities and their stylists.
"I always say that talent has no geographical boundaries. If your vision is strong, the quality of your work is high and you know how to work with international markets, then your way to success is quick," Israeli fashion blogger and Instagram influencer Roza Sinaysky told Israel21c.
Sinaysky, known on Instagram as @moodyroza, said she has seen a change in the Israeli fashion scene over the last two to three years, where more people are interested in fashion and willing to support young designers. The designers, she said, also are more aware of trends and the needs of the industry thanks to social media.
"The rise of social media made a huge difference in the fashion industry. For designers, it opened a lot of doors. When everyone can see your work, you never know who might reach out," said Sinaysky.
Over the past few years, Israeli designers have been approached by Kensington Palace, Beyoncé, Serena Williams, Lady Gaga and many others to create custom pieces.
"I think it's so great that Israel is recognized as a place of talents, not just technology. It makes me very proud to see local designers do so well abroad," said Sinaysky.
Below are eight Israeli fashion and accessory designers making their mark internationally.
Shahar Avnet
What do Beyoncé and Eurovision winner Netta Barzilai (who was just in Vancouver for a concert) have in common? They both wear Shahar Avnet. The young Israeli designer made headlines last year when her custom-made, nude-coloured tulle gown was worn by Beyoncé on stage during her world tour with Jay-Z.
Avnet also designed the multicoloured kimono famously worn by Barzilai on the cover of her hit song "Toy."
"My garments are for confident women who are fearless, intelligent and chic; women who are not afraid to be the centre of attention and making a statement," Avnet told Vogue Italy.
The Tel Aviv-based designer's tulle creations walk the line between art and fashion, often combining techniques such as drawing, embroidery and collage into a single dress.
Avnet graduated from Shenkar College of Engineering, Design and Art in 2016, receiving her first international exposure when her final project was chosen to represent the school at the International Catwalk during Graduate Fashion Week in London, England.
Avnet's bold colours and unusual, feminine silhouettes have caught the attention of celebrity stylists and magazines. Other celebrities who have worn Avnet's dresses include American actresses and singers Zendaya and Kelly Rowland, and members of the Israeli band A-WA.
Marei1998
Designer Maya Reik launched Marei1998 several seasons ago, almost immediately earning praise from the fashion world for her classic-modernist design sensibility – an unusually subdued approach for a designer her age (1998 refers to the year Reik was born).
Drawing upon Reik's love for European cities and vintage nostalgia, Marei1998 offers a twist on classic luxury, reviving traditional styles like the robe coat and wrap dress. The brand's claim to fame is its faux fur coats, which have become a celebrity-approved go-to for a sustainable statement. Last year, Marei1998's eco-fur was spotted on model Bella Hadid and actress Priyanka Chopra.
Marei1998 has presented its collection in Milan the past few seasons and has had several successful trunk shows with online retailer Moda Operandi, which says "the young Israeli is living proof that elegance doesn't come with age."
A by Anabelle
Anabelle Tsitsin, the 26-year-old designer behind celebrity-approved shoe brand A by Anabelle, drew upon her background in fine arts to launch a collection of luxury footwear in 2016 that features unexpected and playful embellishments like crystals, feathers and fur. All the shoes are made of Italian leather and fabrics in Parabiago, a town just outside Milan known for its history of footwear craftsmanship.
The brand's signature style features an architectural A-shaped heel, worn by celebrities like Victoria's Secret model Josephine Skriver and actresses Katharine McPhee and Logan Browning. In 2017, Halle Berry wore A by Anabelle's lace-up "starlette" shoes during an interview with Ellen DeGeneres on The Ellen Show.
Although based in Israel, the brand has started to make its rounds on the international style scene and social media thanks to influencers and fashion bloggers like Maja Malnar, Camila Carril and Cristina Musacchio.
Nili Lotan
Israeli-born, New York-based designer Nili Lotan launched her namesake brand in 2003. The label, which revolves around timeless slip dresses, simple cargo pants and elevated basics, is tomboy meets luxury, making it a go-to for model-off-duty style.
Though Nili Lotan has been a mainstay in Tribeca since the store opened in 2006, it has been pushed toward the spotlight in the last several years thanks to an ever-expanding list of celebrity followers, like Gigi Hadid, Rihanna, Jennifer Lawrence, Gwyneth Paltrow and Kaia Gerber. The brand has been referred to as Hadid's "wardrobe secret weapon" by Vogue, with frequent images of the model in Lotan's designs flooding Instagram.
Galia Lahav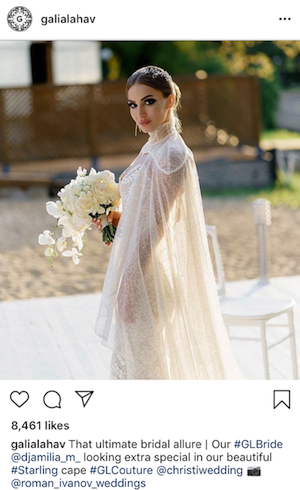 Best known for couture wedding gowns, Galia Lahav is one of the major players in the wave of Israeli designers making a mark on the international bridal industry.
Led by head designer Sharon Sever, the brand's embellished, forward-thinking designs have been worn by Beyoncé, Serena Williams, Ciara, Jennifer Lopez and many others – Lahav made headlines when Beyoncé chose a dress from the label's Victorian Affinity collection to renew her vows with husband Jay-Z. Another defining moment came when the designer created six custom-made, cream-coloured gowns for Williams' wedding party.
Dresses from Lahav's line of evening wear have made frequent red carpet appearances, with their plunging necklines and figure-hugging sequins adorning stars like model Shanina Shaik, actress Sarah Hyland and singers Ciara and Halsey.
Alon Livne
While Alon Livne opened his Soho, N.Y., atelier and ready-to-wear showroom in 2017, he has been designing under the label Alon Livne since he founded his studio in Tel Aviv in 2010.
With three separate lines – bridal, evening and ready-to-wear – Livne has gained a following of international brides, celebrities and lovers of bold, fearless fashion.
Lady Gaga is among the brand's A-list fans, having worn several custom gowns by Livne over the last years. His avant-garde, innovative designs have also been worn by Beyoncé, Nikki Minaj, Jennifer Lopez, Naomi Campbell and many others. One of his dresses made waves when it was worn by actor Johanna Mason in the film Mockingjay, part of the four-movie Hunger Games franchise.
Inbal Dror
Inbal Dror began designing wedding dresses in 2014, pioneering the style of the "red carpet bride," with her glamorous, figure-hugging styles that were new to the bridal industry at the time.
Since then, the brand has dressed high-profile brides around the world. In 2017, Dror was contacted by the royal family about possibly making the wedding dress for Meghan Markle's wedding to Prince Harry. Though the newly appointed Duchess of Sussex chose a different dress in the end, the famous inquiry solidified Dror as one of the biggest names in bridal.
Dror had previously dressed Beyoncé for the Grammys in 2016, proving that wedding dresses aren't just for brides.
Tuxe
When Meghan Markle wore a silk Boss bodysuit by Israeli designer Tuxe for an evening out with Prince Harry in February 2018, the style was immediately backordered until May.
Tuxe was founded by Tamar Daniel, who was born in Jerusalem, raised in London, and graduated from the Shenkar College in Ramat Gan. She founded her Philadelphia-based bodywear line in 2015, focusing on transforming the bodysuit, once a 1990s staple, into a chic, modern garment.
Her collection includes a range of bodysuits with names like Boss, CEO, Pacesetter, Game Changer and Expert, and has become particularly popular with professionals and religious communities, Daniel told Vogue in an interview. Prices range from about $80 for a simple sleeveless bodysuit to $463 for a cashmere turtleneck version.
"We've been royally approved!" the brand posted on Instagram after Markle was photographed wearing the bodysuit. "We absolutely love Meghan for all she has done for women's rights and are honoured to be worn by someone who encapsulates what we stand for as a brand. She uses her spotlight to be an inspiration and she definitely is to us!"
Israel21c is a nonprofit educational foundation with a mission to focus media and public attention on the 21st-century Israel that exists beyond the conflict. For more, or to donate, visit israel21c.org.