Marty Katzoff's The Light Within the Shell was created specifically for the Zack Gallery. (photo by Lauren Zbarsky)
The Light Within the Shell exhibit opened at the Zack Gallery on July 4. There is a sign beside the door: "This space is meant to be explored. Wander, sit, experience, enjoy." The show was created specifically for the gallery.
Created by artist Marty Katzoff, it doesn't involve traditional paintings hanging on the walls. Instead, it looks like a huge folding screen comprised of a dozen panels. They encircle the room, leaving only a narrow passageway along the walls. Each panel has a colourful abstract painting on its inside surface and a black and white image on its outside. A few small copper sculptures scattered outside the enclosed space complete the installation. Viewers are invited to sit down and meditate on the benches inside the vibrant shell of the exhibit or wander along the outer passageway.
Born in Rhode Island, Katzoff grew up playing sports. "I didn't do much art until my teenage years," he told the Independent. "I was going through difficult times in high school. My friend was an artist. She introduced me to the arts. I started making collages and found it therapeutic."
He never completed high school and worked a variety of jobs. "For the next 10 years, I worked in construction, in restaurants," he recalled. "And, all that time, I made art. I taught myself to paint. Then I went back to school and completed my BA at Bard College in New York."
For years, Katzoff worked as an artist in New York, created large murals in indoor and outdoor spaces. He graduated from the University of British Columbia's master of fine arts program in 2021.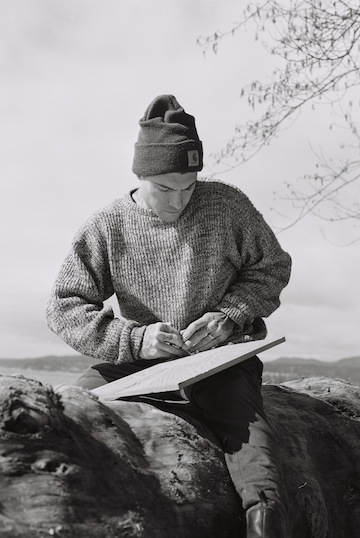 His artistic education vaguely coincided with his newly found fascination with kabbalah, specifically the Tanya, which he has been studying for the past few years. "Before, I had separate ideas about art and spirituality. Now, I'm exploring how Jewish learning is connected to my art, how mythology and tradition transform my spiritual life into my paintings," he said.
As a child, Katzoff went to a Jewish day school, but kabbalah offered him a different perspective. "I started with a book by Gershom Sholem. Before, I always painted with music in the background. This project is the first I've ever done without listening to music. I listened to kabbalah lectures online while I painted. I wanted to discover what I could create while listening to something complex and different … [by the late] Rabbi Yehoshua B. Gordon."
The idea for the current installation came to him when he was finishing his graduate program at UBC. "One of our family friends lives in Vancouver," Katzoff explained. "She is Jewish and she told me about the Zack Gallery. I submitted the proposal, and it was accepted. I wanted to create an installation specifically for the gallery, an interactive space, a visualization of light. This show took me 11 months to complete."
Katzoff sees this exhibit as an amalgam of dreams, painting, architecture, Jewish learning and personal symbolism. Vancouver artist Rosamunde Bordos's essay about the show, which is available in the gallery, expresses her visual composition in words.
Katzoff's media, the plywood panels, are all recycled materials. "I have a friend who works in art shipping," he said. "They ship large pieces in plywood crates. That was where the panels came from. Some of them have holes, so customs could look inside the crates to see the art. I painted around the holes. It was like a collaboration with someone else."
The size of the panels, some of them taller than a person, left him undaunted. "I always liked to work on a large scale," he said. "That's why I did murals in New York."
His oil paints are also recycled. "I use lots of recycled materials in my art," he said. "My grandmother was an artist. She gave me her entire collection of pigments for the oil paints I use. I'll probably work with her paints for the next decade."
In addition to painting, Katzoff also works as a printmaker. Currently, he teaches printmaking at UBC as a sessional instructor. "For me, printmaking provides the connection with literature, with storytelling and history," he said. "My brain seems to process that connection better while I'm drawing and etching. My drawings are illustrations, while my painting remains more like a therapeutic activity."
His abstract copper sculptures, several of which are included in the exhibit, grew organically out of his printmaking. "I make my sculptures reusing the copperplates from my prints," he said. "I have lots of copper plates. Copper was an important part of Judaism and, after I use the plates for prints, I want to share the metal, recycle it. I make sculptures from it. I also make bracelets and amulets. You can see the remains of the etching if you look closely."
To learn more, check out martinkatzoff.com. The Light Within the Shell is on display until Aug. 22.
Olga Livshin is a Vancouver freelance writer. She can be reached at [email protected].