One would be hard-pressed to find anyone involved in human rights around the world who has not heard of David Matas.
A Winnipeg-based lawyer, Matas has helped countless victims of human rights violations, and written or co-written numerous books on various atrocities in an endeavor to shed light on them and educate the general public about them. In his latest publication, he aims to explain why he has chosen the work that he has, in the hope of motivating others to get involved in human rights advocacy and create change. Why Did You Do That? The Autobiography of a Human Rights Advocate (Seraphim Editions, June 2015) is his first autobiography.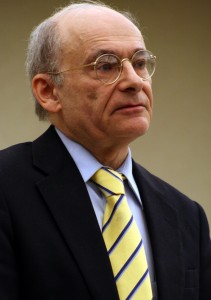 Matas was moved to pursue a career in refugee, immigration and international human rights law for a number of reasons.
"I started doing it because different people asked me to do it, including people at the law firm," he explained in an interview. "It's also something I'm interested in, because I'm interested in politics and human rights. So, I'd say, it was a coincidence of an opportunity to do the work and an interest in it that got me into it."
Matas had refugees from around the world coming through his doors every day, seeking help. "My immediate effort was to try to get them protection, but the ultimate solution to their problems was the ending of the human rights violations that caused them to flee," he said. "I felt trying to help them in some sort of systemic way, that I should be directed to that as well."
Around this time, Matas also ran as a candidate in the federal election for the Liberal party (in 1979, 1980 and 1984) and B'nai Brith Canada approached him, requesting that he chair the local BBC League for Human Rights, largely because of the profile he had developed through his candidacies.
"But, again," said Matas, "it's something that, once I got into it, struck a chord of response in me. I got interested in it, involved much more, given the opportunity, because of the resonance it had with me."
Also around that time, Kenneth Narvey – someone Matas knew from university – was scheduled for a speaking engagement in Manitoba on war-crime issues. Unsure if he would be able to make it, Narvey asked Matas if he would be willing to substitute for him, which Matas agreed to do. As it happened, Narvey ended up being able to attend the lecture, which gave him the opportunity to hear Matas speak and, Matas said, "He [Narvey] really liked it.
"At this time, Irwin Cotler had just become president of the Canadian Jewish Congress [CJC]. Irwin had appointed a chair for a war-crimes committee, as he wanted to do something about the issue himself, and the chair had resigned."
Narvey lobbied Cotler to have Matas appointed as chair, and Cotler did just that. "So, I got involved in that issue, too, again sort of by coincidence or circumstance," said Matas.
Another chance encounter was with Harry Schachter, a friend of Matas' who was involved with Amnesty International, which had been holding meetings throughout the country. Through Schachter, Matas became involved with Amnesty International, which fit well with everything else he was doing.
"The combination of these events, more or less all at the same time, is what really got me into human rights in a very systemic and wholehearted way," said Matas.
The Holocaust also influenced Matas' life path. "I, personally, wasn't affected by the Holocaust, my family wasn't," he said. "But, it just struck me. I thought, from an early age, that if the Axis rather than the Allied powers had won World War Two, I nor any other Jewish person would be alive today."
He explained, "Generally, what I've been trying to do is learn the lessons of the Holocaust and act on them, which I saw as protecting refugees, bringing war criminals to justice, combating hate speech and protesting human rights violations around the world wherever one may find them. So, I've been trying to act on those four fronts simultaneously throughout my career."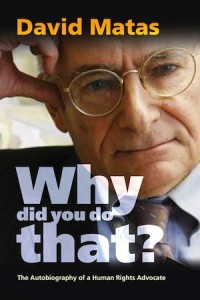 In his previous books, Matas has focused on specific atrocities or topics related to human rights – from hate speech, to trying to bring Nazi war criminals to justice, to humans rights violations, to refugees, to organ harvesting, and other topics. His autobiography was launched on June 9 at McNally Robinson Booksellers in Winnipeg.
"I go through the various issues I've been involved in and explain why I've been involved with them, issue by issue," said Matas about Why Did You Do That? "There's a chapter on refugees, so I explain what I did in terms of trying to help refugees. And then the rest is why people should help refugees, why everybody should do it. That's the way it's structured, chapter by chapter."
For Matas, this book is a way for him to answer the most frequent question he is asked, "Why are you doing this?"
"I would say the 20th century was a century of genocide," said Matas. "It wasn't just the Holocaust. There was one genocide after another. My hope is we will be better, but I don't think that it comes from hope. It comes from action. So, I'm trying to mobilize people to make things better, so we don't repeat in the 21st century the vast array of tragedies we saw."
In Matas' view, people tend to focus on the problems immediately in front of them.
"People will get really worked up if their neighbor doesn't mow their lawn, but they get less worked up if people in China are getting killed for their organs," he explained. "I think there's a real problem with distance, culture, language and geography, which really makes it difficult to mobilize concern for human rights violations – which is what the Jewish community faced with the Holocaust."
Why Did You Do That? The Autobiography of a Human Rights Advocate can be purchased online from Seraphim Editions, Amazon and various other booksellers online and in bookstores.
Rebeca Kuropatwa is a Winnipeg freelance writer.