In the last couple of months, three new Chanukah-themed picture books have been published. Most recently, out of Mahone Bay, N.S., is Hanukkah Lullaby. Out of New York City are Oskar and the Eight Blessings and The Parakeet Named Dreidel. All three are delightful.
Hanukkah Lullaby, written by Ruth Abrams and illustrated by Tia Mushka, is part of a series of books from Baby Lullaby Publishing. Until this holiday edition, the series – the books of which have various authors and illustrators – has focused only on places: in Canada, Newfoundland and Labrador, Nova Scotia, Prince Edward Island, Saskatchewan, and Alberta; in the United States, Hawaii and Alaska. Each book, intended for a 0-to-6-year-old audience, has a link to its own song and video. The music for Hanukkah Lullaby was composed by Keith Andrews and the video was made by Jonah Peveril, both of whom have contributed to other lullabies in the series.
Hanukkah Lullaby follows one family's celebration: enjoying the winter snow, making dreidels, lighting the chanukiyah, dreaming of the Maccabees, eating all the fried treats, spending time with Baba and Zayda, singing songs, telling the Chanukah story and having a lantern parade. The last two pages of the 18-page board book offer a very brief overview of the holiday's symbols and rituals, and a paragraph summarizing the story of the Maccabees. Abrams' lyric text and Mushka's bold, colorful artwork make for a lovely read.
***
Oskar and the Eight Blessings (Roaring Brook Press), written by husband-wife team Richard Simon and Tanya Simon and illustrated by Mark Siegel, is for somewhat older readers, ages 4-8.
It begins, "Oskar's mother and father believed in the power of blessings. So did Oskar … until the Night of Broken Glass. His parents put him on a ship to America. He had nothing but an address and a photo of a woman he didn't know – 'It's your Aunt Esther.' – and his father's last words to him: 'Oskar, even in bad times, people can be good. You have to look for the blessings.'"
When Oskar arrives in New York, it is the seventh day of Chanukah and he wants to reach his aunt's – 100 blocks away – before she lights the chanukiyah. Along Broadway Avenue, he encounters a woman feeding some pigeons, a newsstand vendor, Count Basie, boys having a snowball fight, First Lady Eleanor Roosevelt and a Christmas tree seller. He is treated with kindness at every turn, and is able to reciprocate on more than one occasion. Siegel's rich illustrations beautifully capture the darkness and the hope of Oskar's journey.
In the author's note that follows the story, Richard Simon writes about the inspiration for the book and its 1938 setting, including a bit about the real people the fictional Oskar meets along the way.
"Oskar has lost everything," he writes, "but from his despair he awakens to his freedom: the choice to see the good in his new world. I like to think that this orientation of optimism is the key to our survival, as individuals and as a species. It is how we, as American Jews, have made a place for ourselves beyond the shadow of darkness that tried to destroy us."
***
The playful and imaginative watercolor illustrations by Suzanne Raphael Berkson dovetail perfectly with Isaac Bashevis Singer's story in The Parakeet Named Dreidel (Farrar, Straus and Giroux).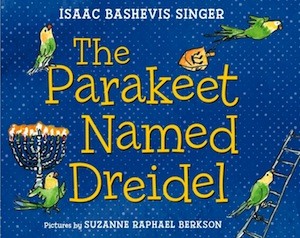 Intended for kids age 5 to 8, the title character loses his way. As David and his parents celebrate Chanukah, David notices the yellow-green bird outside their window. A cold Brooklyn night, they quickly move aside the chanukiyah (so the bird won't get burned by its candles), open the window and welcome it in. Initially frightened, the bird settles down, eats some millet, drinks some water, plays a little dreidel – and speaks some Yiddish! "Zeldele, geh schlofen." ("Zeldele, go to sleep.")
Despite posting notices around the neighborhood, no one claims the lost bird, who the family names Dreidel. The "photo" montage of Dreidel and David growing up together is wonderful. The bird really does become part of the family.
When, years later, David meets a woman named Zelda at college, it turns out that she is Dreidel's Zeldele. But lest readers worry that Dreidel leaves David's parents, the bird becomes part of a larger family when David and Zelda get married, their families come together, and the couple decides to start a family of their own.
All of three of these books are available from chapters.indigo.ca and their respective publishers in hard copy and electronic formats. Hanukkah Lullaby will be available at the Cherie Smith JCC Jewish Book Festival, Nov. 21-26, at the Jewish Community Centre of Greater Vancouver.