Rabbi Hanan Schlesinger, above, and Noor A'wad of Roots Palestinian-Israeli Network were the featured speakers at Vancouver School of Theology's Two Truths in One Heart; Two Peoples in One Land event May 27. (photo from friendsofroots.net)
Two Truths in One Heart; Two Peoples in One Land, a discussion on the Roots Palestinian-Israeli Network, with speakers Rabbi Hanan Schlesinger and Noor A'wad, took place on May 27 as part of the Religion and Thoughtful Activism conference organized by the Vancouver School of Theology (VST).
Formed in 2014 by peace activist Ali Abu Awwad and Schlesinger, Roots is a group based in the Gush Etzion settlements of the West Bank that believes the path towards peace between Palestinians and Israelis is through dialogue.
"In the West Bank, Jews and Arabs live completely separately with no connections at all," said Schlesinger, an Orthodox rabbi, passionate Zionist settler and director of international relations for Roots. Everything, he explained – from legal systems to health systems, transportation to universities – is separate. The separation is so complete that Palestinians are forbidden from entering Israeli areas and vice versa.
"If I were to say that there is no common ground between Jews and Palestinians, I would not be exaggerating, and I would not be speaking metaphorically. There is literally no common ground as far as geography goes. If there had been a place for a crazy Israeli Jew and a Palestinian who wanted to meet for coffee, there would have been no place to do it," he suggested.
At least, this was the case, he said, until seven years ago, when Roots was formed and when the Dignity Centre, a community centre where the two sides can meet with equality and mutual recognition, was created.
Schlesinger spoke of the great apprehension and trepidation each side has in coming together at such a place. Yet, often, at the end of an event at the centre, people come to Schlesinger, saying how wonderful the simple experience of conversing with a member of the other side is.
"People are amazed to discover that 'the other' is a lot like us. It's hard to fathom after all the stereotypes and all we on both sides have been taught," he said.
He likened the animosity each side has to a disease he called "the hubris of exclusivity," which infects people with a "virus" that makes them believe that their people are the only legitimate people in the region.
Charting his own journey, Schlesinger recounted that, during his first encounters with Palestinians, he began learning that there were not one but two stories in the land where he lives. "For 33 years, I lived in my story and the Palestinians didn't exist. They were part of the grey drab scenery that passes in the background of a movie but not part of the plot," he recalled.
He spoke of his initial distrust of Palestinians and his profound reluctance to meet them – a distrust and reluctance shared by his Palestinian interlocutors during their first meetings. Implicit, too, in the unwillingness to meet was the fear that each side had of the other, Schlesinger said.
Noor A'wad, a licensed Palestinian tour guide based in Bethlehem, where he takes English speakers on geopolitical tours, spoke of his family's long history in the land.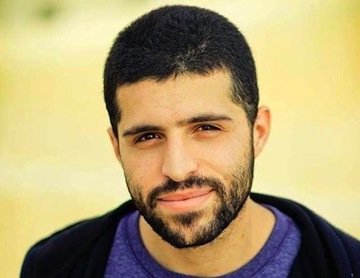 "I remember growing up during the Second Intifada – some of my family members were killed, others arrested – realizing that this is not a normal life and asking myself why am I living this abnormal life under occupation? The simple answer to the question is, because I am a Palestinian," A'wad said.
He considered leaving the area, but that urge was outweighed by a sense of responsibility and a sense that there was no other option but to stay in order to best serve his people. Ultimately, he came to learn about nonviolent solutions to conflict.
A'wad described his change of heart upon getting involved with Roots: "When Rabbi Hanan spoke about his identity as a Jew and a settler, these are very loaded words and terminology that is connected to the conflict. For him, I was able to see how beautiful this terminology is because it is part of his identity.
For me, the same terminology is connected to the suffering my people have."
For A'wad, as with Schlesinger, the acts of sitting and listening to the other were enormously challenging. Nonetheless, each persevered and, in the process, they discovered a partner in dialogue and perhaps the most effective way of understanding the humanity of the other – finding mutual empathy and thereby creating a means to achieve peace.
"What I discovered in Roots is the foundation for any peace process," said A'wad.
The event was organized by Rabbi Laura Duhan-Kaplan, VST's director of inter-religious studies. "Our students – most but not all are Christian – are very interested in news about Israel and Palestine. They see Israel as their beloved Holy Land. So, we wanted to introduce them to one of the many NGOs there doing collaborative peace-building work," she told the Independent.
"I've been a supporter of Roots for some years now. Rabbi Schlesinger is a colleague and friend from Clal's Rabbis Without Borders fellowship program. Still, this event would not have happened without the help of Quebec psychotherapist Colleen MacDougall, another Roots supporter," she added.
For more information on Roots, visit friendsofroots.net.
Sam Margolis has written for the Globe and Mail, the National Post, UPI and MSNBC.