A recently retired rabbi who was born and raised in Vancouver is offering an insider's look at life as a congregational leader.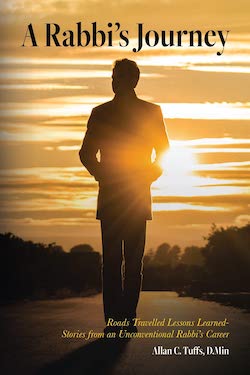 Rabbi Allan Tuffs, who now lives part-time in south Florida and in the Raleigh-Durham area of North Carolina, has published A Rabbi's Journey: Roads Traveled Lessons Learned – Stories from an Unconventional Rabbi's Career. The 54 bite-sized chapters (coincidentally, he notes, the same number as parshas in the Torah) range from touching and hilarious to insightful and tragic.
Tuffs was born in Vancouver – he's 10 days older than the state of Israel – and his home life was tough. His mom had a mental illness and his largely absent father had alcoholism. He and his sister would end up in the foster system.
The bookish, thoughtful Allan devoured everything he could read about Israel (among other topics) and, when he was invited to join the Labour-Zionist youth group Habonim, his life changed and everything else is as result of that connection.
"Habonim was kind of like a family to me, it really was," he told the Independent in a telephone interview from North Carolina. "The people were warm and inviting and I was looking for my place in the Jewish community."
Being the product of an intermarriage – "My father was not Jewish, my mother was," he said – made the young Allan feel like an outsider.
"Intermarriage was still somewhat rare in those days," he said. "I did not have a real religious background. I guess I was spiritual. I was very proud of my Jewish heritage and Habonim was very Jewish, very Israel-oriented, and it had a deep sense of purpose. It was kibbutz-oriented and there was this idea that the Jewish people had a role in the world, to repair the world, so to speak. That appealed to my youthful idealism.
"We had meetings almost weekly," he added. "Here we were, these young kids.… I don't really know if we understood what we were talking about, but we studied some of the great early socialist Zionist thinkers."
In addition to their interest in Israel, social justice causes closer to home also drove the Habonimniks' activism.
"We were pretty uniformly against the war in Vietnam," he said. "We were quite disturbed by the racial injustices happening in the United States and also we were involved in fighting for Indigenous peoples' rights in Canada. There was this sense that we are going to make the world a better place because we are Jews, because we have this ideology, because we are cognizant of the whole history of being a minority, being persecuted."
In 1969, Tuffs headed to Israel and lived for two years at Kibbutz Menara, almost flush against the Lebanese border (and, coincidentally, now part of Vancouver's partnership region in Israel). It was during the War of Attrition and the reality of the conflict was intense. Concentric rows of barbed wire were interspersed with landmines and German shepherd dogs patrolled the perimeter of the kibbutz.
While socialism, not Judaism, was the religion of the kibbutzniks, Tuffs notes in his book that a fortuitous meeting in Jerusalem changed the young man's path again. Working in the holy city to earn a plane ticket home, he encountered an Orthodox rabbi from Seattle, with whom he began studying Budokan karate and Talmud. Among other things, the mix of eastern and western influences would follow Tuffs through his life. He integrates contemplative and meditative practices into his Judaism and practises yoga.
Returning to North America – and Habonim – Tuffs worked as a counselor at the movement's camps in Pennsylvania and Washington, D.C.-adjacent Maryland. While in the D.C. suburbs, he started teaching Hebrew at a Conservative synagogue. He was hired for his language skills but the gaping holes in his Jewish knowledge – he never had a bar mitzvah – led his employer to suggest taking a few courses at Baltimore Hebrew College. This was the beginning of "a lifelong love of Jewish learning," he writes.
Now in his mid-20s, he still wasn't sure what to do.
"I was scholarly, but I would never be a scholar – too solitary," he writes. "I was interested in psychology, but the thought of listening to people's problems five days a week gave me a headache. I'm something of a 'ham' but would never be an actor. I'm a do-gooder – hardly a way to make a living.… What profession would allow me to do a little of all these things?"
Turns out the rabbinate fit quite nicely for 40 years. While a child of intermarriage with no early Jewish education might not seem a top candidate for the clergy, fate intervened again. Tuffs' Hebrew language skills got him a job running a Conservative synagogue youth group in Maryland on the understanding that he would become shomer Shabbat and keep kosher. The job, in fact, put him under the wing of the rabbi and gave him more experience.
"This opportunity amounted to a rabbinic internship," he writes.
Tuffs spent two years learning the ropes of the rabbinate. He began leading Shabbat services at a local nursing home. In 1977, he entered Hebrew Union College – Jewish Institute of Religion, spending the first year on the Jerusalem campus and four more at the institute's New York centre.
He experienced "imposter syndrome," partly because he had only one Jewish parent. But, he concluded, "with such a high frequency of intermarriage these days, who better than a rabbi of mixed parentage to welcome others like himself or herself into the Jewish fold? Suddenly, my rabbinate had renewed significance and purpose."
In his book, Tuffs reflects the tumultuous and historic times he has lived through. After receiving his ordination, his first convention of the Reform movement's Central Conference of American Rabbis, in 1983, saw the historic decision to recognize patrilineal descent.
Over the next 40 years, as he shares, he navigated synagogue politics – some comedic, some sad, including a corrupt sisterhood president and an authoritarian, bullying board president. He discusses his decision to officiate at same-sex weddings, his activism on behalf of persecuted Christians in the Middle East, and his congregation's support of orphans in Haiti.
The tragic collapse of a condominium building in Surfside, Fla., in 2021, hit Tuffs close to home. A young couple whose marriage he had presided at just weeks earlier were killed in the disaster.
The hurricane that devastated parts of Florida and other states in 2005 ravaged his temple. The silver lining was that Tuffs was able to be part of a rebuilding project that made the sanctuary more welcoming, removing the elevated bimah that instilled "an air of un-approachability" for the rabbi and cantor.
Perhaps because he came to the Reform rabbinate with some Conservative movement experience, Tuffs considers himself on the traditional side of Reform. He wears a kippa and dons a tallit when praying, something that was unusual in some American Reform congregations when he started out.
"I embraced the growing trend in the movement toward reintegrating older, discarded ritual practices into religious life," he writes. "At the same time, I was sold on the Reform idea of personal autonomy in matters of ritual practice."
He would serve at congregations in Wisconsin and Pennsylvania before spending 25 years at Temple Beth El, in Hollywood, Fla., from which he retired a year ago.
Fate almost brought Tuffs back to Canada before he ever made it to Florida. Desperate to escape the Wisconsin winters, he was invited to consider a position at a synagogue in Ottawa. His mind was made up for him when a congregant enthusiastically offered: "Rabbi, you'll be able to skate to work on the Rideau Canal four months a year."
In addition to all else, Tuffs obtained a doctorate in ministry, for which he wrote a dissertation about masculine spirituality, which was published as a book. He was a rabbinic fellow at the Shalom Hartman Institute in Jerusalem for five years and studied at the Institute for Jewish Spirituality.
Reflecting back on his life, Tuffs can't recall precisely where or how he first connected with Habonim. Everything that came after, though, can be traced back to that early Vancouver connection.
Tuffs' book is available in ebook format on Amazon, though it is currently not available to order in Canada as a hardcopy.