Washington Post columnist Richard Cohen came under a barrage of criticism in 2006 for writing that Israel was a mistake. Almost a decade after the controversy, he has come back with Israel: Is It Good for the Jews? (Simon & Schuster, 2014), in which he acknowledges that "mistake" may have been the wrong word and explains what he intended to say.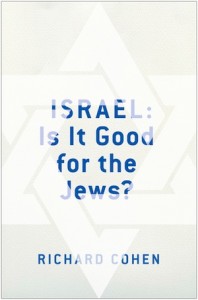 Cohen admits that he could not think of another word to reflect the missteps in Israel's history. He believes that early Zionists were mistaken to think the creation of a Jewish homeland in Palestine was the answer to antisemitism. Also, Israel in its 67 years has made mistakes; for example, he believes it was a blunder not to banish all Palestinians in 1948, and that it was a huge error to become an occupying power after 1967.
Those are hot topics to debate, especially after the recent election in Israel. But how are they related to the provocative question posed by the title? Cohen never makes a connection. He pays little attention to contemporary Israel and its relationship to Jews around the world. The title does not reflect the book that he wrote.
A provocative book title may be good for promotion and sales. It's disappointing for readers who are familiar with his reputation and expect more from his book. Cohen is a syndicated columnist who has received awards for his investigative reporting. Israel: Is It Good for the Jews? was nominated for a Jewish Book Council award.
So, let's ignore the title and look at the book for what it is. Cohen has written a brief history of antisemitism leading up to the creation of the state, an account of the early days of Israel and a quixotic account of some current events. He includes an 11-page index of books about Israel and the Jewish world that provide the anecdotes and profiles for his work.
However, even here, Cohen stumbles. With a deft pen, he fills the page with clever turns of phrases but, at times, his comments seem simply glib. His sweeping statements do not always make sense. He occasionally drifts sideways, making it difficult to follow what he is saying as he weaves his way through history.
At the outset, he makes it clear that he is not questioning Israel's right to exist when he voices criticism of the country. He offers his credentials as a staunch supporter of Israel who loves and admires the country. He then begins his journey through the vitriolic world of antisemitism, paying special attention to leading figures who are not normally considered to be antisemites, and to the diabolical attacks against Jews in Europe that stretched far beyond Nazi Germany.
No one will challenge Cohen when he says that those who thought a Jewish homeland would end antisemitism were wrong. Creating a nation of Jews in the midst of Arab Muslim countries has produced a century of warfare and terrorism. Hatred of the Jews persists. He provides ample evidence that shows how the antisemitism of medieval and 20th-century Europe, with its pogroms and death camps, has morphed into aggressive anti-Zionism, spreading like an unruly virus throughout the Arab Muslim countries.
Cohen also shows how mistaken early Zionists were when they assumed that the Arab Middle East would politely make way for European Jews.
He writes that the Zionist dreamers meant no harm to the Arab residents. They intended to bring a European way of life to their new homeland. They sometimes thought, innocently, that the new country would benefit the Arabs as well as the Jews. Cohen says they were mistaken. But, as he notes, Palestinian resentment of Jewish immigration has been vocal and often violent since the 1930s.
Despite the harsh reception, the early immigrants came with their European morals. Ethnic cleansing and massive population shifts were common in other countries at that time, but founding father David Ben-Gurion and others refused to accept the expulsion of all Palestinians. The Palestinians became "collateral damage" to the fight for a new country. Cohen contends that the harm done to Palestinians was necessary, if the state was to be built, and could have been far worse.
He refers to the expulsion of 14 million ethnic Germans from their homes in countries outside Germany. The world shrugged as they were sent back to their ancestral homeland. The transfers were uncontroversial government policy in several European countries at that time. Similarly, in India and in Russia. He maintains that Israel could have done something similar.
Cohen links the decision to leave most Palestinians in their homes inside the country to the current situation, where Israel is now "two nations in one land." He says that the occupation of the West Bank territories has further weakened the country. The occupation is "lighting the slow-burning demographic fuse that ensures that Jews will not be the majority in the Jewish homeland."
He is extremely pessimistic about the country's future. "To say Israel should survive is to accept ethnic cleansing," he writes with a tone of despair.
Viewing the country from a left-wing perspective, Cohen contends that Israel has lost its purpose. The withering Jewish populations in Europe and the Islamic world have diminished the necessity of a safe haven for Jews. Meanwhile, Jews in North America are increasingly assimilated or indifferent to the country.
Israel has also lost its moral compass and "cannot distinguish the bell of reasonable criticism from the bell of hateful antisemitism," he writes.
Cohen predicts things will only get "worse" for Israel. War or the constant threat of war will degrade Jewish Israel; secular Jews will leave Israel. The country – a land for a hated people and a despised religion – will become a gated community in the Arabian Desert. Time is not Israel's ally. Echoing Israeli journalist Ari Shavit, Cohen believes that, sooner or later, the Jews will run out of miracles.
Robert Matas, a Vancouver-based writer, is a former journalist with the Globe and Mail. This review was originally published on the Isaac Waldman Jewish Public Library website and is reprinted here with permission. To reserve this book or any other, call 604-257-5181 or email [email protected]. To view the catalogue, visit jccgv.com and click on Isaac Waldman library.