To help readers remember what they learn, Hilarious Hebrew uses silly sentences and illustrations. (all images from Hilarious Hebrew)
"The poor monkey has a cough." "If you're feeling sleepy, let the lights dim, yawn and let your imagination run free."
Through such silly sentences, readers of Hilarious Hebrew: The Fun and Fast Way to Learn the Language (Pitango Publishing) learn that, in Hebrew, the word for monkey is kof (pronounced similarly to cough) and that imagination is dim'yon (pronounced dim, yawn). If the context of the sentences isn't enough, the illustrations should ensure you remember.
"The method in Hilarious Hebrew is aimed at teaching vocabulary rather than whole sentences because the whole point of it is to teach a Hebrew word in the context of a sentence in English that would convey the pronunciation and the meaning of the new word (in Hebrew) through a familiar, easy context (in English)," explained Hebrew teacher Yael Breuer, who co-authored the book with musician Eyal Shavit.
The writing duo is continually coming up with new teaching phrases, which they often post on the book's Facebook page, Instagram and Twitter accounts, said Breuer.
"I've used the method over the years with my Hebrew students and classes and knew that the method worked well – the words stuck in the students' minds! – and that it added an element of fun to the lessons."
And her testing ground has been extensive. The longtime teacher has worked with a wide variety of students: "people with family members in Israel, people who planned to visit Israel, partners of Israelis who want to learn some Hebrew, people converting to Judaism, a vicar, nuns – a real interesting mix," she said.
About the book's origins, Breuer said she shared a list of 20 to 30 sentences that she used regularly in teaching with Shavit, who is also an Israeli expat living in Brighton, England.
"Eyal loved the idea so much and started making up new sentences and texting them to me to make me laugh. I started reciprocating with new sentences that I would make up and, for awhile, we were just making up sentences for our own amusement. A few months down the line, however, when I realized that there were about 300 sentences that taught a variety of Hebrew words from various fields and at all levels, I suggested to Eyal that we share the resource – and that's how the idea of the book came about.
"It took us about a year from conception to publication," she continued. "We did not approach a publisher, as we knew how we wanted the book to look and feel. It was a long and rather hard process at times, and we would regularly spend hours rewriting one sentence so that it taught the Hebrew word in the best possible way. We also had to liaise with designers, find the right illustrator, choose the right printers and make many decisions, but we completed the process, are getting fantastic feedback and are very pleased with the result!"
An important part of the book's appeal is the drawings by cartoonist, writer and illustrator Aubrey Smith, who has contributed his art to several books and also has written How to Build a Robot with Your Dad and Screw It, both published by Michael O'Mara Books.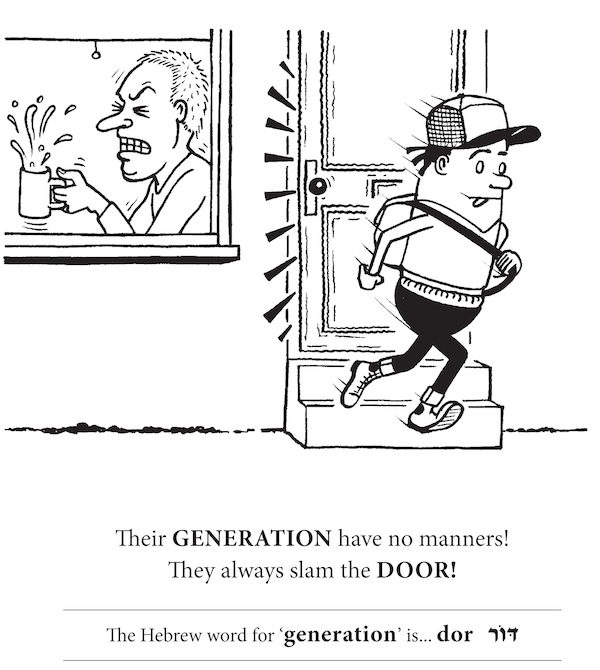 In addition to teaching Modern Hebrew, Breuer writes for the Jewish Chronicle; she also has had her articles on British culture published in Israeli newspapers Haaretz and Maariv. From Rehovot, Breuer moved to Brighton 27 years ago, she said. "My husband, David, is English and, although he is originally from London, he already lived in Brighton when I met him."
Shavit, who is from Kibbutz Kfar Szold in northern Israel, has been in Brighton for nine years. "He was working elsewhere in the U.K. but someone recommended Brighton as a vibrant and arty place where he could pursue his music career, so he came here and stayed," said Breuer. "He studied music in Brighton and has been making a living as a musician (plays the guitar and sings) ever since."
The two friends met fellow Brightoner Smith, who is English, "by pure chance through my neighbor, Dave," explained Breuer. "As soon as we saw his wonderful, humorous style, we knew that he was the one. Aubrey has never had a connection to Judaism or Hebrew but, through illustrating the book, he himself learned some Hebrew words and would sometimes use them in his emails to us, which was another proof that the method works!"
The Jewish community in Brighton is a few thousand strong, said Breuer, with "four active synagogues – two Orthodox, a Reform and a Progressive, and a Chabad branch, too. There is a small community of a few dozen Israelis but it is a vibrant one – we meet regularly in a pub in Brighton, celebrate festivals together and keep in touch. Many of the Israelis here and their English-speaking partners or children have been our 'guinea pigs' when writing the book and their feedback helped us tremendously."
Hilarious Hebrew is available at hilarioushebrew.com, some bookshops and gift stores and also on Amazon.