Itay Exlroad as Dancer Soldier. (photo by Giora Bejach, Courtesy Sony Pictures Classics)
An audacious work of art that melds raw emotion and absurdist allegory into a blistering assessment of contemporary Israel, Samuel Maoz's Foxtrot deserves to be seen and demands to be discussed.
Winner of the Silver Lion at the Venice Film Festival – where Maoz's taut debut, Lebanon, won the Golden Lion in 2009 – and eight Ophir Awards (Israel's Oscars), including best film, director and actor, Foxtrot uses a small-scale story to examine some of Israel's deepest issues: the concept of military sacrifice, the oppression of Palestinians and the legacy of the Holocaust.
Skilfully strewn with ironies all the way to the final shot, Foxtrot was shortlisted for the Academy Award for best foreign language film but did not receive a nomination.
The film begins with a middle-aged man (the sublime Lior Ashkenazi, who played a fictitious prime minister last year in Norman and Yitzhak Rabin in this month's 7 Days in Entebbe) opening his door to the worst possible news for a father with a son in the army. Even as the gravity of the situation and the intensity of his response wallops us in the face and grabs us by the collar, Maoz counter-intuitively undercuts the emotional naturalism with precision camerawork and a stylized set design.
It appears, at first, that the filmmaker is evoking the surreal, detached and alienating experience of being struck with a life-changing bulletin. But we get the nagging feeling, from Ashkenazi's character's black-humour interactions with the army representatives to the off-centre introductions of his wife and daughter, that there's more on tap than the melodrama of domestic tragedy.
Indeed, Maoz pulls the rug out from under us, then cuts from the climate-controlled setting of a high-in-the-sky condo to an isolated checkpoint in the barren, forgotten north of Israel. This is where the son, Yonatan, is assigned the "mission" of guarding a remote, nonessential road with a handful of other bored young men.
The tilted shipping container that comprises the soldiers' base and barracks fronts on a puddle-strewn mudfield, which they must trudge across to the checkpoint. The roadblock itself is cartoonishly minimalist, resembling a set you'd see onstage more than a military installation, and putting us in mind of surrealist (anti-)war films like Apocalypse Now and Catch-22.
Nothing happens in this God-forsaken spot, and everything happens here. Each detail has significance, though one must pay close attention because it may not be clear until events play out. In fact, the meaning of a close-up or sound cue often remains obscure until the movie is over, at which point the viewer is required to arrive at his or her interpretation.
Two key events occur at Yonatan's base: one at the checkpoint involving a carload of Palestinians heading home from a party and the other in the barracks when the soldiers are killing lonely downtime. The latter scene, in which Yonatan relates an anecdote from his father's youth, is the most astonishing passage in this taboo-trampling movie.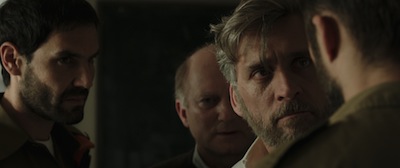 Yonatan has rendered his memory into a graphic novel, and Maoz brings it to life in the form of animation. This harrowing episode connects the Holocaust – and the self-reliance, persistence, shared sacrifice and residual faith that survivors applied to building the Jewish state – to a modern Israel, where idealism has curdled into a pursuit of temporary pleasures, and worse offences.
To be sure, in every land and every age, older generations castigate young people for ignoring tradition and abandoning their core values. But this parable takes place in Israel, so Yonatan's father's hormone-driven rashness hearkens to Esau swapping his birthright for a bowl of stew.
Threaded through Foxtrot is a critique of Israel's leaders for maintaining a culture of cynicism and corruption that results in the unnecessary deaths of young soldiers. Furthermore, each loss is described as heroic regardless of the circumstances.
This is not unique to Israel, of course, but it's harder to push back against the military spin when you're a small country surrounded by enemies than a superpower. Maoz satirizes PR functionaries in the opening scene, in fact, and never stops spearing sacred cows.
Maoz's triumph, finally, thanks in large measure to Ashkenazi's unexpectedly vulnerable performance, is tracking the human cost amid the not-quite-real scenarios and sociopolitical commentary. Foxtrot is an altogether remarkable work, not least because it is a beautiful film about ugly truths.
Foxtrot is in Hebrew with English subtitles, runs 113 minutes and is rated R for some sexual content, including graphic images and brief drug use. It opens at Vancity Theatre on March 23, and runs to April 1.
Michael Fox is a writer and film critic living in San Francisco.