Chef Michael Solomonov samples the wonders of the Levinsky Market in Tel Aviv. (photo from israelicuisinefilm.com)
The 28th Vancouver Jewish Film Festival starts next week. New this year is an all-ages weekend of films at Rothstein Theatre, which follows the Nov. 3-10 festival screenings at Fifth Avenue Cinemas. Not new is the diverse selection of thought-provoking offerings.
With the festival opener, In Search of Israeli Cuisine, foodies will get their fix and then some. Guided by Michael Solomonov, the chef-owner of Philadelphia's Zahav restaurant, the viewer is taken on a global food tour all within the confines of the tiny state of Israel.
Is there even an Israeli cuisine, the film asks. Yes, says food writer Janna Gur. "It's perhaps a nascent cuisine, a baby cuisine, but a very precocious baby," she says.
Israeli cuisine, Solomonov says, is made up of "traditions that were brought here and also that were born here." He asks one market vendor how long he has had a spice shop. The reply: "Four hundred years."
The food of Israel mirrors the history of the country, particularly its economy. In the years after independence, cuisine was defined by economical, modest recipes that incorporated the agricultural resources of the new state. In the 1980s, when the economy boomed, Israelis traveled more and wanted at home the kinds of flavors they found abroad.
Philosophically, Israeli food developed alongside the new identity the people were creating for themselves and their country. People were ashamed of the past and embarrassed by the foods of their parents. Israel's "new Jew" was supposed to leave sad history behind and create a new post-galut civilization.
"In Israel, when you say Polish cooking, it's another way of saying bland, boring, guilt-ridden kind of food," says Gur.
Yet, the effort to abandon the past was both successful and, thankfully, unsuccessful. Tradition, in fact, integrates change through adaptive cookery. The centrality of Shabbat has defined Jewish and, therefore, Israeli cuisine, because of the necessity of developing recipes that can cook slowly for up to 16 hours. And, even though most Israelis are not religiously observant, Shabbat can still be a sacred family experience. One person explains that watching American TV, where families gather twice a year for Thanksgiving and Christmas, seems foreign, because every Jewish mother wants her daughters and sons with her every Shabbat.
Also unlike in most of North America, the film illustrates mouth-wateringly that a vegetarian in Israel can eat like royalty with endless options.
Politics also intervenes. During the Oslo peace process, Palestinian restaurants flourished in Israel. "Food makes peace," says an Arab-Israeli chef. But there are also accusations of cultural appropriation.
"They often accuse us of stealing it," chef Erez Komarovsky says of Israeli cuisine. But food knows no borders, he contends. "Food is not political. Food is what is grown on this land by the people who are living in it. If they are called Palestinians or Israelis, I don't care. I don't think the tomato cares."
"Israeli salad is actually Arabic salad," Gur admits. "What makes it Israeli is the way we use it." That means eating it three meals a day and, for instance, stuffing it in pita with schnitzel.
The evidence about what defines Israeli cuisine is not entirely conclusive. Though Komarovsky claims to know.
"The essence of the Israeli taste is lemon juice, olive oil and the liquids from the vegetables," he says. "And this is the taste that you miss after two or three days when you go abroad."
– PJ
Liberation after the Holocaust was not unalloyed joy. It was complex, emotional terrain that involved coming to terms with the reality of the extent of the destruction of European Jewish civilization, individual family members and entire communities. This mix of emotions is clearly shown in Magnus Gertten's documentary Every Face Has a Name.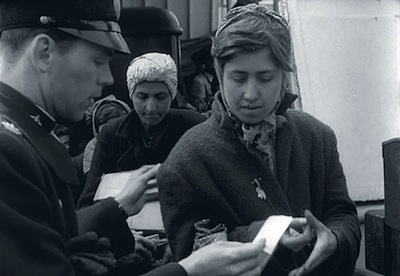 Gertten took a film that was shot of arrivals to Malmo, Sweden, on April 28, 1945, and obtained the list of 1,948 passengers who arrived that day. Then he set out to put names to faces.
Elsie Ragusin was an Italian-American New York girl visiting her grandparents in Italy when the war began and they could not return home. When the Nazis occupied Italy, she and her father were arrested as spies and she became, as she says, the only American girl in Auschwitz.
She looks at her face on the film and says: "There, I'm thinking: 'Can this be true?'" The smiling people handing out food seemed unreal to her. No one had smiled at them in the camps.
Gertten, a Swede, was moved to make the film when he saw parallels with the faces in footage of refugees arriving in Europe today. "Who are they?" he asks.
Fredzia Marmur, now of Toronto, sees herself on film, at age 9, wearing the same cloth coat she wore when her family left the Lodz ghetto. "There I am again," she says of a little girl beaming into the camera.
The other women in the screen were together with her in Ravensbruck and, while Marmur admits she didn't know what was happening, she took a cue from those around her. "I saw that everybody seemed happy, so I decided to be happy too," she says.
Siblings Bernhard Kempler and Anita Lobel, 8 and 10 in 1995, try to reconstruct their thoughts at the time. Bernhard survived dressed as a girl and the pair stuck together, avoiding all others through their time in hiding and at Ravensbruck.
"It looks to me like I'm somewhere between happy and frightened," says Bernhard. "A mixture of hope, a mixture of relief, a mixture of 'Can I trust this?' and some fear."
He recalls his reunion with his parents. He was in hospital and the staff gathered around to watch what they expected to be a joyful scene. It wasn't. His response, he recalls of meeting his parents after years of separation was, "Who are these people?" He suspects his parents wondered, "Who is this child?"
"I didn't know who I was for a long time after that," he says.
The film intersperses images from 1945 with those of present-day refugees arriving (some alive, some dead) in Sicily. A small but disturbing 1945 scene is ostensibly happy – women receiving clothes in Sweden – but the camera shows their nakedness, as if, even on liberation, their right to privacy was not granted.
People couldn't always tell who they were seeing in the film. Judith Popinsky recognized four of the five young women who formed her surrogate family in Auschwitz after their families were murdered on arrival there. Only after some self-convincing did she determine that the fifth woman must be her.
"You encountered so many nameless faces throughout that period in time," she says. "No one remembers them anymore. They lived anonymously. They were buried anonymously. At least now some of them have their names restored."
– PJ
In One Rock Three Religions, the rock in question represents the city of Jerusalem. The Temple Mount – which Muslims call Haram al-Sharif – is the literal rock, where the two historical Jewish temples existed and where al-Aqsa Mosque and the Dome of the Rock now stand. The film captures the glory of diversity and the tragedy of division that coexist in the holy city.
Divisibility in a political sense has been mooted several times. The 1947 Partition Resolution saw a Jerusalem under international governance. The city was divided, from 1948 until 1967, with East Jerusalem under Jordanian occupation and West Jerusalem in Israel. However, Kanan Makiya, author of The Rock, insists that, from a human standpoint, it cannot be separated. "How do you cut a rock?" he asks. "Jerusalem belongs to more than one faith. No one person, no one faith can claim it."
When the Temple Mount was captured by Israel in the 1967 war, some soldiers raised an Israeli flag over the Dome of the Rock. Gen. Moshe Dayan ordered it taken down and handed the keys to the Wakf, the Muslim religious authority. This was both a symbolic and a practical decision, particularly in contrast with the exclusion experienced from 1948 to 1967, when Jews were forbidden from the holiest Jewish sites.
The documentary focuses on the contending claims and assertions of rights. The founder of the Muslim Public Affairs Council says he has not seen Jerusalem because he will not stop at checkpoints and be searched "by soldiers that I consider occupiers."
Some religious Jews say that, because the Temple existed where al-Aqsa Mosque now stands, they should be able to pray there as well as at the Western Wall. A Palestinian diplomat calls this a provocation.
Former Israeli diplomat Dore Gold contends that Palestinian and other Arab leaders frequently incite their followers with allegations that Israel is attempting to undermine or destroy the mosque and its environs. And the film features the Palestinian ambassador to the United Nations repeating the incendiary falsehood that the Jews are trying to build the Third Temple in the place of the Dome of the Rock. Some Muslims are quoted denying any Jewish connection to the location.
This sort of denial, recently codified by UNESCO in a resolution that erases Jewish and Christian historical ties to the holy site, is evidence that strength through diversity in a place of such importance is often more wishful thinking than reality.
– PJ
When you read the sentence-long review of AKA Nadia on some sites – "A happily married mother of two seems to have the perfect life, until her hidden past comes to light" – you make a few assumptions. Namely, that the two-hour film is a fairly fast-moving tale of deception and drama. The opening scenes, in which a host of events happens, back this up: lively protagonist Nadia (Netta Shpigelman), a young Arab girl, graduates school in Jerusalem and secretly marries her lover, a PLO activist; they move to England where, fairly quickly, he's caught by the authorities and she's left alone, branded a terrorist and with no easy way of returning to Israel.
It's not until half an hour in that the movie reveals its style – thoughtful and slow-moving, far more complex and compelling than you might first assume. When we were first introduced to Nadia, it was in East Jerusalem in 1987. We're now reacquainted with her 20 years later, in the city's west. Having fled England, thanks to a young Jewish woman's passport, she's completely (and secretly) rebuilt her life, as a Jew called Maya. And this is where the movie focuses the bulk of its time, perhaps too much time, on her new roles: successful dance choreographer, mother of two and wife to a Jewish official at the Ministry of Justice.
It's only to be expected that this pleasant middle-class family life shatters when her past catches up with her. And every aspect of the subsequent relationship breakdown is well-acted and artistically produced. You feel for both husband and wife, and of, course, you're forced to think of the bigger picture, too – religious identity in Israel and the ramifications of being Jewish versus Arab. Even after the movie ends – which it does a little abruptly – you'll be left contemplating these issues for days.
– RS
My Home doesn't shy away from its aim: showing how much minorities in Israel are typecast. It starts by stating that minorities (mostly Muslims, Christians, Bedouins and Druze) make up 20% of the population, but are often viewed by the outside world as all being Arabs who resent the Israeli "occupation" and the Jewish "apartheid state." To show this is far from the case, the documentary follows the work of four people, one from each of the minority groups listed above.
The result is a slightly disjointed, but incredibly interesting portrayal of people who are all different, but united in their bravery. There's a Greek Orthodox priest and a Lebanese Christian, both promoting integration by "others" into Israeli society. But the two people who really resonate are Wafa Hussein, a Muslim Zionist and school teacher preaching acceptance of all ethnicities, and Mohammad Ka'abiya, an Israeli Bedouin who prepares Bedouin teenagers in his village for Israel Defence Forces service, having served himself.
The latter two have been labeled traitors by their communities because of their activism, but persist in striving for coexistence. And this is an aspect of the documentary that must be applauded – there is no sugar-coating the discrimination minorities face: "as an Arab, you wake up in the morning and tell yourself, 'I have a lot to deal with today.'" But, the film ultimately is a heartening look at the complexities, both good and bad, of calling Israel "home."
– RS
For tickets to the festival, visit vjff.org or call 604-266-0245.
Rebecca Shapiro is associate editor of vivalifestyleandtravel.com, a travel blogger at thethoughtfultraveller.com and a freelance journalist published in Elle Canada, the Guardian, the Huffington Post and more.