Woody Allen, left, and John Turturro in Fading Gigolo. (photo from Millennium Entertainment)
"My big thing was to not have him wear khaki pants and an army coat," said John Turturro with a broad smile. "And I got him out of that. I said, 'That's not in my color scheme. I'm an Italian director.'"
This dash of bravado might sound pretentious, or even ludicrous, on paper. But when it comes from a tall, impeccably groomed man in an elegant blue velvet suit (double-breasted, blue shirt buttoned to the top, no tie), it seems perfectly reasonable.
For his fifth feature behind the camera, Fading Gigolo, the renowned actor and filmmaker solicited ongoing (and ruthless) feedback from another New York icon, Woody Allen, during the lengthy screenwriting process. Allen accepted a rare acting assignment in the film, hence the discussion of his costume.
Allen plays a newly retired Manhattan bookstore owner who, in need of money, convinces his friend, floral arranger Fioravante (Turturro), to provide sexual services to affluent women. Murray claims a fee for arranging the liaisons, which take Fioravante in an unexpected and ultimately poignant direction.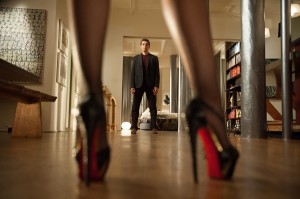 Fading Gigolo starts out as a slightly absurd sex comedy and deepens into a mature, empathetic study of big-city loneliness against a backdrop of cross-cultural and ethnic identity. The crucial relationship in the film is between Fioravante and Avigal (French actress Vanessa Paradis), an astute mother of six and the widow of a Chassidic rabbi. Sex isn't part of the equation, but Dovi, a protective and covetous neighborhood Satmar watchman (a touching Liev Schreiber), can't know that.
"I met all these people who've left the [Satmar] community" in the course of his research, Turturro said in a recent interview at a San Francisco hotel. "They're like the strays of the community. They gather in this place, people who left and people who hadn't left who just went there to see what was going on."
Paradis got to know one woman in particular who had left the Satmar community and explained the various directives, such as keeping her hair concealed under a wig.
"All these things are made up by men," Turturro declared. "Women didn't make these rules. And, to me, that says it all."
Fading Gigolo is unambiguously respectful toward observant Jewish practice, while inviting us to empathize with a woman trying to reconcile autonomy and conformity.
"Avigal's not looking to escape," Turturro explained. "She's just looking to receive."
Fading Gigolo climaxes with a religious trial where Murray is confronted with the query, "Are you proud to be a Jew?" It's the question we've long wanted Allen to answer onscreen and, at that moment, it's difficult not to conflate the character and the actor.
Turturro's experience of Judaism goes well beyond growing up in New York and now living in the Park Slope neighborhood of Brooklyn. His wife is Jewish and his son went to Hebrew school, and Turturro confides that he's spent a fair amount of time in Reform synagogues. He has played several Jewish characters onscreen, most famously in the Coen Brothers' Miller's Crossing and Barton Fink, and immersed himself in the life of Primo Levi to portray the Italian-Jewish Holocaust survivor in Francesco Rosi's The Truce.
"If you're raised a Catholic, you realize there's not a debate that goes on," Turturro said. "And, if you're raised a Jew, there's a debate that goes on. And I really like that. Therein lies one of the greatnesses of Judaism."
At Allen's behest, Turturro brushed up on Isaac Bashevis Singer's short stories while he wrote the Fading Gigolo screenplay. But, after all his various and diligent research, certain things came down to intuition – and style.
"I only chose Satmar because I liked the hats the best," Turturro said. "I don't want the Borsalino. I'm Italian. It's an esthetic choice, understand. That's how it goes with me. The hat dictates. That's it."
Fading Gigolo is playing at Fifth Avenue Cinemas. It's rated R for some sexual content, language and brief nudity.
Michael Fox is a writer and film critic living in San Francisco.