Expectations – our own and others' – can motivate us or constrain us. Two recently published novels feature strong (Jewish) women who must fight for their independence, battling not only parental, societal and other judgments, but their own self-conceptions. One book takes readers to the wilds of Arizona more than a century ago, the other takes us to a contemporary world of privilege in Boston. Both are internal, as much as they are external, journeys, and both are journeys worth taking.
The Last Woman Standing: A Novel by Thelma Adams (Lake Union Publishing, 2016) is a fictional account of how Josephine Marcus met and fell in love with Wyatt Earp (and he with her). While the real-life Josephine apparently tried very hard to keep her and Wyatt's private life private, Adams has mined what information exists and creatively filled in the blanks for the beginning, in 1880-1881, of their infamous romance.
Josephine defied all expectations when she ran away from home as a young teen in the 1870s and, though she returned, she didn't do so for long. She left home again in 1880, at age 19, with a promise of marriage from Johnny Behan, a man she met on her first foray into the Wild West from the relative safety and security of San Francisco.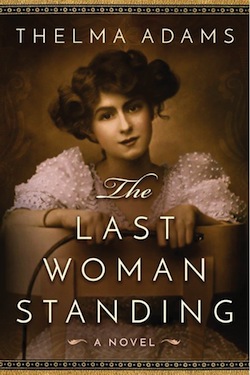 The daughter of Prussian Jewish immigrants who eked out a living on her father's income as a baker, Josephine cannot bear to be contained by the strictures of society, her religion and her mother, whose story of coming to America is truly tragic. "I loved my mother but wouldn't follow her down her path of righteousness and sorrow," says Josephine in The Last Woman Standing. "We lived in a new world. She dwelled among old dybbuks."
While the spirits of the dead might have haunted her mother, Josephine learned how brutal the living world could be when she arrived in Tombstone, Ariz. A shonda (shame) to her family – though her father and three siblings are portrayed as more understanding than her mother – Josephine becomes a shame to herself.
Johnny doesn't follow through on his promises; in fact, he's a cad who cheats and lies to get his way, including betraying Wyatt in order to become sheriff of the county. The position came with power, and money, but Johnny also knew of Josephine and Wyatt's attraction to each other, so revenge was also a motivation. As well, Wyatt was a marshal – a position that deals with federal issues – and there was still unrest stemming from the Civil War. Johnny was friendly with the cowboy crowd, which generally voted Democrat and were sympathetic to the Confederates, if not Confederate veterans themselves, while Wyatt and his brothers were Republicans. These political differences no doubt played a part in the men's animosity for each other.
Josephine eventually leaves Johnny, after one particularly harrowing experience in which he places her as a bet in cards and loses, and another in which she catches him mid-dalliance. On her own, she finally starts to understand a woman's terrifyingly narrow set of survival choices – not that men were much more secure at that time and in that place. Wyatt must also fend for his life, and not just at the shoot-out at OK Corral.
All told, The Last Woman Standing is a fascinating tale, a western from a woman's perspective, though it does drag a bit in places. It takes a long time in the narrative for Josephine and Wyatt to finally get together and they aren't together for that long before Wyatt is a wanted man and must fight for his life. There's a little too much of Josephine's pining in the sections in which the lovers are separated, but, otherwise, this is a great read.
* * *
Good Girls by Shalta Dicaire Fardin and Sarah Sahagian (Inanna Publications and Education, 2016) is a young adult novel that not-so-young adults – women mainly – will also enjoy very much.
When we meet Octavia Irving, 15, she's in the middle of hosting the party of her life at her family's summer home. And she's loving it, until her 19-year-old boyfriend leaves early with a bunch of his friends. Fortunately for her, as it turns out, one of those friends vandalizes a neighboring home.
Octavia's father gets the news during the bar mitzvah of his wife's nephew. We find out that this is his second marriage and that he had walked out on Octavia's mother during her pregnancy, "because his parents found her bohemian nature objectionable." We also find out that he has issues with "her lax parenting style."
So, while Octavia may come from a family with money to spare, the family dynamic is complex. As well, the expectations her parents have of her, and that she has of herself, are low. However, when Octavia tells her father the name of the culprit, and he calls her mother, she knows things are about to seriously change – "No matter how badly she misbehaved, her parents had never teamed up against her before."
Allie Denning, on the other hand, is one of the "good girls." She loves being a student at Anne Bradstreet College, an all-girls prep school in Boston. She follows the rules to the letter and is totally focused on doing the best she can. But, no matter what she does, because it comes from a place of privilege, it doesn't seem good enough for her mother, the daughter of immigrants, who grew up in poverty but managed to get a scholarship to Columbia then go on to graduate with a PhD from Harvard. Allie's father also went to Harvard and her great-grandfather was a president of the university, so expectations all round are that Allie will continue the legacy.
Again, a complex family dynamic. But one with which Allie more or less knows how to deal. As long as school is good, life is good. And that's how Octavia throws a wrench into Allie's world; she's the bad girl who has been banished to the all-girls school, and she has the attitude to prove it.
One of Allie's main sources of pride is being "the first 10th grader in ABC history to make captain of the debate team." When Octavia tries out for the team at the behest of the school's new guidance counselor, and makes it – showing a natural talent for debating – both Allie and Octavia must adjust. And, as the team gears up for a big competition, the girls must decide the person they want to be, whether or not that person meets their, or anyone else's, expectations. The tension leading up to the debate is palpable and the reading compelling.
The cast of characters in Good Girls is diverse, and Allie and Octavia are not the only ones facing challenges and trying to figure out who they are. We meet fellow students and get to know the guidance counselor and other teachers, as well. The storyline doesn't always go in the direction one expects, which is a great attribute for a novel. And, since it is a novel that is intended to be part of a series that will follow Allie, Octavia et al through their time at ABC, not everything gets resolved in this first instalment.
One of Inanna Publications' priorities is "to publish literary books, in particular by fresh, new Canadian voices, that are intellectually rigorous, speak to women's hearts, and tell truths about the lives of the broad diversity of women – smart books for people who want to read and think about real women's lives." With Good Girls, they have done just that.