The cast of Tara Cheyenne Performance's The Body Project. (photo by Wendy D. Photography)
Among the more than 20 choreographers and companies from across Canada, Brazil and Korea that are participating in this year's Dancing on the Edge Festival are local Jewish community members Alexandra Clancy (Soleful Dance Company) and Tara Cheyenne Friedenberg (Tara Cheyenne Performance).
Soleful Dance Company's Where the Music Begins will take place July 12, 8:15 p.m., in the Firehall Arts Centre courtyard, and Tara Cheyenne Performance's The Body Project (working title) is part of Edge 5 July 11, 9 p.m., and July 13, 7 p.m., at the Firehall. DOTE runs July 4-13. Click here to watch the festival trailer on YouTube.
* * *
Where the Music Begins, created by Clancy and composer and musician Mike W.T. Allen, was commissioned by Dances for a Small Stage for its Summer Series.
"Mike and I had played music together but never officially constructed any works for stage," Clancy told the Independent. "Throughout the rehearsal process, there would be a back and forth of ideas; sometimes I would have a rhythmical phrase of tap dance and Mike would then create a melody over top, and sometimes Mike would compose a phrase of the melody and I would choreograph specifically to that part of the tune. After some give and take between our prospective instruments and ideas, we solidified a melody and then decided upon the structure of the tune. Some of the tune is improvised, some is a conversation, and some is very set and predetermined. We both enjoyed the collaborative process and found a harmonious way to create music and dance together."
Clancy grew up in Vancouver and has always been involved with the Jewish community. "I was raised Jewish; attending Hebrew school on Sundays, becoming bat mitzvah, and participating in holidays and traditions," she said. "After going on Birthright a few summers ago, I was re-inspired by the beauty of the culture and have tried to stay more engaged in the community by attending Axis events and other social gatherings, as well as going to synagogue when I can. I am grateful for the support and familial kindness that I have received from the community, consistently reminding and encouraging me that I am capable of whatever I put my all into."
And she has put her all into a lot, having trained in all genres of dance, studying at Danzmode and the Vancouver Tap Dance Society. She was a member of Tap Co., a pre-professional youth tap dance company, and has trained and performed across North America.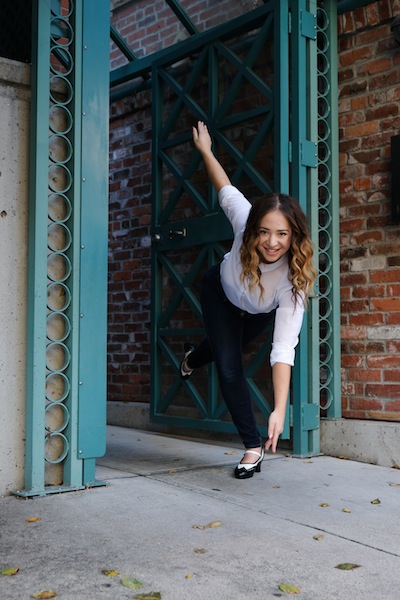 "After graduating, I lived in Austin, Tex., and was a member of Tapestry Dance Company in its 25th season," said Clancy. "I then moved back to Vancouver and have been performing and teaching ever since. This past year, I taught at the Arts Connection, Dance Co., and the Pulse, sharing my love and passion for tap dance and educating the next generation of talented dancers.
"As recital season comes to an end, I am currently in a creative residency with Dances for a Small Stage, where we are developing works for our Summer Series and exploring digital literacy in dance. As well as preparing for DOTE, I am also in the studio rehearsing and creating for our upcoming performance at Jacob's Pillow later this summer. In the fall, I will be moving to Calgary to attend the training program at Decidedly Jazz Dance Company.
"My goal," she said, "is to broaden my toolbox to assist in expressing myself and telling stories through dance. This upcoming year, I hope to continue to collaborate and create through Small Stage, develop more new works with Soleful Dance Co., film a concept video, and share dance through as much teaching and performing as possible."
Jacob's Pillow is located in western Massachusetts in the town of Becket. Clancy auditioned for and then attended the inaugural tap dance program at Jacob's Pillow in 2010 and returned two years later (again with an audition) for a second summer of learning and dancing. "My time at the Pillow was the most influential training thus far in my life and it has always been a dream of mine to perform my own work at the Pillow," she said.
That dream will become a reality this summer.
"Jeffrey Dawson and I co-choreographed a piece for an online competition Jacob's Pillow was running this year, and we were lucky enough to be chosen as Top 6 and then voted Top 3, meaning we will get to perform our work live at the Inside/Out stage on Aug. 17," said Clancy.
In addition to choreographing and teaching, Clancy established Soleful Dance last spring. She and some other dancers "felt we needed a name and a clear avenue to share the work we had started developing. Based in Vancouver, this company is a platform to express ourselves and tell stories through the music of tap and the movement of dance.
"Although under my direction," she said, "Soleful Dance Company is rooted in collaboration. Our ultimate goal is to make audiences feel something. All of the members of the company's primary focus is tap dance; however, everyone brings a versatile background to the creative process, spanning from contemporary dance, to acting, to playing music and more. We hope to continue to grow and create more works to share with audiences in the near future."
Clancy described tap dance as "a magical art form that allows one to not only express through movement but connect and emote through sound.
"This traditional American art form has a rich and complex history that is intertwined deeply with jazz music and culture," she explained. "There is a sense of community that I have always appreciated about tap dance, and I feel a great amount of respect and gratitude that I get to perform and participate in its culture. It just feels good to get to move your body and dance and then, on top of that, creating and connecting with music opens endless doors of expression."
* * *
The Body Project is a new interdisciplinary performance created from interviews, symposiums and roundtables.
"I started research on and around the theme of 'female body image' about a year ago," Friedenberg told the Independent. "Part of our research/creation process has been interviewing female-identifying and non-binary people (many dancers and actors). To date, 35 people have generously participated.
"In the studio, I have been mining my own complicated and unhealthy relationship with my body as a dancer in a female body with the help of my amazing collaborators/performers. The process so far has involved exploring how the forms of stand-up comedy and dance can express this difficult, and often absurd, story of struggling with body image that many of us share."
The performers – Bevin Poole, Caroline Liffmann, Kate Franklin and Kim Stevenson – came into the process shortly after Friedenberg began her exploration of the topic.
"We are working very closely with intimate and difficult material so, although I am leading the process, it is essential that all the voices/bodies in the room are present in the work. For example, there is a section choreographed by Kim Stevenson – much of the gestural language has been created through our own gestures as we've spoken about our personal experiences with body image."
About the creative process, Friedenberg said, "These are very busy people, so we have had times when we are all in the studio and other times when it's just me and one collaborator. Making room for people's lives and demands, including parenting and caring for parents, is an important part of our feminist practice.
"Justine A. Chambers is our dramaturge/outside eye and Michelle Olson will be involved in the project as a consultant and possibly a performer in the next phase of development."
As professional dancers, the performers/creators have shared some common struggles and coping mechanisms regarding body image.
"The pressure to fit a very narrow ideal of the 'dancer body' has been difficult and complex for all of us," said Friedenberg. "There's the pressure to be very thin, small, more muscular, or less muscular. Pressure to fit an oppressive ideal of beauty. We each have found ways to navigate these limiting ideas. Sometimes we have had to remove ourselves from certain arenas in order to survive. Sometimes we have found power in defying the stereotypes of what a dancer should look like to the euro-centric patriarchal gaze. But I keep coming back to the effort and energy required to bare these expectations and what we can transform with that energy instead."
She added, "It must be noted that the many voices, words, time and contributions from the people we have interviewed are alive in the work through our bodies and presence. Their names will be listed on our website. Although the work, at this early stage, is a version of my story, it is also very much a result of being together in conversation about body image, in a circle, speaking, listening, moving, supporting and sharing with many powerful female-identifying/non-binary people – 'the personal is political.'"
* * *
The full DOTE schedule can be found at dancingontheedge.org. For tickets, call 604-689-0926 or visit tickets.firehallartscentre.ca.