Shuk owner Alon Volodarsky, left, and chef Evy Swissa. (photo by Lauren Kramer)
Shakshuka is not a dish that's easy to come by in Vancouver. Until recently, that is. When Shuk opened its doors on Oak and 41st in early December, this favorite Israeli breakfast item made it to the menu, among a host of other Mediterranean foods, including house-made hummus, Moroccan fish, falafel, borekas, labneh and hatzilim.
Shuk's owner is the multi-talented Alon Volodarsky, 35, an Israeli from Haifa who moved to Vancouver eight years ago and has had careers in professional dance choreography, carpentry and home renovation. He also has owned a store selling remote-controlled toys.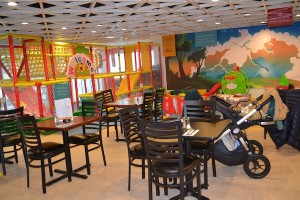 Soon after he arrived here, he tasted the food of chef Evy Swissa, who worked at Café 41, and quickly recognized his expertise. Volodarsky also noticed a dearth of establishments where parents could shmooze, enjoy good food and know that their kids were playing safely within eye- and earshot. So, when the opportunity arose to take over Café 41, he jumped at it. He invested $100,000 in a complete remodel and added a space for kids, with climbing structures in the large dining room to keep the 2- to 6-year-old crowd entertained. Then, he found a slab of cedar, cut and varnished it and made it a centrepiece bar in his new restaurant, Shuk. It's a fabulous piece of carpentry.
Volodarsky hasn't spared any expense transforming Shuk into a more sophisticated space, adding a state-of-the-art coffee machine, excellent lighting, a beautiful color scheme and quartz countertops. Dairy products are all chalav Yisrael and many of the ingredients he uses come from Israel, including
Israeli rosewater, tehina, za'atar, Moroccan spices and Turkish coffee by Elite. The kitchen is under Chabad supervision.
My shakshuka ($14.50) arrived on a skillet, presented on a wooden board accompanied by French fries in a neat stainless steel basket. It was also served with pita that Volodarsky was quick to point out is deliberately Israeli-style, sourced from Toronto, and hummus, which Swissa makes in five-litre quantities daily and was so good I had to bring a container of it home. Other items on the menu included the $7 boreka plate (three borekas served with boiled egg, tahini and pickled cukes), the $14.95 falafel plate (seven balls with a side of hummus, fries, Israeli salad and pita), hatzilim ($14.50, served on top of tahini with tomato salsa and pita) and za'atar focaccia ($14.50). There's also poutine ($7.50), French toast ($8.95), eggs benedict with salmon and avocado ($14.50), pasta and wraps containing fish or falafel.
The food is a mix of Mediterranean, Russian and Yemeni influences, Swissa said. "It's comfort food that brings you back to Israel," he confided, adding that the menu is fairly simple with daily specials bringing new items to the mix. The two specials the day I came in were Persian fish balls with couscous, spinach and carrots ($17.30) and flatbread with caramelized onion, goat cheese and pesto ($14).
Volodarsky looked pensively towards the children's area, where his 3-year-old often releases energy on rainy Vancouver days. "The idea is to attract families with kids," he said quietly. "Out front we have a quiet area for coffee and meetings, but in the back are most of our 76 seats, and Sundays it's packed in there."
The fact that the restaurant is kosher is a big drawcard for Vancouver's Jewish community and Volodarsky and his team of nine are fighting the perception that kosher means "super expensive."
"We're really trying to keep our costs reasonable," he said. Still, some 55% of diners are not Jewish, Swissa noted. "And they love hummus!"
Don't miss the desserts – there's a fabulous selection of delicacies including tahini ice cream, chocolate-banana mousse cups and butter popcorn mousse.
And, if you don't have the time or energy for a Friday night meal, Swissa can handle that in a heartbeat, complete with the challah, for any orders, even as small as a family of one or two. "I need just 20 minutes forewarning," he said. He makes 12 challot each Friday in three different flavors, and they disappear fast, so pre-orders are crucial.
Shuk is open Mondays through Thursdays, 8 a.m.-8 p.m.; Fridays, 8 a.m.-3 p.m.; and Sundays, 9 a.m.-8 p.m. There is free underground parking and free wifi. Before Feb. 10, Shuk's grand opening, access to the kids play area is free. After that date it's $5 per child, $2.50 per sibling or $30 for a month-long unlimited membership. For more information or reservations, 604 563-4141.
Lauren Kramer, an award-winning writer and editor, lives in Richmond. To read her work online, visit laurenkramer.net.