Dorrance Dance will perform at the Rothstein Theatre on Aug. 30. (photo from Vancouver International Tap Festival)
"It would be like a jazz festival presenting Oscar Peterson," said Sas Selfjord, executive director of the Vancouver International Tap Festival. She is so proud that tap dancer Michelle Dorrance is headlining her festival that she compared Dorrance to the great Canadian jazz musician. "Michelle Dorrance is the 'it' girl," she said of the artist who takes the stage Saturday, Aug. 30, at the Norman and Annette Rothstein Theatre.
The dance festival is now in its 15th season and it's time to celebrate. A weekend of professional performance and a fundraising gala are on the schedule that runs Aug. 28 to 31.
With this, the festival's 15th edition, Selfjord said, the Vancouver International Tap Festival "is one of the top two or three in the world. With that reputation," she said, "we can attract any artist we want. That's a very egocentric statement, but it's true. People want to be part of the Vancouver festival, so that is the legacy."
Selfjord said anyone who has ever enjoyed tap, even in old movies, will appreciate the festival's artists. "Fred Astaire, Ginger Rogers, Gene Kelley, the Nicholas Brothers, these are people we revere in the highest regard," she said. "Their work is a subset and that work is always carried through in everything that a tap dance artist does, except we give our own relevance to it … there could be a little bit more hip hop, there could be some breakdancing, there could be, you know, innovative combinations that no one has ever heard."
In addition to Dorrance Dance on Aug. 30, the festival features two other professional performances, on Aug. 29, also at the Rothstein. First is LOVE.Be.Best.Free, choreographed by Danny Nielsen with an all-male cast. Selfjord remembers encountering Nielsen years ago. "I remember he was at our very first festival and what was he, 14? He's now an internationally revered artist."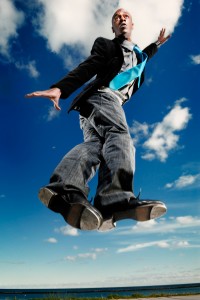 Second on the Aug. 29 ticket is Lisa La Touche's Hold On, the debut of a work commissioned specifically for this festival. "Lisa was here from the get-go," said Selfjord. "Now she's in New York and she's revered." Hold On has an all-Canadian cast of dancers.
Selfjord is also proud of Travis Knight, one of the performers in Hold On. Knight has been a tap consultant with Cirque du Soleil and performed at the opening ceremonies of the 2010 Olympics. He has toured with the Australian show Tap Dogs. Knight "is one of Canada's top artists," said Selfjord, "and I remember he came to our first festival. He took a Greyhound bus and came out on a scholarship from Montreal. He is one of Canada's amazing, talented, generous artists."
The gala fundraising and awards event, which takes place Aug. 28 at the Holiday Inn Downtown Vancouver, benefits from the sculpting talent of local ceramics artist Suzy Birstein. The local artist – who once chose dancing class over Hebrew school – was commissioned to design the awards to be presented. Birstein, who dances with the society during the year, was given the task of coming up with fancy ceramic shoes to honor some of those who have made the society great. "They pretty much gave me carte blanche as to what I wanted to do," said Birstein. "So, I'm making shoes, like miniature shoes, not just like tap shoes. They're just kind of in my style," she said, referring to her own internationally known approach to sculpture.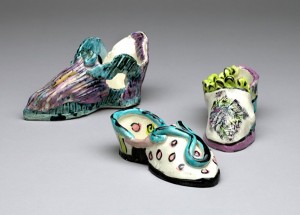 Each of the clay shoes will bear a special feature. "They'll all have something that looks like a tap on the bottom of them," she said.
Rounding out the weekend is Tap It Out on Aug. 31, where, according to the schedule, "everyone in Vancouver is invited to experience the tap phenomena themselves … when more than 100 dancers take to Granville Street," and a performance by four youth ensembles that night at the Rothstein Theatre.
The festival idea began in the late 1990s when Selfjord took a trip to Minneapolis on behalf of others in the Vancouver tap world "to see what we could do to help build community and engage the community at large, and we thought a festival" might be the idea.
In Minneapolis, she encountered "two of tap's greatest legends," the Nicholas Brothers. To some, they are the greatest tap dancers who ever lived. Born in 1914 and 1921, the two became famous as children and opened at the Cotton Club in 1932. They made films throughout the 1930s and '40s that showed off the prowess of the dancing team, which combined tap with ballet and acrobatics.
Meeting the brothers, said Selfjord, "turned me right on my head. I thought, how am I sitting having a brandy with the Nicholas Brothers and talking to them and engaging them? I was just so motivated by having access to artists of that calibre, that just set the stage to come home and to do the festival, so we did."
For tickets and more information, visit vantapdance.com.
Michael Groberman is a Vancouver freelance writer.