Ofer Biton with a therapy dog. (photo from Ofer Biton)
For years, therapists and other professionals have used animals to break down barriers and achieve breakthroughs in a multitude of situations. Recently, a pair of educators from Israel found a way to combine two of their passions – dogs and helping children with mental challenges.
Ofer Biton and Liat Bartov succeeded in getting recognition for the practice of canine therapy, and have since been teaching the how-to's at universities across Israel.
Biton and Bartov met 20 years ago while working in special education. Some 10 years ago, "We started to think about dog training and teenagers [at risk]," said Bartov. "We started doing courses for teenagers in a youth group, and we had a lot of people wanting us in other schools in Jerusalem."
Bartov and Biton found it challenging to find others to take on some of the rapidly increasing workload, which led them to teaching, beginning with one course in Jerusalem and one at Bar-Ilan University. Two years ago, they moved their base of operations to the Broshim campus of Tel-Aviv University, offering a one-year course that teaches both dog training and therapy methodology.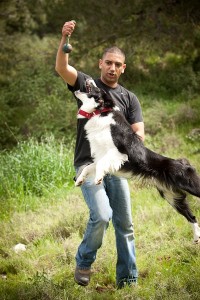 "We really like to teach the students how to deal with dogs and special education kids," said Bartov. "The students who come to learn this dog training love animals, and dogs in particular. They come because they had a dream, they remember when they were kids, when the dog was their best friend, and now they still want to do something with dogs."
Bartov emphasized that students learn that it is not the dog that is the therapist. The dog is the tool for the therapist, facilitating the initial connection with the client.
"The kids enjoy working with the dogs," she said. "They feel like someone is waiting for them and they want to take care of someone else, so it gives you a very good starting point. Then, you must do what you learn in the course – build on that connection and create a triangle of trust."
Anyone can benefit from this kind of therapy, according to Bartov. "It could be a very young child and it could be a very old man. It depends if there is connection with animals and dogs, especially. And, if you have this connection, you can do [the therapy] with anyone."
Contrasting canine therapy to equine (horse) therapy, she explained, "The difference is in the size of the animal and the connection to it. The dog is waiting for you, wants to connect with you. You can do lots of things with him and he can come to your place, the hospital or your school."
While schools that specialize in working with young students with attention deficit disorder (ADD) and attention deficit hyperactivity disorder (ADHD) were the initial focus for Bartov and Biton's canine therapy, they are also doing some work with young offenders. As well, private therapists who have heard about the program are approaching Biton and Bartov for advice.
"Typically, people with the financial ability have started to use the service, because of the name of it," said Bartov. "They like to show their kids that they're not going to a 'psychologist' – that they're taking them to a dog trainer or to play with dogs, then they move on to very long-term therapy."
She added, "These are mainly private [clients] as well as special education schools. Regular education schools don't have the funding to support it, so they're not doing it yet."
Overall, Bartov said canine therapy is currently "very trendy … and it's been growing for the last five years. It begins with schools, and then people hear about it and are really interested. We can see it in how much work our students get. There are over 100 practising dog therapists in Israel, with over 50 students graduating every year."
The university offers a summer and winter session course for dog therapy. The summer course has had waiting lists.
"My dream is that every school will use dog therapists," said Bartov. "I hope we can do this and that people will understand the benefit of the school. Ideally, every place that has kids will have a small kennel with a few dogs, and the children can be with the dogs and can have this therapy."
Bartov and Biton hope to one day bring government-supported canine therapy to public schools. Currently, no Israeli insurance provider covers the costs associated with canine therapy, although Bartov and Biton have begun working with insurance companies to one day make that part of the coverage options.
Rebeca Kuropatwa is a Winnipeg freelance writer.