With its Centre for Bedouin Studies and Development, Israel's Ben-Gurion University (BGU) encourages Bedouin students to enrol at the Negev university by providing financial assistance and programming aimed at retention and academic success. One of the first students to go through the BGU program is Dr. Rania Okby, who is currently doing a fellowship in advanced obstetrics in Toronto.
At the young age of six, Okby, who was born in Be'er Sheva, decided she wanted to become a pediatrician, because, she said, "I really loved my pediatrician. I never had any problems going there when I was a kid, and I kind of wanted to be like her."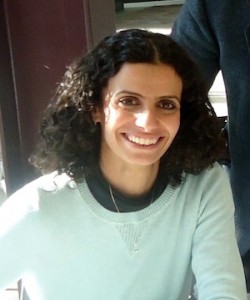 Okby's parents divorced when her father expressed his desire to marry another woman. "Polygamy is a common practice in the Bedouin community," she told the Independent. "About 30 percent of Bedouin women are in a polygamy system. My mom didn't agree to that. She said, 'OK, whatever, you want to get married? OK. But, I'm going to leave the house.' She left the house with six kids – four girls and two boys."
Okby, while in high school, spent one day a week at BGU, part of the university's recruitment programs for Bedouin high school students. One such program, Seeds of Medicine, helps identify the best students, those who have a chance to be accepted into medical school.
"We were two female students who did very well in the project," said Okby. "We went through interviews like other candidates for medical school. And, that's how I became a medical student."
In her first year in medical school, Okby had the opportunity to help deliver a baby. "I remember how it felt to be part of giving birth, dealing with birth and helping women … so, I fell in love with obstetrics and gynecology … and that's how I decided to do that," she said.
As it happened, Okby went on to become the first female Bedouin doctor in the world.
"My whole family was proud I was accepted," she said. "They saw how hard I worked. I studied in high school five days a week and then I went another day to study in the university. And, you know what? On the seventh day, I would volunteer on a few projects."
Financing was not an issue, as BGU covered expenses and the university is supporting Okby while she is doing her fellowship in Toronto.
"Being at the university at large, the fact that there's more and more Bedouins going to BGU – especially girls – because of the Centre for Bedouin Studies, connects the Jewish community with the Bedouin community in an interesting way," said the doctor.
The way Okby sees it, "If you're more exposed to different people or cultures, you understand that they are human beings, just like you. It doesn't matter if they're Jewish, right? So, being exposed to one another at the university, for sure, makes it better. And the more educated people are, the more they will hopefully accept one another.
"There are many friendships between Arabs, Bedouins and Jews. It's normal, because if you're in contact with people, you become more comfortable with them. There's a lot of Jews who volunteer in the Bedouin community, and there are some Bedouin who volunteer in the Jewish community – not necessarily in their own community."
What is paramount in Okby's mind is, "Education, education, education. To become equal, we have to first become empowered. Bedouins suffer from very low social economic, education and health status … everything is lower. So, to become equal, we have to be empowered."
Life in Toronto
During the first two months Okby was living in Toronto, a friend stayed with her, and the doctor's mom also joined her during the second month. Since September, Okby has been living on her own, along with her two daughters, in an area referred to as "the Kibbutz."
According to Okby, "There are about 35-40 families, Israeli families, in the area, and 97 percent of them are Jewish. Most of them are doctors who came to do their clinical fellowships, but some of them are post-doc. We live in the same area and most of our kids go to the same school, so the older kids help the new kids adapt to school."
Okby's youngest daughter just started Grade 1, and the parents had a party for all their kids who were starting first grade.
"Now, during Sukkot, everyone is celebrating," said the doctor. "On exchange day, everyone who has things they don't need brings them, and everyone picks what they need. We support each other, help each other, do trips and Friday night dinners together."
Understanding the issues
Bedouins make up 25 percent of the Negev population. But, Okby said, "In labor and delivery, we're about 55 percent, because we give birth to a lot of kids (the average is six to seven kids), we suffer from a lot of gynecological problems, we have a high rate of relative marriages and we have a high rate of malformation.
"We have three times the rate of neonatal deaths compared to the Jewish population. Forty percent of that is due to malformation, which is a result of relative marriages. Bedouin women [also] suffer from postpartum depression – 30 percent compared to 10 percent in Jewish society.
"It's similar to the indigenous people here, in Canada. We have many of the same problems as the aboriginals." This is one factor Okby plans to focus on when she returns to Israel. "The university is very interested in the issue, too," said the doctor. "Maybe we'll have a minorities health department or something like that to research it further, to make the situation even better for those kids and mothers."
Rebeca Kuropatwa is a Winnipeg freelance writer.