Tony McAleer, who helped found the organization Life After Hate, spoke at Congregation Beth Tikvah last month, along with fellow Life After Hate member Brad Galloway. (photo by Pat Johnson)
A former leader in Canada's far-right white nationalist movements says targets of white supremacist extremism should not be expected to "hug a Nazi." But, as difficult as it may be, seeing the humanity in everyone and finding compassion for people who lack compassion may be key to reducing the problem of racist extremism.
Tony McAleer was a member of the so-called White Aryan Resistance and his early embrace of technology and the internet helped propel that movement into the digital age. He later helped found the organization Life After Hate and now works with others who want to leave the neo-Nazi movement. He shared his personal history at Beth Tikvah synagogue, in Richmond, on Sept. 8. He has also spoken at other synagogues and venues in recent weeks.
"While we condemn the activities, while we condemn the ideology, we don't condemn the human being," McAleer said of his organization's strategy. "It's coming from that place of compassion.… The hardest thing to do in the world is to have compassion for people who don't have compassion. We do that as harm reduction – hurt people hurt people, and we can bring them back from that place of hurt so they don't do it anymore."
McAleer grew up in a stable, comfortable Dunbar home, which contradicts some stereotypes, he said. He attended private Catholic school but lost respect for authority figures when he caught his father with a woman who was not McAleer's mother.
"Can anyone remember the day when God fell off the pedestal?" he asked. His grades fell, his behaviour deteriorated and he was regularly sent to the principal's office for canings.
"When I look back on it, I don't think that I've ever felt more powerless than I did in that office time after time after time after time," he said. "It didn't make my grades go up. I continued to tune out.… I went from listening to Elton John and Queen to the Clash and the Sex Pistols. I was angry and the music I listened to was angry. It eventually led me down the road into the punk scene and later into the skinhead scene. And, in the skinhead scene, I found an outlet for my anger."
Ideology is secondary, at best, as an attractant to racist groups, he said.
"What we find in the young men and women who are drawn to these movements is there's an underlying rage, underlying vulnerability that makes the ideology so seductive," he said. "I want to be very clear here. I'm not for a minute blaming anything I did on my childhood. Everything I did I chose to do and I take accountability for that and I always will. I work for Life After Hate, do things like this to pay back for that."
He shares the story of his early life as an explanation, not as a justification, he said.
"What I found in the movement, what I found from being a skinhead – I found a sense of power, a sense of purpose, a sense of meaning," McAleer said. "I got power when I felt powerless. I got attention when I felt invisible and I got brotherhood, camaraderie and acceptance when I felt unlovable.… Those are the vulnerabilities that make the ideologies so seductive. If you have those in a healthy way, the ideology doesn't make sense to you. But, for somebody craving those things, the ideology becomes something powerful, a false seduction."
When he was 21 years old, McAleer's girlfriend gave birth to a baby girl.
"For the first time, I connected to another human being. Up until that point, I was completely cut off from my heart, I was completely dehumanized," he said. "I believe that the level to which we dehumanize other human beings is a mirror reflection of how internally disconnected and dehumanized that we are."
That began the transformation. He had a son months later and was soon a single father being assisted by his mother who, he said, "never gave up on me."
"It's safe to love a child," he said. "They see the magnificence in us when we can't see it ourselves when we look in the mirror…. The more I can connect to my humanity, the more I can connect to the rest of humanity. I couldn't connect to the rest of humanity because I couldn't connect to myself."
Though he was heavily involved in antisemitism, it wasn't about Jews, he said.
"I was projecting my crap and I had a vehicle to project it onto – the Jewish people – and that's what I did."
The compassion Life After Hate promotes must be accompanied by healthy boundaries and consequences, he said.
"It doesn't mean we let people off the hook. It doesn't mean we don't hold people accountable," he said. "We do hold them accountable. It's like tough love. But we need to see the humanity, even in someone whose heart is filled with hate. I don't think we can afford to dehumanize anybody regardless of how inhuman their behaviour. I believe that nobody is irredeemable. It's tough work."
Brad Galloway, who is also a member of Life After Hate, joined McAleer at the event. Also a former white supremacist, Galloway is now completing a degree in the school of criminology and criminal justice at the University of the Fraser Valley. He researches extremism and participates in interventions with members of hate groups to help them leave the movements.
Galloway too came from a middle- to upper-class home. After a fairly typical adolescence and a period of struggling to find his identity, he ran into a childhood friend who was involved in the white power movement.
"I was looking for an identity," said Galloway. "I was looking for something to belong to, something that I can call my own. He gave me the chance. We'll give you brotherhood, we'll back you up, we'll be there for you … some sort of pseudo-support network which never, never came to fruition. They never provided any of those things for me."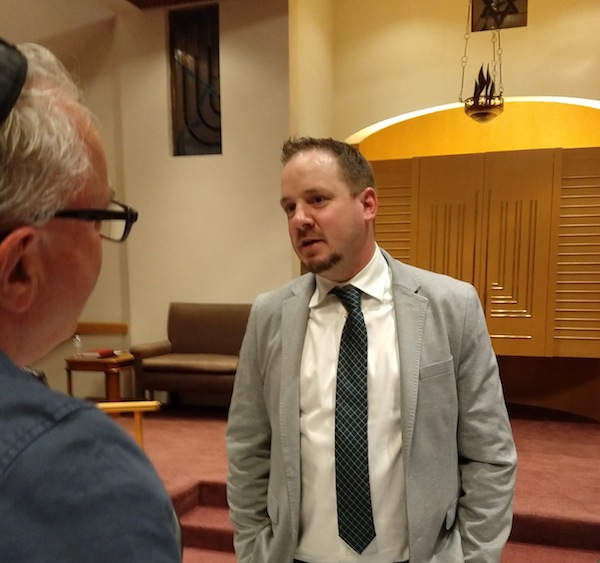 Like McAleer, it was fatherhood that made Galloway realize his extremism was putting his family at risk.
He also reflects on compassion he received from police and others during his time in the far-right.
"Why do these people care about me?" he wondered, adding that he began to recognize that individuals who were kindest to him were often members of the very cultural groups he demonized. After a gang brawl where Galloway was nearly killed, he saw compassion in action.
"I ended up in a hospital and I'm lying on the table and a doctor walks in and he's an Orthodox Jew. I'm lying there with a swastika shirt on, blood all over me, thinking this guy should not help me. I do not deserve to be helped at all right now…. I felt like I was a terrible person and I didn't feel I deserved this person's time," said Galloway. "He did not mention anything about me. He just did his job as a doctor and provided me exactly what I needed. That moment made me start to think about all these different times when minority communities had been good to me."
Since the racist rally in Charlottesville, Va., in 2017, Life After Hate has been inundated with requests for help. About 300 new cases have opened, about half of which are people trying to leave the movement, the other half family seeking help to extricate their loved ones.
Cpl. Anthony Statham, one of two members of the RCMP's B.C. Hate Crimes Unit also spoke, outlining the legal strategies employed to fight extremism.
McAleer's book, The Cure for Hate: A Former White Supremacist's Journey from Violent Extremism to Radical Compassion has just been released by Arsenal Pulp Press.