The cast of Calendar Girls, at Metro Theatre until Nov. 25. (photo from Metro Theatre)
It takes courage for a small semi-professional theatre to tackle a play that was made into an internationally acclaimed film, with Helen Mirren and Julie Walters in the title roles. But that is exactly what the Metro Theatre has done. And they pull it off beautifully. Their new show, Calendar Girls, opened Oct. 28.
The play, like the movie, is based on the true story of a group of middle-aged Yorkshire women, one of whom was recently widowed. After her husband died of leukemia in 1998, she and her friends decided to produce a nude calendar, with photos of themselves, to raise funds to buy a settee for the visitors lounge in the hospital where her husband had been treated. The calendar for the year 2000 was released in 1999 and became a phenomenal success. The women made calendars for several successive years, and the proceeds from this original fundraising campaign resulted in several million pounds for cancer research in England.
These wonderful women inspired Juliette and Tim Firth to write a screenplay, which became a movie in 2003. Later, Tim Firth adapted it to the stage, and the play premièred in England in 2008. The North American première took place in Winnipeg in 2011.
The director of the Metro production, Alison Schamberger, writes, "I approached directing this beautiful play with a degree of apprehension. There seemed to be many pitfalls attached to it…. Luckily, I was able to surround myself with very talented people who always make the director look good! This play is a true testament to friendship that endures all hurdles."
The play opens in a village church in Yorkshire, where a group of six women do tai chi and listen to lectures about such scintillating topics as broccoli. Everything is ordinary, bordering on the dull. We meet Chris and Annie and their friends, and learn some of the mundane details of their lives and a bit about their very different personalities. When Annie's husband, John, dies of leukemia, the women come together to support Annie.
They also want to buy a new settee for the hospital – more than one of them has had to sit for hours in the facility's uncomfortable waiting area. They come up with the idea of a (tasteful) nude calendar. Not everyone is open to the radical approach at first, but eventually they all do it for John. The photo shoot scene is hilarious and heartbreaking in its intensity. The six actresses actually disrobe on stage, but the audience sees less skin than they would on a beach.
The second act is the aftermath. The media attention. The fame (or infamy), which none of the women expected, and the different ways they deal with it. Tempers collide, but friendships endure, even as the sales keep rising.
Music plays an important role in this production, perhaps as important as the actors. It supports the classy feel of the story, as does the simple, stationary set, the interior of a church, and the lighting, which produces the church's colourful stained-glass windows, as well as the sunlit field into which the women venture on a couple of occasions.
The actors playing the calendar girls are on stage almost the entire length of the play. Their monologues and sharp banter are in turn sad or funny, poignant or irreverent. They take the audience on an emotional journey. Each of the six shines in her unique way.
Chris (Rebecca Walters) is the heart of the show. Her courage and optimism have no bounds – she is the one who comes up with the nudity idea – but she is as fallible as everyone else.
Annie (Peg Keenleyside) is grieving for her husband. Her involvement in the calendar is for his sake alone; she wouldn't do it otherwise. Her main reason for participating is to contribute to the fight against cancer.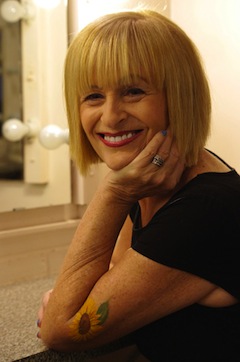 Cora (Jewish community member Judy McLellan) is a single mother worrying about her daughter's reaction to the calendar, and all mothers would understand her concern. McLellan provides many singing interludes, and her voice is charming.
Jesse (Joan Koebel), a retired teacher, is full of pluck and laughter. She is the most comical of the cast, while Celia (Yasmin Tayob) and Ruth (Helen Martin) wrestle with their own demons.
The women's friendship triumphs over their adversities, and their story is thought-provoking. It brings up important issues, such as how we deal with death and what we consider beautiful. As we watch the play, we contemplate our own imperfect bodies. We ask ourselves for what cause(s) would be willing to expose our vulnerability and literally ourselves to the entire world.
The play is not simply a slightly risqué comedy of manners. It raises moral questions and examines our relationships. What would we do for a friend? How would we weather the test of fame? The protagonists of Calendar Girls came out of their adventure better friends and, arguably, better people. Do we have it in us to be as brave as they were?
Calendar Girls runs at Metro Theatre (metrotheatre.com) until Nov. 25.
Olga Livshin is a Vancouver freelance writer. She can be reached at [email protected].