Prince Harry with Meghan Markle wearing Tuxe's Boss bodysuit. (photo from Beretta/Sims/REX/Shutterstock via Israel21c)
Since announcing her engagement to Prince Harry last November, all eyes have been on Meghan Markle's style. Coats, shoes, dresses and other fashion items worn by the bride-to-be have sold out in minutes. It's no surprise that after she wore a bodysuit by Israeli designer Tuxe for an evening out with her betrothed, the style is now backordered until May.
The couple, set to marry in May, went to London's Goldsmiths' Hall for the Endeavour Fund Awards, which recognize injured servicemen and women. Known for her dressed-down-meets-royal style, the former actress layered Tuxe's silk Boss bodysuit underneath a tailored black Alexander McQueen suit. On her feet, she wore Manolo Blahnik pumps.
"We've been royally approved!" the brand posted on Instagram after Markle was photographed wearing the bodysuit. "We absolutely love Meghan for all she has done for women's rights and are honoured to be worn by someone who encapsulates what we stand for as a brand. She uses her spotlight to be an inspiration and she definitely is to us!"
Tuxe founder Tamar Daniel was born in Jerusalem, raised in London and is a graduate of Shenkar College of Engineering and Design in Ramat Gan. She founded her Philadelphia-based bodywear line in 2015, focusing on transforming the bodysuit, once a 1990s staple, into a chic, modern garment.
Her collection includes a range of bodysuits and has become particularly popular with professionals and religious communities, Daniel told Vogue in an interview. Prices range from about $80 for a simple sleeveless bodysuit to $463 for a cashmere turtleneck version.
Tuxe may not be the first Israeli designer that Markle has had her eye on. In December, news broke that Israeli designer Inbal Dror had been approached by the royal family to provide a sketch of a potential dress for Markle's upcoming wedding to Prince Harry.
* * *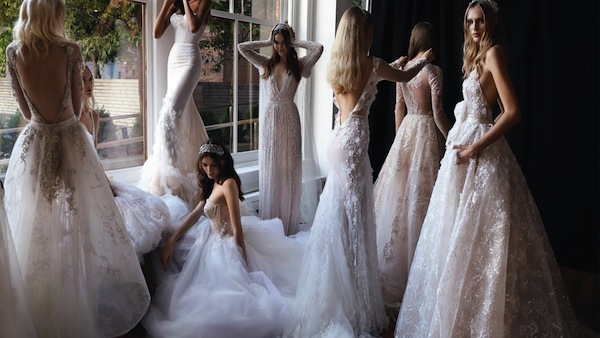 On Dec. 18, 2017, Israel21c posted the story, "Is Meghan Markle going Israeli for her wedding dress?":
It's rumour, it's conjecture, and it's probably an awful lot of wishful thinking, too, but that's not stopping Israelis from getting excited at the thought that Meghan Markle may choose an Israeli wedding designer for her dress on the big day.
All the kerfuffle began when news broke that Israeli designer Inbal Dror had been approached by the Royal family to provide a sketch of a potential dress for Markle's wedding to Prince Harry in May.
Dror, who began making wedding dresses in 2014, favours sensual red-carpet glamour, with plunging necklines and figure-hugging hand-woven dresses. It's quite a step away from traditional royal wedding gowns that usually err on the side of caution.
This isn't the first time that Dror has been approached by celebrities for designer dresses. In 2016, pop diva Beyoncé wore a sheer high-necked white lace Inbal Dror bridal gown to the Grammy Awards.
"Beyoncé casually wore a wedding dress to the Grammys," read the headline of Elle magazine afterwards, adding as a sub-head: "The queen can do as she pleases."
"It was an amazing moment to see one of my favourite stars wearing one of my designs," Dror told Brides after seeing Beyoncé in her dress. "I can't even begin to explain the feeling. I am so excited for what is yet to come!"
Dror, a graduate of Shenkar College of Engineering and Design, sells her dresses for between £6,000 and £9,000 (about $10,500 to $16,000 Cdn) at the Morgan-Davies Bridal boutique in London – with fittings by appointment only. All of her outfits are individually made, and are based on 30 different measurements.
In an interview with Bridal magazine in 2015, Dror said, "A wedding is such a significant event in a woman's life, and it's how she feels wearing the dress that emphasizes her features, [which] can make her feel like the queen of the night."
Israel21c is a nonprofit educational foundation with a mission to focus media and public attention on the 21st-century Israel that exists beyond the conflict. For more, or to donate, visit israel21c.org.