Photos from camp captured kids' joy and excitement while appeasing the anxious parents at home. (photo from Camp BB Riback)
Let me start by saying how grateful I am my son has returned from his first three-week camp experience clean, smiling and with a head full of exciting stories!! Thank you Stacy Shaikin, Jordyn Wright and the staff for making this first year back memorable.
Today, in the joyful chatter of the reunions with our kids, we feel it in our hearts and bones: Camp BB Riback must continue to survive and thrive in Alberta.
As my son unpacks his duffle bag, he unpacks his memories not yet knowing they will remain with him for a lifetime. It is a very special role Camp BB plays in our children's lives, providing a summer full of social, physical and cultural experiences unique to the Jewish community.
Camp BB's influence and lifelong impact on our kids individually and collectively informs the future of Jewish communities in our cities, province and beyond. I am grateful to have strong leadership in Stacy and a supportive board of directors from both Edmonton and Calgary, some of whom have given years of service.
I give props to the photographer who captured absolute joy and excitement while appeasing the anxious parents at home. I often found myself playing "Where's Waldo?" – happily, searching for my kid in the background because he was busy living his best camp life … completely neglecting his duty to send a thumbs up or other such emoji so mom and dad could be OK! His actions in the background spoke louder than his hand signals ever could.
A highlight of the photo gallery was seeing the action in and around the newly refurbished pool. Stacy and the board worked tirelessly to fund that project during COVID. The dedication and generosity of everyone involved is translated onto the faces of every happy camper that leapt, dove, flipped, slipped and eased their way into that pool this summer and for every summer hereafter.
We wouldn't be enjoying the gallery photos or stories shared by our kids tonight if it weren't for the extraordinary outpouring of generosity that kept Camp BB Riback's doors open during the unprecedented two-year shut down. I had the privilege of serving on the board and stewardship committee during that time, working and witnessing the unity of our community as we championed to save Camp BB Riback – it was and continues to be an exhausting amount of work.
So, today, I hope we (camp parents and families) will find it in our hearts and budgets to donate right now to support the continued revitalization of old and outdated structures and fund new projects at camp.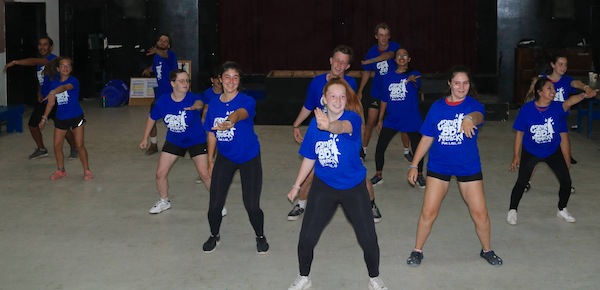 My family's favourite way to donate is through the monthly auto-donation subscription plan and the Skip the Depot program. It is a small amount each month for us that, over time, builds to a lasting impact at camp.
More importantly, I know, in my heart and bones, that through our regular support of camp we are building a legacy of philanthropy in our family so that, one day, when our kids are grown, they will support camp in their own way … and the cycle of nourishing our community, the Jewish community, continues.
Today please consider the gift of memories and lifelongfriendships (see what I did there?!) for future generations.
Thank you Camp BB Riback and everyone you have touched. Until next summer.
– Courtesy Camp BB Riback