Israeli musician Micha Biton headlined the community's Yom Ha'atzmaut celebration. (photo by Rhonda Dent)
It was just shy of a sellout crowd on April 22 at the Chan Centre for the Performing Arts, as Israeli rock pioneer Micha Biton headlined the community's main celebration of Yom Ha'atzmaut.
As it does every year, the evening began with the conclusion of Yom Hazikaron, led by Geoffrey Druker. In the singing of the national anthems, Vancouver Talmud Torah Choir was joined by Partnership2gether twin school Alei Givah Choir in Kfar Giladi (by video) for O Canada, while Richmond Jewish Day School Choir and Partnership2gether twin school Hameginim Choir in Kiryat Shmona (by video) sang Hatikvah.
Diane Switzer, board chair, Jewish Federation of Greater Vancouver, which led the celebration supported by some 50 community partner organizations and countless sponsors and volunteers, spoke briefly. She provided an overview of how the funds raised here for our partnership region in Israel – Eztabah Hagalil (the Galilee Panhandle) – are spent.
"Our Gesher Chai (Living Bridge) program aims to deepen connections with Israel on a person-to-person basis," she said. "It builds lasting ties between our two communities, and is a cornerstone of Jewish Federation's work.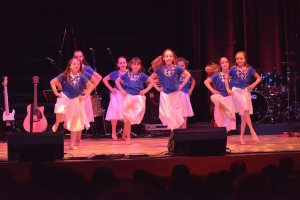 "Through Gesher Chai, we help local day school students build enduring relationships with their peers at their sister schools in Israel. We fund exchanges between local educators and their Israeli counterparts so they can develop a shared curriculum. And we help connect the JCC Or Chadash dancers you'll see tonight with the Hora Goel dancers from our partnership region. The impact of these programs, which promote Jewish identity and unity for elementary and high school students, can be felt around the world and here at home.
"Etzbah Hagalil is geographically, economically and politically removed from the centre of Israel," she continued. "It is surrounded on three sides by Syria and Lebanon, and often bears the brunt of attacks when tensions flare. High unemployment and limited opportunities for education and advancement are ongoing concerns, and the area is home to many at-risk youth. Jewish Federation's strategic investment in this region is aimed at breaking the cycle of poverty, improving living standards and developing the region's long-term economic prospects."
Warming up the crowd before Biton's performance was the Or Chadash dancers. The evening also included greetings by video from Premier Christy Clark, as well as from mayors Benny Ben Muvchar (Mevo'ot Hermon), Giora Saltz (Galil Elyon), Rabbi Nisim Malka (Kiryat Shmona), Ilan Or (Yesod Hama'ala) and Herzel Boker (Metula).
For more photos from the event, click here.