Arlene Doyle, right, was joined for part of her adventure by her friend, Jennifer Williamson. (photo from Arlene Doyle)
In early February, Arlene Doyle, a 53-year-old massage therapist and writer based in Ottawa and Perth, Ont., set off on the Israeli National Trail, the Shvil, as it is called in Hebrew. She shared some of the highlights of her at-times grueling 10-week hike at a Jewish National Fund of Ottawa-hosted event on July 14.
Beginning at the Gulf of Aqaba in Eilat, the Shvil runs northwardly through the length of Israel to Dan, near the Lebanese border. The trail, which is approximately 1,000 kilometres (620 miles), opened to hikers in 1995.
In the description of herself on her website, theflipsideoffifty.com, Arlene says she is someone who likes adventures. For those of us who have known her personally for nearly 30 years, that description is an enormous understatement. Arlene is an experienced hiker, with Kilimanjaro, Everest base camp, parts of the Peruvian Andes, several mountain ranges in Greece, Mount McKinley in Alaska and up and down the Grand Canyon to her credit. She has also biked from Vancouver to Mexico along the U.S. West Coast.
No stranger to challenges, the Shvil appealed to Arlene because it met four specific criteria: the trail was more than 500 miles, parts of it were remote, she could expect it to be warm most of the time, and Israel was a place to which she had not yet traveled.
It also obliged her one constraint. In addition to her work as a massage therapist, writer and mother of three young adults, Arlene is a fledgling blueberry farmer. She needed to be home by mid-April to nurture her hundreds of blueberry plants as they entered their second year of growth.
Arlene was joined for part of her adventure by a friend, Jennifer Williamson.
The Shvil was designed to be walked from the northern part of the country towards the south. Walking from the north, hikers have the opportunity to acclimatize to the trail and be in their best physical shape as they approach its most challenging parts. Since Arlene and Jen started their hike in early February, when northern Israel can be chilly, they decided to walk from the south to the north, in order to enjoy warmer temperatures at the outset of the hike. They paid a price for that decision.
Carrying 45-pound backpacks with all of their camping and survival gear, they met windy, wet weather, cold evenings and mornings in the desert, difficulties caching water – which meant having to carry enough water and food for three days – steep ascents which, for hours, snaked up, down and around mountains, and difficulties even finding the trail markers – orange, blue and white stripes placed on rocks at varying frequencies. Their challenges also included literally having to swim across pools of water of unknown depth only to have a sheer vertical rock waiting on the other side. And then there was the isolation – they hiked for seven days from Eilat to beyond Timna Park and the Solomon Pillars without meeting another soul. In Arlene's words, "it was strenuous, beautiful and sometimes treacherous, and the quiet solitude of the desert felt blissful."
Once they reached Arad, a city located on the border of the Negev and Judean deserts, they were far enough north to start enjoying Israeli hospitality. There, Jen's enflamed knees were diagnosed as acute tendinitis, no doubt brought on by the heft of her pack, and prescribed a 10-day rest, which she took at a guest house. Arlene continued north on her own and her blogs provide exquisite detail about her experiences in and around Arad, Masada, Meitar and Sansana.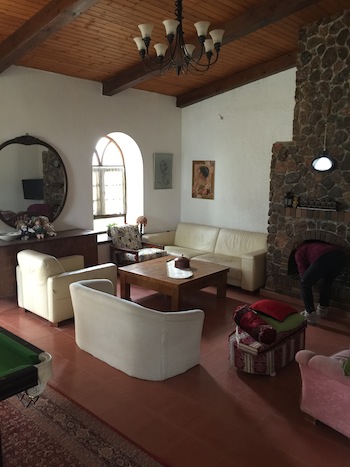 It was in Sansana where Arlene met her first "Trail Angel" – Israelis who feel passionately about their country and open their homes to hikers along the Shvil, providing beds, showers and other amenities out of pure generosity. After staying with several Trail Angel families, Arlene remarked, in her most diplomatic fashion, that she had gained an appreciation of the many complex issues around which Israelis have equally complex and diverse opinions.
After a few days of travel on her own, Arlene realized that she, too, had some bodily damage to repair. She had significantly strained both her Achilles tendons. Communicating via cellphones, she and Jen decided to nurse their mutual injuries with an unplanned three-day "spa retreat" at the Dead Sea, camping on an empty beach facing the Jordanian mountains. A lack of "sweet" water in which to bathe their salt-crusted bodies and clothing and the fact that their food supply had run out, put them back on the Shvil, hiking towards Jerusalem.
Their few days in Jerusalem proved to be one of the highlights of the trip. Arlene remarked on how deeply moved she was by all she experienced in the Old City. Having been raised in a religious milieu – her parents were Mormon missionaries – she had a deep appreciation for the various interpretations, traditions and teachings of the many unique stones, domes, walls and temples throughout Jerusalem.
The richness of this experience was much enhanced when she cashed in on a generous gift from one of her Ottawa clients – an overnight stay at the King David Hotel. She and Jen arrived looking like ragamuffins, and left feeling very pampered by the luxuries the gift afforded them and by how wonderfully they had been treated. When hotel staff heard that these women were walking the Shvil, Arlene feels that they were accorded an extra measure of respect and kindness.
After Jerusalem and before Jen returned to Canada, they rented a car to visit some of the key sites in Israel not on the Shvil. The added bonus was that being off their feet gave their knees and ankles more recovery time. They headed to the Golan Heights, passing the Mount of Beatitudes, Merlon Golan and, finally, the Nimrod fortresses, which date from 1270 CE.
With Jen in the air, Arlene returned to the Shvil. Her path took her through Caesarea, where she slept within the famous ruins. Workmen woke her with water and cookies and advice to be careful, as snakes would soon be coming out from under the rocks to sun themselves.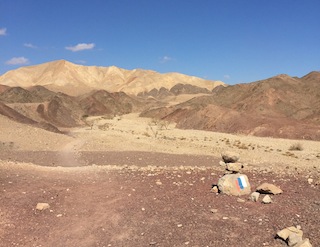 In Zikhron Ya'acov, she enjoyed an impromptu concert in the park before heading to the home of another Trail Angel. After returning yet again to the Sea of Galilee, she made her way to the Nahal Me'arot Nature Reserve and to the one spot on earth where skeletons from both Neanderthal and Homo Sapiens have been found together.
It was during these solitary days on the trail that Arlene's personal reflections on her experience came into focus. Her first reflection was around Trail Angels. "The degree of caring here for other people's well-being feels unique," she said. "The love of homeland feels unique. Hiking the trail is both praised and supported."
A second reflection was around loss. One of the stopping points on the trail is a small house near Sansana, where a young Israeli died while hiking. The parents of the hiker created this house as a memorial to their son. Arlene talked about how significant a tribute that was and how it sharpened her own awareness of how, in life, "nothing stays the same; we all have to adapt to losses."
At the end of her presentation, Arlene expressed very poignantly what many of us in the audience wanted to know.
"Solitary walking for days, you find out things about yourself," she said. "We all have a load to carry. Walking alone, the weight and onus of your emotional cross rests squarely on your own shoulders. You come face-to-face with the sticks and bones of your personality and the measure of your mettle."
Judging by the questions posed by her audience, Arlene's experience whet the appetite of many to have the opportunity to measure their mettle.
Karen Ginsberg is an Ottawa-based travel writer who hopes to walk a flat part of the Shvil on an upcoming trip to Israel and meet a Trail Angel or two.