Shirley Barnett, chair of the Jewish cemetery restoration project, led the proceedings. (photo by Cynthia Ramsay)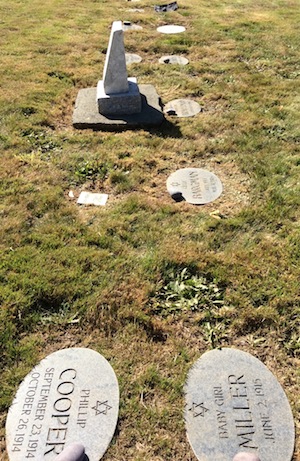 On Sept. 11, a small crowd gathered at the Jewish section of Mountain View Cemetery for the unveiling of 87 headstones for babies and children who had passed away between 1893 and 1996.
Shirley Barnett, chair of the Jewish cemetery restoration project, which began in 2012, welcomed attendees. She acknowledged several of the people who greatly contributed to the project, and noted there is still a need for financial support.
"There is work to be done yet," she said. "There are at least 40 or 50 adult burials that do not have headstones.… We have about 10 or 11 baby and children's headstones that we did not cover today; we're still researching the data on those."
Rabbi Andrew Rosenblatt of Congregation Schara Tzedeck said a few words about how the loss of children is treated in the Tanach, while Rev. Joseph Marciano chanted the prayers for the unveilings.
Before the service, however, Barnett paid tribute to Helen Aqua, who donated the funds for all of the 87 headstones unveiled that day.
"I am but a small piece of this project, and most proud to have been part of this restoration," said Aqua.
The project also received $27,000 toward the restoration from the federal government's Canada Western Economic Diversification Infrastructure Canada 150 Grant.
Representing the Government of Canada, Dan Ruimy, member of Parliament for Pitt Meadows-Maple Ridge (Liberal), spoke.
"Just to be here today is very special to me," said Ruimy, who is Jewish. He said the ceremony was "a solemn reminder of the early pioneers and their families who have helped shape and build this community."
He said he was proud that the government was "able to help with this meaningful project."
People were invited to walk through the cemetery, and Daniella Givon led a tour, using a guidebook created by the Jewish Museum and Archives of British Columbia.