Free Spirit Experience helps troubled teens "restart" their lives. (photo from freespiritexperience.org)
Adolescence is a time of transition and confusion and teens themselves often don't understand what's happening. They frequently send mixed messages and get angry when adults do the same. They want to be independent and strong, but they also need adults' physical and emotional support. Navigating the turbulent landscape of the teenage experience can be equally challenging for teens and the adults in their lives.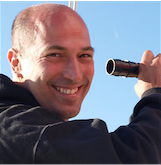 Although it can be compelling to dismiss their experiences, making the effort to understand teens can have an enormous impact on their ability to channel their energy, passion and idealism. When teens are feeling confident, clear, safe and supported, they can accomplish incredible things.
Like any other effort to improve, consistency is key. With a little understanding, compassion and sensitive and intentional practices, you can improve your relationship and help your teen tap into their potential.
Dr. Tamir Rotman, clinical psychologist and founder of Free Spirit Experience, which helps troubled teens "restart" their lives, shares his advice on how to improve communication and connection with your teen.
Go with their flow. Pay attention to when they need you close by and when they want some distance. Give them choice to connect by saying, "I'll be around if you need me." This is a great way to be available without imposing on them.
Be an anchor of stability. Although they may fight you on it, for teens, stability is safety. Be predictable, in a good way, so they can rely on you when they need to.
Start young. If you want them to feel safe to talk to you, it's important to start listening to them when they are young children. Be curious about the things that interest them and know enough about their interests to ask relevant questions. This effectively says, "I am interested in you, I care." If it's late in the game, you can still earn their trust, but you will have to show genuine and persistent interest for them to buy it and take you seriously.
Listen during a conflict. If you really listen and try to understand them, they will try to listen to you, too. Even when you're sure you've heard it all already or that they are trying to rock the boat, stay curious. Genuinely ask them what happened to truly seek to understand where they are coming from.
Validate their feelings. It's crucial to validate their feelings. It's a very common mistake to start by giving advice or explaining yourself or the other person involved. However, that will only alienate your teen and make them feel more isolated. Always start by acknowledging their experience and their side. You can say, "It must be really difficult/sad/frustrating to…," so they hear that you are interested in understanding them and they have a safe space to be heard.
Be proactive. Reach out to your teen when you see that they are struggling. Find a good time to say, "I see that you are having a tough time and I really want to help." Don't be afraid to be creative, ask for outside help, and use trial and error with your teen to find a solution.
Be patient. Trust yourself and be patient with the process. Even when your teen is acting stormy, just know that the turbulence reflects their thoughts. Do your best to have compassion for your teen and for yourself. Involve your teen in the process in whatever way possible. The best solutions come when change comes from a conscious choice.