Stratford Hall Sabres and Ultimate Peace leaders-in-training in action this past April. (photo from Ultimate Peace)
Ultimate Peace uses team sports – specifically Ultimate Frisbee – as a vehicle for peace education in the Middle East (and beyond). It starts with throwing a Frisbee but leads to friendship, trust, shared leadership opportunities and powerful life lessons in communities where conflict is rife.
Founded on the core principles of mutual respect, friendship, non-violence, integrity and fun, a group from Ultimate Peace embarks on a North American Friendship Tour every year. Karym Barhum is the Middle East regional director for UP. Originally from Ein Rafa, an Israeli Arab village about 15 kilometres northwest of Jerusalem, he described this year's cohort of 14 Israelis as "Arab, Jewish, Muslim and Christian youth living in very close proximity. They don't go to the same schools, they just live in [separate] communities: Arabs with Arabs, Jews with Jews."
This year, Ultimate Peace added a Vancouver leg to their usual itinerary. Following a stop in Seattle, a group of 15-to-18-year-olds was in Vancouver April 11-16. This part of the tour was made possible by Danie Proby and Ari Nitikman, co-founders of and head coaches at UltiPros; both are alumni of Stratford Hall school on Commercial Drive. Working with their connections, Proby and Nitikman set the ball rolling for an extraordinary experience for both the visitors and their hosts.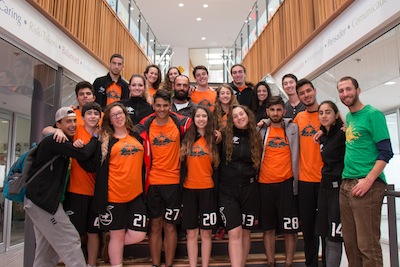 UP alumni and leaders visit schools, community centres, places of worship, homes and universities to spread awareness of UP's Leaders-in-Training program. Barhum said it is a tremendous opportunity to see people "accepting everybody no matter who you are. We hope they'll come back to the Middle East as ambassadors of UP, so they can educate others on how to accept differences."
Samantha Gayfer, director of community development at Stratford Hall, said the school teaches students "they have a responsibility to give back and make a difference."
Having arranged for Stratford Hall to host the UP event, families from the school billeted the 14 visiting students, who also spoke at other schools during their time here.
Gayfer described the billeting experience as "outstanding."
"Arrangements were made for kosher and halal diets," she said, "and the Jewish players had Passover while they were here. They organized a full meal with cultural and religious understanding."
The impact of this gesture was not lost on her. "These are kids from families who live three miles from each other but never visit each other's homes. Now they're good friends."
Naturally, there were questions. Gayfer asked the Arab students what their parents thought about their involvement in Ultimate Peace. The answer was always, "My family supports this."
While she conceded that liberal parents are the most likely to enrol their kids in programs like this, it doesn't take away from the power of showing Canadian kids what is possible, even in troubled regions. If such friendships are possible among Arabs and Jews in Israel, what can't we achieve here in peacetime? she asked. "The more families you touch, the better," she said, "to show that it's not an insurmountable challenge, that we could live cohesively together."
During their stay, Ultimate Peace won a tournament – a highlight of their trip. Gayfer said it was "an amazing experience for the kids."
UP is an opportunity for youth to educate others about life in Israel. In talking about how one can be part of positive change by learning about multiple perspectives, they are also modeling new kinds of relationships: relationships that are necessary before conflict can diminish on a larger scale.
Stratford Hall student Matthew Chiang said he had an "awesome and unforgettable" experience with Ultimate Peace. "The kids were awesome, super-enthusiastic, funny and kind," he said. "Personally, the two kids that stayed over at my house, Ohad and Faris, had a lot of common interests with me, such as ping pong, Rubik's Cubing, playing cards, Ultimate, and even shopping. I had never met a person from Israel and I had no idea that they were so similar to me."
Asked what he thought of the group as a whole, he described it as strong and cohesive. "The Jewish and Muslim students seemed like great friends who got along really well…. My family and I talked to them about their culture and religion. They seemed open and spoke without conflict," he said.
"Kids involved in this program can send a message to adults that, although there is heavy conflict and anger here, in the end, we are all people who share interests and hobbies," he said. "Ultimate really breaks the barrier in that conflict and embraces two different ideas and shares one common goal – to have fun."
He added, "I think Ultimate Peace has strengthened the bond between Jewish and Muslim people and has started to break the barrier between them."
As well as promoting physical and mental fitness, Ultimate Peace teaches life skills like leadership and communication and reinforces the importance of hope, kindness and collaboration.
"I thoroughly enjoyed how kind they were and how many common interests we had," said Chiang. "Ultimate Peace is such a great organization with such an important purpose. I'm glad that I had the opportunity to be a part of their journey and I hope that I see them again."
Barhum is already seeing the impact of UP's tour on the students. "Many of them are making plans for a twinning program between schools in North America and schools in Israel. This would allow the Israeli kids to take turns playing host to overseas students." Not satisfied with a single trip to Canada, he said, "They are looking to develop a stable program."
None of this would be possible with the UP infrastructure behind it. Barhum described a spirit of openness and optimism in the leadership of the program.
"The board of directors trust and allow me and my staff to do things differently, always trying out new ideas," he said. "They allow us to be open, to learn from others and to be able to change if necessary. This is one of the big things that inspires me and keeps me doing my job."
The Vancouver stop, he said, was "a highlight – seeing our kids learning new stuff, recognizing that it is possible to live and share their lives with others from a different culture or religion."
To learn more about and to contribute to Ultimate Peace, visit ultimatepeace.org.
Shula Klinger is an author, illustrator and journalist living in North Vancouver. Find out more at niftyscissors.com.