Sasson (Sassy) Reuven serving in the Golan Heights. (photo from Sassy Reuven via Chabad of Richmond)
On Nov. 9, more than 200 members of the community packed into the Executive Inn in Richmond to attend a lecture by retired Israel Defence Forces commander Sasson (Sassy) Reuven, who held the audience spellbound for 90 minutes as he recounted his participation in the 1976 Operation Entebbe.
Reuven, an Israeli from Be'er Sheva, relocated to California after completing his military service, heading up security for El Al before opening a construction development company in Calabasas. As the recession hit, he found work scarce and confided his financial woes to a new friend, the Chabad rabbi in Calabasas. Somehow, it came up in conversation that Reuven had been an elite commander in the IDF and was one of the soldiers sent to rescue hostages taken in the Entebbe hijacking. Before he knew it, Reuven had agreed to give a talk to his community, and that talk jumpstarted his public speaking career, taking him all over the world to recount his memories of Entebbe.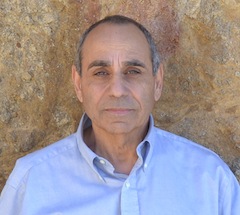 Earlier this month, he stopped in Richmond to deliver a talk sponsored by the Jewish Federation of Greater Vancouver, Chabad of Richmond and Richmond Jewish Day School. Then he was headed to Vancouver Island, Spokane, Wash., and South Africa for more speaking engagements.
The hijacking began on Air France Flight 139, which, on June 27, 1976, was en route from Tel Aviv to Paris via Athens. In Athens, four terrorists boarded the plane and forced the pilot, Michael Bacos, to divert the plane to Benghazi to refuel. Seven hours later, the plane left for Entebbe, arriving at 4 a.m.
"Israel had a good diplomatic relationship with Uganda from 1965," Reuven explained. That changed in 1972, when President Idi Amin came to Israel, saw the IDF's jet fighter planes and declared he wanted them for his own air force, "so he could destroy Tanzania." The diplomatic visit did not go well and, over the course of it, Amin had a psychotic episode and spent time in hospital, Reuven said. When he returned to Uganda, Amin persisted in his demand for the fighter jets, but Israel, a friend of Tanzania, denied his request. When the hijackers requested the cooperation of Amin's army so they could negotiate for the release of the hostages from Entebbe, the president complied.
Over the two days that followed, the hijackers separated Jews and Israelis from the other passengers. They set their ransom price and threatened to start killing Jewish hostages by July 1 if their demands weren't met. Later, they extended the deadline to July 4, giving the IDF much-needed time to plan its heroic rescue.
The mood in Israel was very sombre at the time, Reuven recalled. "The entire country was still in mourning after the Yom Kippur War. When we learned we'd be flying to Entebbe to bring the hostages back, our commander told us we needed to bring them back alive – no fatalities and no injuries. We were going to bring the country's morale back up."
Asked if he felt ready to embark on such a mission, Reuven said he'd been in training for two years solid prior to the rescue. "The only time we stopped training was for Shabbat," he reflected. "When I was selected to be part of this mission, I felt like the luckiest person alive, that this was my core existence as a Jewish soldier."
The hours before he and the other soldiers boarded a Hercules C-130 aircraft and took off for Entebbe were long. Reuven recalled waiting beneath the eucalyptus trees at an army camp where the soldiers were fed hardboiled eggs, pita and mud-like coffee, and given very little information about their upcoming mission. When they finally took to the air, there were four Hercules C-130s and two Boeing 707s, containing a flying hospital and a flying command centre. The soldiers numbered 212 and included pilots, flight engineers, doctors, paramedics, refueling technicians, psychologists and intelligence personnel. Space was so tight on the flight that Reuven was wedged between the wall of the plane and an old black Mercedes-Benz that the IDF had brought along so that its soldiers could masquerade as officials in the Ugandan government if necessary.
At one point in his lecture, Reuven donned a white cap fitted with an elastic beneath his chin. "When we disembarked from the planes, we were wearing hats just like these," he said. The IDF knew the airport would be in pitch darkness when its rescue mission arrived at 11 p.m. and the white hats were a way for the soldiers to recognize and see one another easily.
The rescue mission soldiers had various tasks. Some, like Yonatan Netanyahu, were sent to Entebbe's old terminal building, where the hostages were being held. Reuven was instructed to go to the new terminal building. He recalled how the Ugandan soldiers knew something was going on and started raining bullets on the IDF rescuers as they ran towards the terminal buildings. Netanyahu was shot by one of those bullets and died minutes later at the scene.
In total, the rescue mission took 90 minutes and, by 12:30 a.m., the seven hijackers were dead and the hostages were loaded into an aircraft and en route to safety. The mission returned with fewer casualties than had been expected. Among the IDF soldiers, one had died and four were injured. Six hostages had been injured and four had been killed, including 19-year-old French-Israeli Jean Jacques Mimouni. When the IDF had arrived in the terminal building, they'd shouted to the hostages to lie down. Mimouni was so excited to see them, he jumped up and tried to embrace them. Mistaking him for a hijacker, the IDF shot him dead.
While he didn't spend much time detailing the rescue scene, Reuven said he felt elated as he flew back to Tel Nof in Israel. "I felt like the long arm of the Israeli army was such a great arm that we'd go take care of any Jew, anywhere, in dire straits."
Lauren Kramer, an award-winning writer and editor, lives in Richmond. To read her work online, visit laurenkramer.net.