As part of the Vancouver Recital Society's fall programming, both pianist Sir András Schiff (above), and harpsichordist Jean Rondeau will perform J.S. Bach's Goldberg Variations.
The Vancouver Recital Society's season opened last month with the Canadian debut of Italian pianist Filippo Gorini. It continues Oct. 16 with Steven Isserlis (cello) and Connie Shih (piano), and Oct. 18 and 20 with pianist Sir András Schiff.
Rounding out the fall program, Turkish cellist Jamal Aliyev makes his Canadian debut with Turkish pianist Fazil Say on Oct. 30, Jean Rondeau (harpsichord) plays on Nov. 6, and American violinist Randall Goosby and Chinese pianist Zhu Wang perform together on Nov. 27.
Sir András was scheduled to fly to Vancouver in March 2020 to help VRS celebrate its 40th anniversary. Instead, he was detained in Japan as the world went into lockdown due to COVID-19. His Oct. 18, 7:30 p.m., performance at the Vancouver Playhouse will be special – Sir András will announce and discuss what he is going to play from the stage. On Oct. 20, 7:30 p.m., at the Orpheum Theatre, he will perform the Goldberg Variations. Originally written for harpsichord, J.S. Bach's Goldberg Variations were first published in 1741 and are named after Johann Gottlieb Goldberg, who may have been the first performer of the work.
Sir András's Oct. 20 performance is a benefit concert. It will help the VRS set the stage for its next big milestone – its 50th anniversary season in 2030. In addition to the Variations, Sir András will play Bach's Italian Concerto in F major and Bach's Overture in French Style in B minor.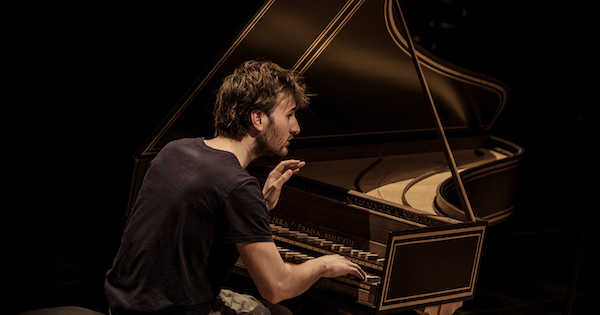 Rondeau also will perform the Goldberg Variations – his Nov. 6, 3 p.m., concert, will take place at Congregation Beth Israel.
"An ode to silence" is how Rondeau has described the Variations. "I feel they were written for silence, in the sense that they take the place of silence," he says. "All Bach is there in the Goldberg Variations … all music is there … and I will no doubt spend my life working on them."
For tickets and more information, visit vanrecital.com.
– From vanrecital.com