Left to right: Ezra Shanken (Jewish Federation), Tanja Demajo (Jewish Family Services), B.C. Lieutenant Governor Janet Austin, Simone Kallner (JFS board member) and Nico Slobinsky (CIJA). (photo from Jewish Federation)
Earlier this month, B.C. Lieutenant Governor Janet Austin, honorary patron of the Jewish Federation of Greater Vancouver, spent a full day getting to know the Metro Vancouver Jewish community.
Austin visited the Kitchen at Jewish Family Services, Schara Tzedeck Synagogue, the Jewish Community Centre of Greater Vancouver, the Vancouver Holocaust Education Centre, and Hillel House at the University of British Columbia.
It was an opportunity to talk together about the strategic work that Jewish Federation and its partners are doing. The Jewish Museum and Archives of British Columbia, Shelley Rivkin and Daniella Givon gave presentations about the community.
The visit to Hillel was an opportunity to see not just their good work, but how Jewish students are dealing with antisemitism on campus. They are singled out in ways other students and groups simply are not, including students connected with countries that are wrestling with difficult issues within their borders, or are led by dictators, or have dismal human rights records.
The dichotomy is shocking, and it is part of why Jewish Federation continues to push for local and provincial governments to follow the federal government in adopting the International Holocaust Remembrance Alliance definition of antisemitism.
For more photos of the day, visit facebook.com/jewishvancouver.
– Taken from Jewish Federation of Greater Vancouver chief executive officer Ezra S. Shanken's weekly email update (May 6)
***
On May 6, Governor General of Canada Mary Simon invested 10 Officers (OC) and 13 Members (CM) into the Order of Canada during a ceremony at Rideau Hall. Vancouver Jewish community member Gordon Diamond, OC, OBC, was among the honourees:
"Gordon Diamond has upheld the family's exceptional legacy in philanthropy and business. Chair and owner of West Coast Reduction Ltd. and Austeville Properties Ltd., he has built them into two of Western Canada's largest family-owned businesses. As one of our country's leading philanthropists, he and his eponymous foundation focus on health care and social services. He is noted for his landmark donation to a major Vancouver outpatient health centre, and his support for Jerusalem's Shalva National Centre for disabled persons and the Simon Wiesenthal Museum of Tolerance."
– From the website of the Governor General of Canada
 ***
Richmond Cares, Richmond Gives presented the 2022 Volunteers Are Stars Awards virtually on April 27, during National Volunteer Week. Tammi Belfer was one of the four winners.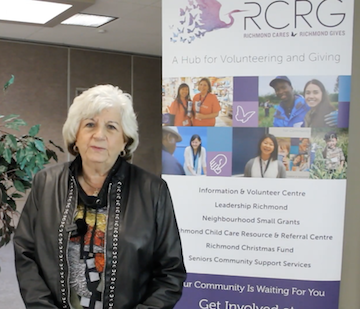 The 18 individuals and groups who were nominated all made a meaningful difference in the Richmond community. Collectively, they've contributed thousands of hours to dozens of causes, enhancing the lives of residents. Their volunteer work has impacted children and youth, seniors and families, and those experiencing poverty and homelessness. In short, every one of them is a star, and their light makes our community shine so much brighter.
Belfer was honoured as a Star of Richmond for excellence in nonprofit leadership. Li Qing Wang of Richmond Women's Resource Centre was Shooting Star Award Winner (outstanding youth volunteer); South Arm United Church Outreach Committee was the Constellation Award Winner (outstanding volunteer group); and Dawn Thomson, Special Olympics B.C.-Richmond and Salvation Army Rotary Hospice House was the Nova Star Award Winner (outstanding individual volunteer).
Belfer has been volunteering for nearly five decades, often in leadership roles.
From 1974 to 2000, she served as a board member with the Organization Through Rehabilitation and Training (ORT). Rooted in Jewish values, the organization enhances the economic prospects of individuals and communities by providing them with employment and entrepreneurial skills.
Through much of the 1980s, Belfer was a board member with the Richmond Aquanaut Swim Club, which later merged with the Richmond Racers to become the Richmond Rapids Swim Club. During her time there, she served as treasurer, supported membership development and regularly volunteered at swim meets.
She also served eight years on the board of Richmond Cares, Richmond Gives, back when the organization was known as Volunteer Richmond Information Services. Here, too, she volunteered as treasurer. She remains involved with the organization's Richmond Christmas Fund program, volunteering each holiday season to assist families in need.
Since 2015, Belfer has served as board president of the Richmond Women's Resource Centre, where she's had a transformational impact. She's played a key role in developing the organization's board, recruiting a diverse group of new members – including many young people – who are passionate about helping women build connections and thrive in their community.  She also volunteers as project manager for the organization's annual International Women's Day event, which is both a community gathering and a major fundraiser, complete with an auction and raffle. Recently, she helped lead the Resource Centre in drafting a five-year strategic plan and, in 2019, was a key voice in the organization's rebranding effort, which resulted in a new logo created in consultation with the community.
During COVID, Belfer worked with the organization's executive director to bring all of its programs and services online, so they would remain accessible throughout the pandemic.
Speaking of programs, it's another area where Belfer has had a substantial impact. She helped create many of the Resource Centre's most popular initiatives, from Hot Ink, a creative writing program for teenage girls, to Work Ready, which supports women in developing employment and job-search skills.
Belfer is also a current board member of the Jewish Seniors Alliance and of Beth Tikvah Synagogue, where she actively participates on committees and generously shares her knowledge and experience, so both organizations can better serve their constituents.
Through her decades of service, Belfer has left an indelible mark on the Richmond community, and improved thousands of lives. She's still giving her time, and still making a difference, even as she mentors young volunteers on their way to becoming community leaders. She's one of the giants on whose shoulders they'll stand.
Belfer shares some of the reasons she volunteers in a video on the awards website, rcrg.org/vas.
– Courtesy Richmond Cares, Richmond Gives