Cheesecake bars (photo by Mollie Katzen)
Fresh cheese is a staple in classic Shavuot foods, traditionally wrapped in a soft, egg-like blintz that is then fried lightly in butter. Variations on this theme can keep things interesting and expand your kitchen craft. You can try freshening up your blintz package with a cheese upgrade – namely, simple homemade ricotta, which tastes sublime.
Cheesecake is another way to expand the joy of this holiday. Small cheesecake bars, topped with early strawberries, are a wonderful way to usher in the transition-to-summer month of June. A Thai tea cheesecake is beautiful and surprising, rounding out your holiday with a sense of orange expansiveness, and it is actually easier than handcrafting blintzes.
CHEESECAKE BARS
If you love cheesecake, but feel guilty after eating it, pursue it in a small way instead. These bars hit that spot perfectly, especially when adorned with a perfect, small, ripe strawberry.
1/2 cup (packed) light brown sugar
1 1/2 cups unbleached all-purpose flour
1/2 tsp salt
1/2 cup (1 stick) unsalted butter, melted
1 1/2 cups cottage cheese
1/2 cup (half an 8-ounce package) cream cheese, softened
1/3 cup granulated sugar
1 1/2 tsp pure vanilla extract
2 tsp fresh lemon juice
2 large eggs, beaten
handful or two of ripe strawberries (optional)
1. Preheat the oven to 350°F (325°F if using a glass pan). Have ready a six-by-nine-inch baking pan (ungreased) or the equivalent.
2. In a medium sized bowl, combine the flour with 1/4 teaspoon of the salt and the brown sugar, crumbling the sugar into the flour with your hands until uniformly distributed. Add the melted butter and stir to thoroughly combine. Press this mixture firmly into the bottom of the pan.
3. Combine the cottage cheese, cream cheese, granulated sugar, vanilla, lemon juice and eggs in the bowl of a food processor and buzz until completely smooth. Pour this mixture into the pan, spreading it into place.
4. Bake in the centre of the oven for 30 minutes, or until the top surface is firm to the touch. Remove from the oven, and allow it to cool completely before chilling. Let it chill for at least two hours and serve cold, cut into 1.5-inch squares; ideally, topped with sliced strawberries.
Makes about 1.5 dozen.
HOMEMADE RICOTTA
Homemade ricotta is not only more soulful than anything you can buy, but also more economical, producing approximately one pound of cheese for the price of a half-gallon of milk. You can determine the thickness of the cheese by keeping watch over the project and wrapping it up (in every sense) when the cheese achieves your preferred texture. The longer it stands, the firmer it becomes. Time and gravity – and your taste – are the textural determinants. You also get to decide on the salt content. Try this for dessert or brunch, with some artisan honey warmed and spooned over the top like a syrup, and possibly also some fresh fruit, toasted nuts and scones or little cookies. You can get cheesecloth in most grocery stores.
1/2 gallon whole milk
1 cup whole milk yogurt
1/2 cup fresh lemon juice
1/2 tsp salt (or to taste)
1. Combine the milk and yogurt in a large saucepan or a kettle and whisk until smooth. Place over medium heat and warm for about 15 minutes, or until tiny bubbles form along the sides. The top surface may bulge slightly and a little skin might develop. All normal.
2. Remove the pan from the stove and pour in the lemon juice without mixing. Let the mixture stand at room temperature for an hour to curdle.
3. Prepare a four-layer cheesecloth net about 16 to 18 inches square. Lay this inside a medium-large fine mesh strainer or colander balanced over a bowl. Long pieces of cheesecloth will drape down the sides. Pour the curdled mixture into the net so the liquid drips into the bowl and the solids remain in the cheesecloth. Don't press it or try to hurry the process along in any way, or you'll lose some of the cheese. The whey needs to drip at its own pace.
4. After about an hour, lift the side-flaps of cheesecloth and, without actually knotting them, tie them neatly around the cheese. Let it stand, slowly dripping, for another two hours, or even longer, if you like a firmer, drier cheese.
5. Salt the cheese to taste, transfer it to a tightly covered container, and refrigerate. It will keep for about five days.
THAI TEA CHEESECAKE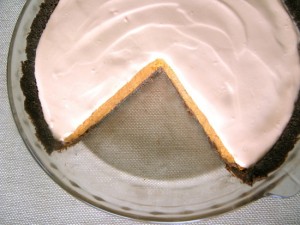 From The Heart of the Plate: Vegetarian Recipes for a New Generation. Thai iced tea morphs into a dessert (it didn't have far to go), and all I can say is, this is kind of amazing. No baking required, just a patted-into-place crumb crust and a stovetop-thickened filling. Cool to room temperature, then chill and/or (in my perfect world) freeze.
Brew and strain the tea well ahead of time. To get the proper strength for this recipe, steep 1/2 cup Thai tea in 2 1/2 cups boiling water for 10 minutes, then strain, pressing out and saving as much of the water as you can.
Chocolate crumb crust:
6 to 7 ounces graham crackers (10 or 11 long ones)
1/4 cup unsweetened cocoa powder
1 tbsp sugar
1/2 cup (1 stick) unsalted butter, melted
1. Place the graham crackers in a food processor and buzz to fine crumbs. You should have about two cups.
2. Transfer the crumbs to a bowl, stir in the cocoa and sugar, and pour in the melted butter. Mix to thoroughly combine and then transfer to a nine-inch pie pan.
3. Spread it out to cover the bottom completely and evenly, letting it begin to climb up the sides of the pan. Pat it into place, gently at first and then firmly, turning the pan as you go, and building a nice edge flush with the rim. Set aside.
Filling:
1/2 cup sugar
3 tbsp cornstarch
1/4 tsp salt
2 large eggs
1 1/2 cups strong-brewed Thai tea, strained and cooled
1 tsp pure vanilla extract
8 ounces cream cheese
1. In a medium saucepan, whisk together the sugar, eggs and cornstarch until smooth. Stir in the tea and vanilla.
2. Bring to a boil over medium heat, whisking frequently. Cook and stir for five to eight minutes, or until the custard thickens to the point where it starts to resist being stirred.
3. Remove from the heat and immediately add the cream cheese in pieces; it will melt in. Whisk exuberantly until the cream cheese is completely incorporated and the mixture becomes uniform. This will likely take several minutes.
4. Pour the hot mixture directly into the crust and let it cool to room temperature, then cover with plastic wrap and refrigerate until cold. Make the topping in the meantime.
Topping:
2/3 cups sour cream
2 tbsp brewed Thai tea (optional)
1 tbsp sugar
1/2 tsp pure vanilla extract
pinch of salt
1. Whisk together all the ingredients until smooth and uniform.
2. Spoon on to the top of the pie, spreading it to the edges of the crust.
3. Carefully (so as not to disturb the top surface) cover with plastic wrap and refrigerate or freeze until serving time. Serve at any temperature, from very cold to partially (or even mostly) frozen.
Yields eight or more servings.
With more than six million books in print, Mollie Katzen is listed by the New York Times as one of the bestselling cookbook authors of all time and has been named by Health Magazine as one of "The Five Women Who Changed the Way We Eat." Her new book, The Heart of the Plate: Vegetarian Recipes for a New Generation, was published in September 2013 by Houghton Mifflin Harcourt.