Martin Thibodeau, RBC's B.C. region president, will be honoured at the Ben-Gurion University Gala Dinner June 14. (photo from RBC)
On June 9, Ben-Gurion University president Daniel Chamovitz and members of the Canadian Associates of Ben-Gurion University (CABGU) will visit Vancouver to recognize the launch of its new School of Sustainability and Climate Change (SSCC) and the local supporters who have helped make its opening possible. In particular, Royal Bank of Canada and Martin Thibodeau, RBC's B.C. region president, will be honoured at the event.
SSCC opened last October at BGU's Be'er Sheva campus, where its growth has been rapid. Seven months old, the school currently offers two undergraduate degrees and four graduate-level environmental science-related degrees. Its two graduate fellowships, which have supported work in renewable energy and smart city design, were funded by RBC.
"The RBC Research Fund at BGU's School of Sustainability and Climate Change [is] being established in Martin's honour, [and] will enable undergraduate and graduate students to be trained as, and pursue meaningful careers as, climate change innovators, entrepreneurs and policy experts," said David Berson, who serves as CABGU's executive director for the B.C. and Alberta Region. The funding that is raised at the gala will help further SSCC's research programs.
SSCC's mandate isn't just to address environmental concerns at home in Israel, said Chamovitz. It will have a global reach, as well. BGU is currently working to cement research partnerships with universities and countries that have similar interests in addressing climate challenges. Chamovitz said RBC's investment in its new school will provide a pathway to meeting that global need.
"RBC was one of the early supporters of SSCC, and this support was essential for leveraging subsequent support," he said. "The Royal Bank of Canada believes in us," and that support has served as an encouraging model for other companies to invest in BGU's programs as well, he said.
Lorne Segal, president of Kingswood Properties and director of the Vancouver Board of Trade, who is an honorary co-chair of the June event with his wife, Mélita Segal, said corporate sponsorship is crucial to startup programs like SSCC. He said corporate support is also vital to finding answers to environmental challenges like global warming.
"Sponsorship from leading businesses and industry leaders does provide imaginative solutions to complex issues impacting our people and the planet," he said. "Without significant and generous sponsorship support, this crucial work, simply put, would not be possible."
Segal said supporting initiatives that bring about positive change is part of Thibodeau's nature.
"Martin Thibodeau truly is a lifelong builder of community," said Segal. "He is deeply praised by Ben-Gurion University for his commitment to the cause of finding solutions to climate change. It is truly remarkable how much he and RBC Royal Bank have done to enhance the capacity of the Ben-Gurion University community programs and agencies, and advance the conversation on Canada's transition to a net-zero economy."
Thibodeau's support of Canadian Jewish communities and of Israel goes back decades. Originally from Quebec, he served as RBC's regional president in Montreal until he moved to Vancouver. He oversees some of the largest – and smallest – branches and more than 4,000 employees.
In 2015, while working in Montreal, Thibodeau volunteered as a co-chair for Quebec's largest multi-day walk for women's cancers, held by Pharmaprix, to raise money for research at the Jewish General Hospital. "I have been involved with the Jewish community for almost my entire RBC career," he told the Independent.
He is a strong supporter of the Jewish Federation of Greater Vancouver and the Jewish Community Centre of Greater Vancouver and their community initiatives, and he has been to Israel several times. It was in 2014, said Thibodeau, that he and his wife, Caroline, visited Be'er Sheva and learned of BGU's environmental research. "[I was] so inspired by the research [and] the innovation," he said, noting that it wasn't hard to get behind the creation of a school that was working to find solutions to climate concerns.
"It's right there in front of me every day," he said. "I am a proud father of three children and I believe we have a responsibility to make sure that our climate can continue to thrive, and well beyond my lifetime. It is my personal belief that we need to do that today more than ever."
Thibodeau said it's been an interesting journey since that first visit to BGU in 2014. "It's become such a tough priority for the world," he said of climate change. In Canada, among other things, he supported RBC's Blue Water Project, which helped provide clean water access to Canadian communities.
Still, Thibodeau is a reticent honouree. He admits that he is uncomfortable with the idea that he will be the guest of honour at a gala, even if it is for a cause he loves. "I'm very humbled," he said. "I don't like to have that kind of spotlight on me." But, he said, raising money for research that might one day create a safer and better environment, that is something he will gladly get behind.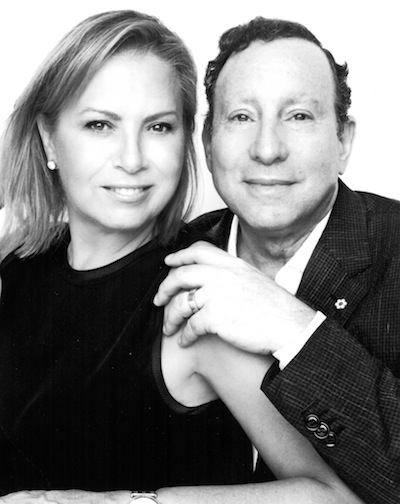 The gala will also acknowledge Lorne and Mélita Segal, who are well-known for their philanthropy and other work. Both have been recognized by Capilano University with honorary doctor of letters, and Lorne Segal has a doctor of laws (hon.) from the Justice Institute of British Columbia. He was inducted into the Order of British Columbia for his work as founding chair of Free the Children's WE Day Vancouver and as chair of the Coast Mental Health Courage to Come Back Awards. The Segals regularly open their home to fundraising galas.
"When Lorne and I built our home, we didn't really do it for ourselves but, rather, to share it with the community," said Mélita Segal. "Whether it was Dr. Peter AIDS Foundation, Arts Umbrella, Chor Leoni, JNF [Jewish National Fund] or WE Charity … it has been a great joy for us and very fulfilling to give back and share in this way."
Berson described the Segals as "tireless builders of community, leading by example while creating opportunities for people in the business world to make a difference in the lives of others. Ben-Gurion University, Canada, is genuinely fortunate to have their leadership for this event and for our organization."
The Ben-Gurion Sustainability and Climate Change Gala on June 9 takes place at Fairmont Pacific Rim. Tickets and tables can be purchased at bengurion.ca/vancouver-gala-2022-tickets or by contacting Berson at [email protected].
Jan Lee is an award-winning editorial writer whose articles and op-eds have been published in B'nai B'rith Magazine, Voices of Conservative and Masorti Judaism and Baltimore Jewish Times, as well as a number of business, environmental and travel publications. Her blog can be found at multiculturaljew.polestarpassages.com.