Kathy Bilinsky's two-page collage makes us wonder what story – or two or three or more – we could find behind the mysterious ornate blue door. (photo by Byron Dauncey)
The Sketchbook Show officially opened at the Zack Gallery on Jan. 12. The brainchild of Hope Forstenzer, gallery director, and Lisa Cohen Quay, coordinator of the Jewish Community Centre of Greater Vancouver's Adults 55+ program, the exhibit is the culmination of a journaling workshop.
"We wanted to give JCC members the opportunity to say what they felt about COVID and everything else in their lives," Forstenzer told the Independent. She offered the gallery as a place for the in-person workshop and invited instructor Lex Ireton to lead it.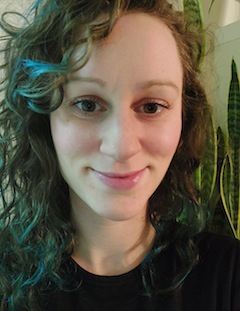 Ireton, a graduate of Alberta College of Art and Design, and Forstenzer know each other through their work as glass artists.
"I recently went back to school to get an art therapy diploma," said Ireton. "When Hope contacted me about the workshop she had in mind, I was excited. I've taught art classes before, but this one was my first class for adults."
Putting It All Down: A Creative Journaling Workshop started in the fall of 2021, well into the second year of the pandemic.
"The beauty of journaling is that you don't have to be an artist," said Ireton. "We provided all the participants with blank journals plus writing, drawing and crafting supplies. And they had the gallery space itself to work together and create."
Although more people initially came to the workshop, only six participants stayed to the end. "We met once a week for eight weeks," Ireton said. "Everyone wore masks, of course. I came up with an exercise, and we did it during the session, sometimes timed, sometimes not. Often, people were so involved, they continued the work at home."
One of the exercises was called 30 Circles. Ireton explained: "I gave each participant a sheet with 30 empty circles and asked them to fill each circle in any way they chose: a line, a colour, words, images. The circles could be filled thematically or not. Nobody was forced to fill all the circles. Just a few could spark a direction the person wanted to go. It was a warm-up activity, a way to explore the materials and ideas without the pressures of a final completed project. Later, we used the circles as inspirations for journal pages or utilized them for collages."
Another exercise was a thematic prompt to fire participants' imaginations, so they could write or draw on a subject. Some wrote poetry or essays. Others did collages using materials they wanted: old magazines, coloured paper, their own paintings or drawings, dry leaves and flowers, fabric fragments.
"As the workshop progressed, participants wanted to know more about each other. We talked a lot. People shared ideas and finished pages. Everyone became more confident with the techniques and media," Ireton said. "Each session was a joyful social event as much as a journaling workshop. We were all tired of the isolation restrictions caused by COVID."
While the JCC supplied materials for the workshop, local artist Susan Lee created the empty journals everyone used. "Susan donated the journals for the workshop," said Forstenzer.
This month, Forstenzer mounted the show, which comprises selected pages of participants' journals.
"This show is a tangible result of the workshop," she said. "It is imbued with the energy of the participants putting their imagination to work, creating something meaningful regardless of their personal history as art-makers. The show reflects the child-like pleasure everyone experiences while playing with glue and paper and colours. The weeks of working on their creative sketchbooks has yielded a look into the beauty of putting thoughts on paper in words and images."
The show is anonymous – there are no names attached to any of the pages, but each image serves as a window into the author's personality. Some are humorous, like a tongue-in-cheek collage of two pages from a magazine. The collage contains two contradictory lists: What Men Love in Women juxtaposed with What Women Love in Men.
Other images are colourful and lyrical drawings, like a leafy branch with no words. And others combine drawings with poetry and cuttings.
Several workshop participants agreed to talk to the Independent about themselves and their journals.
Judy Stern, a retiree, didn't have any artistic experience prior to the workshop. "In high school," she said, "art was the only subject I ever failed. This took away any confidence I might have had, so I have never taken an art class, although I often thought about doing so. Last fall, I received information from the JCC about the upcoming journaling class. I enjoy writing and do have an interest in art, so I asked whether I needed any art experience. I was told, absolutely not…. I was so excited about this, as it was my first group social activity since the beginning of COVID. I was eager to be out and about again, doing something different."
At first, she was nervous, but the welcoming atmosphere of the workshop soon put her at ease. One image from her journal, cranes flying away among the clouds, integrate her poem – a lamentation familiar to any writer – into a beautiful metaphoric collage.
"I would've been happy for the class to go on indefinitely," she said. "I hope that something similar will be offered again. I am already thinking about my next journal."
Kathy Bilinsky, another retiree, admitted to having some previous artistic exposure. "I've always enjoyed the creative process," she said. "I have taken various art classes over the years, including two certificate programs at Emily Carr."
Bilinsky, joined the workshop at the recommendation of Stern, who is a friend. "Judy said I might like it, and she was right. Before, when we could still travel, I always worked in sketchbooks. I have many travel journals documenting our trips with sketches, watercolours, and a bit of cut and paste. As we're not traveling these days, I looked at this workshop as the opportunity to create."
Her adjoined journal pages, "Keys and Door," feature a key ring and a keyhole, above which is written, "Every key tells a story." We wonder what story – or two or three or more – we could find behind the mysterious ornate blue door depicted on the opposite page.
"I didn't fill all the pages in my journal," said Bilinsky, "but so many ideas have been circulating in my mind that I would like to fill in the remaining pages."
The show can be viewed in person at the Zack Gallery or online at online.flippingbook.com/view/892314086. It runs until Feb. 11.
Olga Livshin is a Vancouver freelance writer. She can be reached at [email protected].