The Frank family on the Merwedeplein, May 1941.  (photo from AFF BASEL, CH / AFS AMSTERDAM, NL)
Since her diary was first published in 1947, Anne Frank's story has reached many millions of readers. Her precocious wisdom, her courage and her unswerving faith in the goodness of humanity are humbling. Many young readers encounter Anne's work at school, as an introduction to their study of the Holocaust. Readers find a focus for their curiosity, grief and raw outrage in the fate of Anne and her family. But how do we ensure that this history truly is for "today"? And how do we help them make sense of a troubled world that has descended into horrifying chaos? These harsh lessons are currently being explored through Anne Frank – A History for Today, currently housed at the Vancouver Holocaust Education Centre.
According to Nina Krieger, VHEC's executive director, this exhibit has seen "unprecedented numbers" of visitors – of all ages and ethnic backgrounds – at the centre's Sunday openings. There are visitors during the week, of course, as well as school groups who tour the exhibit under the guidance of the centre's docents. In addition to the training docents receive from VHEC education director Adara Goldberg, this exhibit has been guided by the exhibit's Amsterdam staff, who traveled to Vancouver to offer their support.
On May 29, the JI accompanied Grade 6 and 7 students from King's School in Langley as they toured the exhibit with docent Lise Kirchner. Described by their teacher Peter Langbroek as "cogent, clear and informative," Kirchner moved swiftly between the display boards. Pausing frequently to ask questions, she encouraged the students at every step, reinforcing and building on their answers. What are these children wearing? asked Kirchner, referring to an image of Hitler Youth in uniform. Why did the children have to join this organization? One student replied astutely, "Because they are the next generation."
The class group also included school parents, who were clearly invested in the day's lessons. The presence of parents is extremely important, Langbroek explained, because students often need to talk through their reactions later on, not just in class or during the ride home. "It helps to have a facilitator at the dinner table," he said. This was evident in the comments heard around the display cases, as mothers discussed their own questions. "Would you put your own family at risk?" one mom asked.
In line with the policy of Holocaust education centres worldwide, VHEC recommends their exhibits for children of 10 and up. According to Krieger, "Grade 5 is standard practice for Yad Vashem and the U.S. Holocaust Memorial Centre; our community bases its offerings on best pedagogical practice and current research."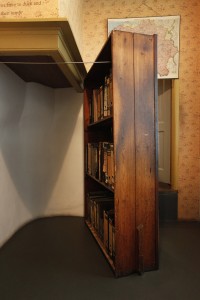 When asked about his reasons for bringing his students to the exhibition, Langbroek explained that this is his 27th year in the classroom, and his reasons for doing so were spiritual – his is a Christian school – and personal, as well as professional.
"There are so many life lessons taught in this history," he said. "By informing youth of this history and showing how bullying is a small-scale version of state-sponsored brutality, we can help train them in God's righteousness."
Raised by Dutch parents, Langbroek's mother saw Jews being arrested and taken away in trucks; two of his uncles took Jews into their homes. An avid reader of Chaim Potok's work, Langbroek has long been fascinated by "the pockmarked history of pogroms, exiles and forced conversions that took place in the Christian era." He said he struggles with the atrocities committed in the name of a savior who set himself "the highest moral standard." He added, "To me, it would only be natural for a Christian to risk his life to hide Jews."
As well as the photographs and information on the boards, the exhibition room at the VHEC includes a 3-D model of the building and annex where the Franks were hidden. The students were clearly interested in the model and there was much crowding around, leaning in and craning of necks. Here, Kirchner honed in on the Franks' living conditions, supported by a few trusted friends with shared food rations and occasional treats, like magazines. How do you occupy yourself when you are stuck inside for two years? she asked the students to consider. What about during the Allied bombing raids? Everyone else was hiding underground, in shelters, while Anne was in an attic at the top of a tall building. She couldn't go down and risk being caught, noted Kirchner, but there were bombs landing all around them.
The exhibition also includes five glass cases housing original artifacts, saved by local Holocaust survivors. These items are particularly valuable, said Krieger. "A document is an eyewitness to the time."
In a recent article for VHEC's newsletter, Zachor, Kirchner talks about these donations from local survivors. She says that they help students to develop a personal relationship with Holocaust history. For example, in one case, students are able to see the yellow star worn by Inge Manes before she was hidden in a convent and confirmed as a Catholic. In another case, there is a medal showing that her rescuer was honored by Yad Vashem for bravery. The personal connections formed during these visits are an education that lasts a lifetime. Krieger refers to this as an "ongoing resonance."
The King's School students clearly appreciated the artifacts. They were given copies of an identity document belonging to Regina Bulvik. Asked to interpret the information it carried, they learned that she was the sole survivor of the Holocaust in her family, and had traveled to Canada alone, with no papers. At that time, she was still a teenager and was required to have a Jewish sponsor family here before being allowed to immigrate. The students pored over this document, scrutinizing it carefully as they responded to Kirchner's questions.
On returning to school, the students' comments about the exhibit were telling. They spoke about justice, love and kindness. They showed gratitude for their freedoms and their desire to live well with God.
Vanessa contemplated the inner life of the Franks, who "probably felt guilty because their Jewish friends and family were sent to concentration camps while they were hiding and getting help."
Added Hannah, "I would always wonder, Are my Jewish friends in a labor camp right now or even dead? And what would it be like if I was not a Jew and just a regular German?"
Caleb imagined being in the annex, being afraid to "step on a creaky floor board." Megan said she'd miss "feeling the sunlight on my back."
For these students, the exhibition is about prejudice and intolerance. It's about standing up for – rather than judging or bullying – those we perceive to be different than ourselves. It's about suffering through harsh lessons and still making dignified, compassionate choices.
Anne Frank – A History for Today is at the Vancouver Holocaust Education Centre, 50-950 West 41st Ave., until July 31, Mon-Thurs, 9 a.m.-5 p.m., and Fri, 9 a.m.-4 p.m.
Shula Klinger is a freelance writer living in North Vancouver.