On Nov. 5, Dr. Joshua Grayson, a genealogist specializing in Jewish families from Central and Eastern Europe, was the lead-off speaker for the 2023-24 L'dor V'dor (Generation to Generation) lecture series on Zoom, organized by Victoria's Kolot Mayim Reform Temple.
Grayson is the founder of Lost Roots Family History, a website, virtual museum and research service devoted to helping Jewish families reconnect with their roots, discover their past, engage with the present and preserve their heritage for the future.
Titled In Search of Lost Roots, Grayson's talk elaborated on how he was able to trace his family history across three-and-a-half centuries, or 10 generations, to approximately 1650. Proficient in many historical scripts, he has conducted genealogical research in German, Russian, Polish, Hebrew, Yiddish, French and Spanish.
"There's truly an astonishing amount of information out there," Grayson said. "With a combination of computer research, language skills, a lot of perseverance and just the right amount of luck, the depth of information you can find about your family history can be simply astounding."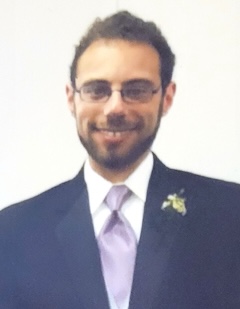 Grayson's interest in family history started at a young age, when visiting his grandparents' home and being captivated by a photo at the bottom of their staircase. Taken in 1904, it depicted his grandfather's grandparents and the first five of their 10 children, including his great-grandmother at the age of 11.
"To my childish imagination, I was sure I could almost feel their presence looking over me and their other descendants. At times like these, I would muse at how my close connection with my grandfather was similar to his connection with the people in this photograph. And so on down the unbroken chain of time," he said.
As a child, Grayson remembers, he was fascinated by the notion of all the people to whom a person could be related.
He recounted later honing his research skills at the University of Southern California, where he earned a PhD in historical musicology – skills, he said, that are particularly well suited to genealogy. They include gathering historical evidence, evaluating sources and communicating ideas.
When he typed in the name of one of section of his ancestry, Penzias, into a database on the Gesher Galicia website, Grayson said, "I quickly discovered records from as early as 1805 because our family name happens to be unique. I felt fairly sure that these were long forgotten family members."
He said, "These databases allowed me to accomplish in just a few minutes what would otherwise have taken months or years of digging through archives, scanning old record books or microfilms one record at a time."
As a side note, Grayson stressed that creativity with spelling can be helpful, as names were not written in a standardized way until much later into the 19th century and even into the early 20th century. Although most databases use technology to automatically include names that are spelled in similar ways, the technology is not perfect.
The Zoom lecture brought to light the remarkable and inventive methods of deduction Grayson employed to ascertain his own ancestry – from an egg merchant to a Cubist painter – and the sorts of investigations he performs to uncover the family histories of those who request his services, all while conveying an infectious enthusiasm for Jewish genealogy.
As an example of his research, Grayson spoke about a client who knew nothing of her family history other than her father was from Lublin and lost his entire family in the Holocaust. Grayson was able to trace the client's father's family back to 1750 and followed her family members as they moved around rural Poland and to Lublin in the 1880s. He discovered relatives who fought against the Nazis with the underground resistance and, ultimately, connected her with previously unknown family members on five continents.
Grayson is currently in the final stages of constructing a text database of the names of people buried in the Old Jewish Cemetery in Prague. The database is based on two 19th-century efforts to preserve names on the tombstones, one of which was published in a book in 1880 and the other of which appears on the website of the Jewish Museum in Prague.
Commissioned by E. Randol Schoenberg, the former president of Holocaust Museum LA, formerly the Los Angeles Museum of the Holocaust, Grayson's database will cover the names, death dates and, in some cases, biographical details of approximately 15,000 Jews who died in Prague between 1437 and 1787.
"In my experience," said Grayson, "I've found that finding out about family history can be a great way to get people more involved in Judaism. Understanding where we came from and the historical forces that shaped our own families can be a powerful motivator to exploring our Jewish identity."
For more information about Grayson and his work, visit lostrootsfamilyhistory.com.
Kolot Mayim's next Zoom speaker will be Dr. Jennifer Caplan, associate professor and chair of Judaic studies at the University of Cincinnati and author of Funny, You Don't Look Funny. Her talk – titled Jewish Humour from the Silent Generation to Millennials – will take place on Dec. 3, at 11 a.m. To register, and for the full lineup of speakers, visit kolotmayimreformtemple.com.
 Sam Margolis has written for the Globe and Mail, the National Post, UPI and MSNBC.