Helen Kim and Noah Leavitt, authors of JewAsian, will be at the Jewish Book Festival on Nov. 28. (photo by Matthew Zimmerman Banderas)
The recently published book JewAsian: Race, Religion and Identity for America's Newest Jews by Helen Kim and Noah Leavitt was crafted out of a seven-year study of 39 mixed couples, as well as their own successful marriage. The couple will be in Vancouver later this month to share their findings at the Cherie Smith JCC Jewish Book Festival.
For Kim, who was born a few years after her parents moved from Korea to the San Francisco Bay Area in the late 1960s, finding a Korean guy to date was a virtual mission impossible, so looking outside the community was accepted.
"My mother was totally fine with it, in large part because she'd thrown away her expectations that I marry somebody Korean a long, long time ago," said Kim of her marriage with Leavitt. "I think, in part, because I grew up in a community that was predominantly white with very few people of color, I think she quickly realized that, demographically speaking, it was probably going to be unlikely I'd meet, date and eventually marry someone of the same ethnic background as me."
Leavitt, who is of American Jewish origin, said, "My mom was super-excited about the fact I had met somebody I was so smitten with. She and Helen, early on, established a great rapport that has continued ever since. I think my mom just had an expectation that I'd settle down with somebody I really loved, who I was challenged and inspired by, and saw that in Helen … so she was excited."
Leavitt grew up in a household that was somewhere between the Reform and Conservative denominations. He went to a Jewish community Sunday school growing up that was housed at Cornell University and he had his bar mitzvah at Ithaca College through their Hillel.
Kim and Leavitt met in 1997 and both were drawn to the complexity of their Jewish-Asian mix, an interest that increased with the births of their children.
"This was the era where, I think, we started to see a lot of interracial pairings, dating and marriages," said Kim. "And it was also right before the U.S. census gave multiracial individuals the option of choosing more than one race on the census … really, an interesting time, demographically speaking, where the context around us was contributing to our thinking about how common are pairings like ours and maybe other interracial or Jewish-not Jewish pairings."
Leavitt and Kim contacted a number of universities that were repositories of large-scale demographic studies. They were aware that the study of intermarriage to that time had been focused on interfaith marriage, but had not delved into how interracial marriage factored into the larger picture.
The couple reached out to the Institute for Jewish and Community Research. Through this connection, they were able to do an initial recruiting of couples with whom to speak for their book. In the end, their study included 39 couples from the San Francisco Bay Area, Los Angeles and Orange County, and from the New York and Philadelphia metropolitan areas.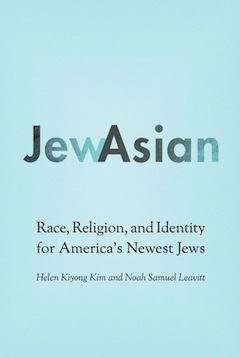 "We focused there, in part, because of the high percentages of individuals who identified as Jewish and Asian," said Kim. "Then, there was the likelihood and demographic reality that interracial marriages are taking place predominantly in those areas … with the West Coast having, by far, the highest rates of interracial marriages."
"We had a lot of people volunteer to be part of the survey and what we made a decision to do was to try to find the most expansive look at Jewish-Asian combination that we could," said Leavitt.
Within the 39 couples, one was gay and three were lesbian, with the remainder being heterosexual. The study also included a second set of interviewees who were young adults that were children of Jewish-Asian households.
"The first thing by far that I think was quite surprising that we found was that, for the couples as well as the adult kids, they are definitely Jewish – not just in terms of the self-identification perspective, but in terms of some strikingly traditional religious practices," said Kim. "So, the couples we interviewed were in the midst of or had created homes where there was a lot of traditional Jewish religious practice – everything from observing Shabbat consistently, to consistent synagogue attendance, to kids becoming bar or bat mitzvah, to children going to Jewish day schools.
"Then, for the adult kids we interviewed, they affirmatively claimed they were Jewish. But, they also talked about having been raised in traditionally religious households and communities that, to a great extent, mirrored what we were finding with the couples we interviewed."
While only six of the racially Asian individuals had converted to Judaism, the overwhelming majority of couples celebrated Jewish religious events and cultural tradition alongside Asian ethnic traditions.
"There was neither a conflict of religion nor a blending of religions," said Kim. "It was more of a cultural hybrid, but steeped in Judaism as the religion of the household."
"I would go broader and say that, for the most part … we didn't really hear too many stories about conflicts related to religion overall," added Leavitt. "There were a few examples where the non-Jewish partner had a religious or spiritual practice that they adhered to, but it was something they did on their own and didn't bring into the household."
Both Kim and Leavitt said the findings were representative of their own Jewish-Asian mix. "Judaism, for me, is a religion and a cultural tradition that is easier for me to instil in my family," said Kim. "I, as a second-generation child of an immigrant family, did not grow up with a lot of Korean ethnic and cultural traditions.
"Through the adult kids [in the study], it was reinforced repeatedly that you have to expose [them to the culture], no matter what your comfort level as a parent, no matter your knowledge as a parent. The kids really appreciated when the parents went all out in terms of trying to expose them to a particular culture or ethnicity, though they themselves as parents were afraid they might not do it right.
"So, I think just hearing from the kids and imagining my own kids in 10 to 15 years was kind of affirming to me, [that I just need to] try as much as I possibly can. The kids will end up picking up things here and there and will then, on their own, become curious and want to learn on their own. That was reassuring for me."
"I had a lot of the same reactions," said Leavitt. "For me, when Helen and I decided to make a commitment to this project, it was fairly close in time to when we were also starting to think about having our own family. When we got this investigation underway, our son Ari arrived. As a first-time parent, I had a lot of worry and anxiety about a household that seemed to combine so many different kinds of traditions, cultural heritage markers and, to some extent, religious differences. I think I had a lot of worry about the ability of all those things to be in a household together … in part, because I didn't have an upbringing where there were lots of differences within the household. So, I had a lot of fear about that.
"One of the things I've been liberated by, in working on this project and having two children arrive, is there is a lot of flexibility and resilience in households. Where even something may seem like a long list of differences, the people inside that household are able to find ways where things can come from different directions, but meet at the same point."
Kim is excited about coming to Vancouver, especially to have the opportunity to speak with a non-American audience, "to understand how it is that they think about these different dimensions of identity, tradition, culture and religion, as a way of getting out of our predominantly U.S.-focused lens. I'm really looking forward to that comparative perspective."
Leavitt said, "I think the chance to be in as diverse, global and multicultural a city as Vancouver … maybe there are lots of households coming together with this mix of Jewish-Asian backgrounds in Vancouver. I think this may propel us to continue researching more in this international comparative way.
"Helen and I feel very fortunate to have been working on this project at a time in the U.S. when the exploration about the diversity of the Jewish community in our country is really something that is front of mind for so many congregations, synagogues. We aren't the same people we were years ago."
"If we are acknowledging that this is what American Judaism looks like," added Kim, "what then is the responsibility we have in regards to action based on the changes in the demographic and how do we act based on how we've changed?"
Kim and Leavitt are on a panel with Daniel Kalla on Nov. 28, 6 p.m., at the Jewish Community Centre of Greater Vancouver. For more information, visit jccgv.com/content/jewish-book-fest.
Rebeca Kuropatwa is a Winnipeg freelance writer.