Available Oct. 14, SISU is re-releasing the 12 episodes of the 2010-11 season of Shalom Sesame in a new six-DVD thin-pack gift box. Included in the re-release is a bonus DVD featuring two episodes from the classic Shalom Sesame series, "Jerusalem" and "People of Israel" (originally released in the early 1990s). In addition, the DVD set includes a free 30-day trial download of the first episode.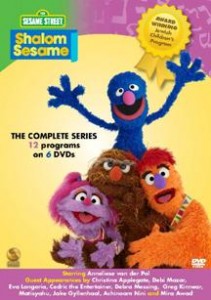 Join lovable, furry Grover and celebrity host Anneliese van der Pol (That's So Raven, Broadway's Beauty and the Beast) as they travel to Israel in this 12-part award-winning series co-produced by Sesame Workshop, the nonprofit organization behind Sesame Street, and Israel's Channel HOP! Designed to help bring the vitality of Jewish culture and tradition, as well as the diversity of Israeli life, to American children and their families, each 30-minute, live-action and animated DVD focuses on storylines drawn from Jewish cultural traditions, highlighting lessons on Hebrew letters and words, unique sites in Israel and Jewish values.
In addition to van der Pol, the series features guest appearances by top name talent, including Jake Gyllenhaal, Debra Messing, Matisyahu, Eva Longoria, Christina Applegate, Greg Kinnear, Debi Mazar and others. The programs' chronological order mirrors the Jewish calendar, beginning with an introduction to Israel and Hebrew, and ending with a program on mitzvot and a concluding trip to Israel.
Each title in the set contains two episodes and includes extra video segments. Shalom Sesame has been awarded a CINE Golden Eagle Award (2011), a Hugo Television Award Certificate of Merit (2011) and a Dr. Toy Best Pick Award (2010). Learn more about Shalom Sesame at shalomsesame.org, view previews and clips on youtube.com/shalomsesame and visit facebook.com/ShalomSesame. To order DVDs, visit sisuent.com.