Moishe House (and friends) show off their "Most Jewish Table" certificates. From left to right are Alexei Schwartzman, Benjamin Groberman, Carol Moutal, Jordan Stenzler, Shayna Goldberg and Kevin Veltheer.  (photo by Robert Albanese)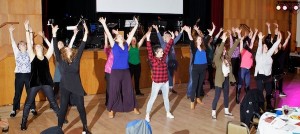 Music. Storytelling. Video. Flash dance. These were just some of the elements in Limmud Vancouver's first-ever Saturday night cabaret, which took place on Jan. 31, the night before the all-day learning festival.
One hundred and sixty people gathered around tables of food, books and Havdalah candles in a transformed Jewish Community Centre of Greater Vancouver auditorium, awash in colored lights and humming to the music of Sulam. The event, co-produced by JCCGV and LimmudVan '15, brought a cabaret of storytelling (Shoshana Litman of Victoria and local raconteur Michael Geller), drama (Michael Armstrong of Victoria's Bema Theatre), songs (singers Harriet Frost and Wendy Rubin), Talmud (Tracy Ames), a quiz show (former Vancouverite Adam Growe), Havdalah (Rabbi Laura Duhan Kaplan), dancers (led by Nona Malki) and lots of good food.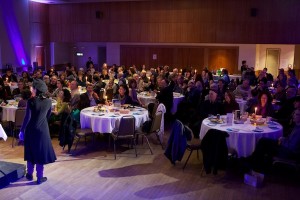 A highlight of the evening was an inter-table contest of personal Jewish experiences: Who has climbed Masada? Who attended Camps Miriam or Hatikvah? Who speaks Ladino? etc. The winners, a group of Moishe House residents and friends, beat the opposition in a spirited event that included spontaneous renditions of Adon Olam, and were proclaimed "Most Jewish Table."