Much has been written about Moses as a leader – a Google search for "Moses leader" yields more than 16 million results. However, in Religion and Contemporary Management: Moses as a Model for Effective Leadership, local community member Dr. Arthur Wolak not only explores what contemporary leaders (at least in title if not in fact) could learn from the man who led the Israelites out of slavery, but also examines how Moses' traits and actions fit into different theories of leadership. Readers will learn as much about leadership in general as they will about Moses and, of course, will take away some pointers on how to improve their skills in this area.
It may or may not come as a surprise, but being a good leader is an awfully hard task, requiring a wide-ranging multitude of abilities. Add to that the importance of a person's character, and it seems nigh impossible. There are no guarantees. Even if you master the top attributes of a good leader, you may not become one. Sure, you might be innovative, original, empathetic, humble, tenacious, attentive, ethical, patient and have a clear vision – that doesn't mean people will necessarily follow you.
But there is hope to be found in reluctant, flawed Moses, even if he didn't really exist. Whether or not one believes there was ever such a person in the world, Wolak notes, "there is still no denying Moses' influence on Jewish identity, group leadership and Western civilization as a whole." In addition to being the greatest prophet in Jewish tradition, Moses is a respected figure in Christianity and Islam, Wolak points out.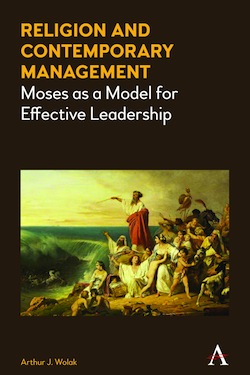 In the first few chapters of Religion and Contemporary Management, Wolak discusses the different types of leadership, how leadership and management differ, and the benefits and drawbacks of charisma. The next chapters focus on Moses and the ways in which he displayed empathy, possessed humility and was a visionary leader. He also knew his limitations and how to delegate. For example, explains Wolak, when Moses first objects to God choosing him to lead the Israelites, Moses says it's because he is "slow of speech," but God brings him round, assuring him that his brother, Aaron, speaks well and can be Moses' spokesman.
Wolak puts some fun – and educational – twists on things, such as proposing that the Ten Commandments were God's mission statement to the Jewish people and that Moses "assumed the role of biblical CEO, of sorts, because he became a leader entrusted with transforming God's mission statement into a viable entity…." Wolak is also very clear that, despite his use of Moses as the model leader and the patriarchal aspects of the Torah and Judaism (and all religion, pretty much), excelling at leadership "is not gender based but built on good character and leadership abilities," and that "there have been effective female leaders since biblical times." He gives several examples of such women from the Tanakh and the modern era.
Another part of Wolak's book that will particularly interest today's readers is a nine-page section called "Modesty and Holiness," which mainly contrasts real estate developer rivals Paul Reichmann and Donald Trump, who was not yet president when Wolak was writing his book.
While academic in style, Religion and Contemporary Management is accessible to lay readers. It is well researched and the analysis is well supported with evidence from religious texts, academics, theoreticians and a range of other voices, from Maimonides to Sigmund Freud and Winston Churchill. Published by Anthem Press (2016), the hardcover has an academic text price, at more than $100, but the Kindle version is only $30.50.
As Wolak concludes, "anyone who wishes to learn how to lead, and to learn what characteristics are beneficial for effective leadership, would do well to study the example of Moses." Then all you need to find is the energy and wherewithal.