Among the offerings at Olive+Wild are mezuzot, textiles and fragrances. (photos from oliveandwild.com)
Judaica. Most of us have some in our homes. A mezuzah, Shabbat candlesticks, a seder plate, a menorah. As much as synagogues are a crucial part of Judaism, the Jewish home is a place to celebrate and perpetuate our traditions and faith.
For many years now, in Metro Vancouver, there has been hardly anywhere to buy Judaica locally. Many people order lovely things online or buy them when traveling, but it has been nearly impossible to buy a beautiful challah or matzah plate in the city – until recently.
In September, Bella Zaidel, a friendly and charming woman, opened Olive+Wild. It was her dream and she told her husband Simon it was now or never, so they did it.
Located between 27th and 28th avenues on Main Street, Olive+Wild is nestled among an increasingly interesting group of shops. At first blush, the store reflects her years of experience in design and décor retail. The displays are natural and artful and feature a carefully chosen, unique collection of home décor; the pottery is eclectic, attractive, and dishwasher and microwave safe; and the furnishings would help update any room. It's the kind of store I love to wander through when I'm on holiday, to see local artists along with other striking pieces from around the world.
Walking past the stunning candles and the Vancouver Island-made pottery, shoppers find near the back two large display cabinets with collections of sparkling Judaica. One case is full of renowned South African artist Carrol Boyes' work. A portion of this case is dedicated to decorative objects and the rest features mezuzot, Kiddush cups, candlesticks and challah plates. Most of Boyes' work has an organic, modern appeal. Made of a combination of pewter, aluminum and stainless steel, these objets d'art don't tarnish and stay looking silver and shiny.
On the other side of the store stands a cabinet full of Judaica from a variety of artists. Zaidel explained that most of the work comes from American designers like Michael Aram and Mary Jurek. She has one Israeli line and is actively looking to expand the number of Israeli-designed and -made items. She also hopes to increase her selection of matzah and challah covers.
There is an entire shelf with mezuzot, making it possible for most anyone to find their match. They also have many candlesticks and chanukiyot, matzah and challah plates, and decorative dishes for apples and honey. As Pesach approaches, new items like seder plates will be prominently featured in this area of the store.
While Judaica is not Olive+Wild's core business – they also sell textiles, home décor, fragrances, dishware for entertaining and artisanal foods – both Zaidels have been pleased with the enthusiastic response they have received from customers.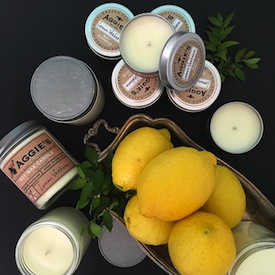 "It's interesting to see the number of younger people in the neighbourhood who walk in and don't know there is Judaica in the store and end up buying things for their homes," said Zaidel. "There are certain things every Jewish person should have and our pieces are heirloom quality, so they will last a lifetime."
When asked why she decided to carry Judaica, she replied, "Not many places in Vancouver carry it, you had to search high and low. We love the young, modern Judaica and decided to carry it. It's been very successful."
Although she assumes most of the people buying ritual Jewish objects are Jewish, she knows some of them are not.
"We had a non-Jewish lady come and buy all of our hand-dipped Israeli Chanukah candles," she said. "I think she was giving them to her child's friends at the JCC daycare."
The packages of Israeli hand-dipped Shabbat candles caught my eye and I couldn't resist buying them, as they are a perfect hostess gift.
Zaidel wants people to know that there is a place in Vancouver to buy meaningful gifts for weddings and b'nai mitzvahs. Buying online may seem appealing, but seeing an item in person and having excellent service makes a big difference, especially if it's for an important occasion. In addition, Olive+Wild has a great return policy.
"We will give a full refund with receipt up to two weeks after the purchase," said Zaidel. "In retail, everyone expects lots of returns after the big number of gifts sold in December. Even though we tell our customers about our return policy, we didn't get one return in January! We have this policy because we want people to be happy."
In addition to the Judaica, Olive+Wild carries some Israeli art and jewelry.
"We like to support Israeli artists, as well as local artists," noted Zaidel. "I tell people we carry eclectic 'must-haves' for the home."
For more information about their collection, visit oliveandwild.com.
Michelle Dodek is a freelance writer living in Vancouver.