Courtney Cohen with students from Richmond Jewish Day School holding donated items for care packages. (photo from Rose's Angels)
The ninth annual Rose's Angels took place over the months of February and March. With the generous help of family, friends and community, it was possible to donate to 10 not-for-profit agencies servicing the most vulnerable in Richmond.
Rose's Angels has been a community event since 2012, donating more than 6,000 care packages to date in honour of Rose Lewin and Babs Cohen, Courtney Cohen's grandmothers. The event runs under the umbrella of the Kehila Society of Richmond, where Cohen and Lynne Fader, co-executive director of the society, established the project together.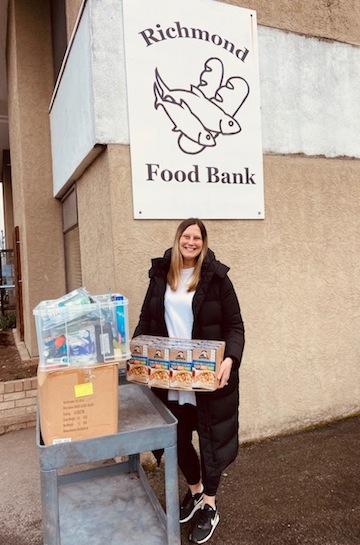 With the increasing cost of living and many families struggling to make ends meet, Cohen and Fader decided to alter this year's individual care packages to be primarily gift cards to local grocery/drug stores, rather than comprised of many different items. A gift card allows an individual to go independently and purchase what they require when they need it most. The goal is to return to the large care-package event for 2023, if the COVID safety guidelines allow for it.
Rose's Angels would not be possible without the support of the Kehila Society, family and friends, community volunteers and donors. Throughout the years, Cohen and Fader have created a strong connection with recipient agencies and so are able to purchase specialized items that are most needed by each agency, making the donations more personal. For example, for one not-for-profit this year, Rose's Angels put together packages that included new hygiene items for both parent and baby, non-perishable snacks, crayons, gift cards to a local grocery store and a reusable bag.
To learn more about the community-based work done by Kehila Society of Richmond or to donate, visit kehilasociety.org or 604-241-9270.
– Courtesy Rose's Angels