A formula for survival for a child in the Holocaust: "Don't trust anyone; never speak unless spoken to; never give your real last name; if you see your brothers and sisters, don't run to them: cross over to the other side of the street. Don't cry and don't get sick; just survive."
This is how the character of Mariette Rozen of Brussels, Belgium, aka Marie Doduck of Vancouver, Canada, was fashioned during her formative years between the ages of 6 and 11 during the Holocaust, beginning in 1940. Those words of caution from her older brother Jean, painfully scoured from the mists of Marie's memory, have become a kind of coat that one takes off in polite company, but it is a mantle that never left her, even in her 80s, as Marie looks back in her memoir on her two lives: a child Holocaust survivor and a Canadian with a lifetime of achievement in the arts, family life, business and service to her community.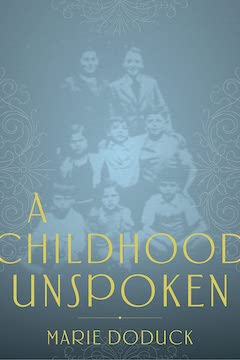 Entitled A Childhood Unspoken, this book of only 138 pages is a powerhouse! Co-authored and researched by Simon Fraser University history professor Lauren Faulkner Rossi, the memoir is written in two authentic voices: Marie Doduck the Canadian citizen, 86-year-old mother, grandmother and great-grandmother who, while recollecting her past, slips back into Mariette Rozen, being hunted or hiding in Belgium in the 1940s or transitioning to a new life in Vancouver in the 1950s. I began reading the first chapter silently. Then, the urgency and honesty of the voices behind the prose came alive. I wound up reading the entire book aloud to my partner Ruth, who grew up with Marie and shares high school memories with her.
It was an intense experience. There is in the book an urgency to at last speak the unspoken repressed memories of her traumatic childhood, to unearth and – most importantly – to verify the truth of Marie's memory about where Mariette had been, with whom and where she lived as she was bounced from one location in Belgium to another while running from the Nazis. Marie wondered: did Mariette really see her mother and brother snatched from a Brussels street by the Nazis or did that happen in a dream? Did she have grandparents? This and much more was verified through Faulkner Rossi's research. Marie's memory grew clearer, however, when she described the frustration of Mariette the teenaged refugee whose lack of English drove her to draw pictures in order to communicate with her Vancouver foster parents, the Satanoves.
But Mariette desperately wanted to catch up on her education, to fit into the Kerrisdale schools of Vancouver. To become a Canadian. Very quickly, and to the amazement of other children, she not only learned English but even seized leading singing roles in school operettas. As a married woman, the same talent, grit, brains and determination guided Marie to leadership roles in her children's schools, in her synagogue, in Jewish charities and in business with her husband, Sidney Doduck. She gained such a wide reputation as a Holocaust witness and survivor that she was invited to address the German parliament, which she refused.
Several of the Shoah episodes retold by the Doduck-Rossi team bear repeating here. In a Belgian orphanage where Mariette's Jewish origins had been carefully guarded, one of the nuns told the Nazis about her but then confessed it to the Mother Superior, who quickly opened a sewer for Mariette and banged the metal plate closed over her. Mariette waited for hours, terrified in the black sewer while rats crawled over her and the boots of Nazi soldiers clanged on the metal plate above. The Nazis left empty-handed.
Chased by Nazis, Mariette took shelter in a Belgian barn but knew that she couldn't hide in a loose haystack because they would be probing them with pitchforks, so she chose a tightly-bound bale, dug a hole for herself, crawled in and pulled the hay in behind her. Sure enough, a Nazi came and began probing the loose stacks with a pitchfork. As he left, he stuck the fork into Mariette's bale and pierced her hand. When the farm housewife came to rescue her, she found blood all over and took the child into the kitchen for repairs. "Who is doing all the screaming?" Mariette wondered out loud. "It's you," said the woman as she disinfected and bandaged the wound.
Although Mariette saw much brutality and death, there were some good people. Among her many saviours was a "good" German soldier. Mariette had been swept up on a Brussels street along with many other Jews and non-Jews, packed into a cattle car and transported to a concentration camp overnight. When the doors slid open at the camp, a Nazi soldier screamed in German, "What is my sister doing on this train?" Without hesitation, Mariette began screaming back the few German words she knew and the Nazi soldier took her off the train, put her into a motorcycle sidecar, drove her to the outskirts of town and dropped her off.
I was inspired by Marie's Judaism. There is also much to be admired about her lack of hate and her anti-hate philosophy, her lack of self-pity and the life force that drove her to accomplish so much and to give back so much. Yet this book is also a tribute to Marie's brothers and sisters and to all of those approximately 1,200 traumatized Jewish children who were brought to Canada after the war and strove to fit in and to make themselves a new life. It's a memoir that Marie's children, grandchildren and great-grandchildren can proudly cherish as a history of their ancestor who is one of this country's great Jewish Canadians.
Stan Goldman is a retired English teacher who lives in Richmond.