When my husband opened the package with Modern Jewish Cooking: Recipes and Customs for Today's Kitchen by Leah Koenig (Chronicle Books, 2015) in it, he remarked, "This one you're going to like!" And he was right.
Koenig is a writer and the author of The Hadassah Everyday Cookbook. When she is not living in Brooklyn, she is traveling around the country leading cooking demonstrations. Her philosophy is keeping a "loving eye on tradition … infusing history with … a sense of innovation … making the Jewish kitchen vibrant, exciting and ever-evolving." She has written Modern Jewish Cooking "for the next generation of Jewish cooks."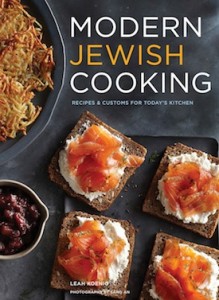 After an introduction on Jewish cuisine and keeping kosher, Koenig suggests how you should stock your kitchen and provides some how-tos. Then, she dives in with 11 chapters, from breakfast to dinner and desserts – 167 recipes – plus holiday essays and menus. These are enhanced by 57 color photographs and 11 essays. As well, Koenig includes all three elements I love in a cookbook: anecdotes or stories about each recipe, ingredients in bold or standing out in some way, and numbered directions.
The subtitle is "Recipes and Customs for Today's Kitchen." This is exhibited in the recipes' wide variety of origins, including North Africa, Spain, Eastern Europe (including Ashkenazi), Ethiopia, Hungary, Italy, Germany, Bukharia, Romania, Egypt, Israel, Sweden, Iraq, Persia and the Mediterranean. For Rosh Hashana, I highlight three of Koenig's recipes:
APPLE AND HONEY GRANOLA
(six to eight servings, suggested for an Ashkenazi menu)
1/3 cup honey
1/4 cup vegetable oil
2 tbsp light brown sugar
2 tsp ground cinnamon
1 tsp ground ginger
1/2 tsp kosher salt
2 1/2 cups old-fashioned rolled oats
1 cup roughly chopped walnuts
1/2 cup roughly chopped unsalted almonds
1 cup chopped dried apples
1/2 cup golden raisins
Preheat oven to 375˚F. Line a large rimmed cookie sheet with parchment paper.
Whisk together the honey, vegetable oil, brown sugar, cinnamon, ginger and salt in a small bowl.
Combine the oats, walnuts and almonds in a large bowl. Drizzle with the honey mixture and stir to completely coat.
Spread the granola on the prepared baking sheet. Bake, stirring occasionally until deep golden brown and tasty smelling, 20-25 minutes.
Remove the baking sheet from the oven, add the apples and raisins and stir to combine. Set the baking sheet on a wire rack to cool completely. Store in an airtight container for up to one week.

RED WINE AND HONEY BRISKET
(serves eight to 10, suggested for a Sephardi menu. Moroccan Jews customarily serve couscous topped with seven vegetables on Rosh Hashana, as the holiday falls in the seventh month of the Jewish calendar)
4- to 5-pound brisket
salt and ground black pepper
1 tbsp vegetable oil
3 large thinly sliced yellow onions
8 sprigs fresh thyme
8 thinly sliced garlic cloves
2 bay leaves
1 1/2 cups dry red wine
3 tbsp balsamic vinegar
1/4 cup honey
1 tsp onion powder
1 tsp garlic powder
1 cup chicken broth
Preheat oven to 325˚F. Generously sprinkle both sides of brisket with salt and pepper.
Heat vegetable oil in Dutch oven or large pot. Add brisket and cook over medium heat, turning once until browned on both sides, eight to 10 minutes total.
Remove brisket and set aside. Add onions, thyme, garlic, bay leaves, 1/2 cup wine and the vinegar. Cook until onions soften slightly, about five minutes.
Whisk together one cup wine with honey, onion powder, garlic powder, broth and one teaspoon salt in a bowl. If using a Dutch oven, lay brisket atop onions. If using a pot, transfer onion mixture to a roasting pan and top with brisket. Pour wine mixture over the top. Cover tightly with foil and transfer to oven.
Cook for two hours. Remove from oven, uncover and turn meat to other side. Re-cover and continue cooking two to 2.5 hours more, until meat is fork tender.
Remove from oven, transfer to cutting board. Cover with foil and let rest 10-15 minutes. Slice brisket, remove thyme and bay leaves. Remove onions and arrange around brisket. Spoon pan juices over brisket and serve hot.

COUSCOUS WITH WINTER SQUASH AND CHICKPEAS
(serves six to eight)
1/4 cup extra-virgin olive oil
2 thinly sliced yellow onions
4 cored, seeded, chopped ripe plum tomatoes
2 finely chopped garlic cloves
1 tsp ground cinnamon
1 tsp ground ginger
1/2 tsp ground cumin
1/2 tsp ground coriander
1 tsp sweet paprika
1/2 tsp red pepper flakes
15 ounces drained chickpeas
3 cups cubed, peeled butternut squash
2 peeled 1/2-inch chunked carrots
1/4 cup golden raisins
salt and freshly ground black pepper
2 1/2 cups vegetable broth
2 1/2 cups water
2 cups couscous
roughly chopped fresh cilantro or flat leaf parsley
Heat olive oil in saucepan over medium heat. Add onions and cook until lightly browned, seven to 10 minutes. Add tomatoes and cook until soft, about five minutes. Add garlic, cinnamon, ginger, cumin, coriander, paprika and red pepper flakes, and cook one to two minutes.
Add chickpeas, squash, carrots, raisins, broth and one teaspoon salt. Turn heat to low, cover and simmer about 15 minutes. Uncover and continue simmering, stirring occasionally until very slightly thickened, about five minutes.
Bring water to boil in saucepan on high heat. Turn off heat and stir in couscous. Cover pan and let stand five to 10 minutes, until liquid is absorbed.
Uncover couscous and fluff with a fork. Mount couscous onto a large platter. Make a well in the centre and fill with vegetables and chickpeas. Spoon a generous amount of liquid over couscous and sprinkle with cilantro. Serve immediately.

Sybil Kaplan is a journalist, foreign correspondent, lecturer, food writer and book reviewer who lives in Jerusalem. She also does the restaurant features for janglo.net and leads weekly walks in English in Jerusalem's market.