Maury Wills, Milton Berle, Jimmy Piersall and Willie Mays in a salute to baseball on the television program The Hollywood Palace in 1967. (photo from ABC Television via Wikimedia Commons)
Today's comedy superstars, especially those whose careers are driven by television, may very well owe their success to pioneering Jewish entertainer Milton Berle.
Born Mendel Berlinger in Manhattan in 1908, Berle became America's first small-screen star. Aptly nicknamed "Mr. Television," he influenced and helped promote the work of hundreds of younger comics.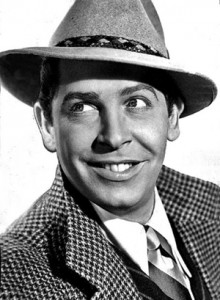 "Milton Berle was deceptively successful and very Jewish," said Lawrence Epstein, author of The Haunted Smile: The Story of Jewish Comedians in America, published in 2002, the year Berle died. "His success came about because early television sets were mostly sold in wealthier urban areas, with Jews and gentile urbanites accustomed to and appreciative of Jewish humor. So, Berle's quick talking, his high-speed jokes, his dressing in outlandish costumes and his sprinkling of Yiddishisms all played well. Ironically, it was Berle's success with those urban audiences that propelled the sales of televisions around the nation."
Epstein explained that once televisions reached the rural areas of America, viewers "took a look at [Berle] and said he spoke so fast they couldn't understand him, and that he wasn't funny, and [they asked], 'What was that foreign language?'"
He said, "That is why Berle's television career was meteoric. It burned brightly but briefly."
Berle's close friend Lou Zigman, a Los Angeles-based labor lawyer and Brooklyn native, disagrees with Epstein's use of the word "meteoric," arguing that Berle never burned out like a meteor does. Berle kept performing, assisting other comics, giving to charities and spreading Jewish culture until his death, and he was even performing card tricks as a hospital patient at age 90, according to Zigman.
"I asked Milton how come all the gentiles knew Yiddish humor," Zigman said in an interview. "He answered that the great majority of comedians and writers in those early years were Jewish. That's why it spread, and our culture spread, all over the country."
At age 5, Berle won an amateur talent contest and appeared as a child actor in silent films. He became a vaudevillian at age 12 in a revival of the musical comedy Florodora in Atlantic City, N.J., and was hired by producer Jack White in 1933 to star in Poppin' the Cork, a musical comedy concerning the repealing of Prohibition. From 1934-36, Berle was heard frequently on The Rudy Vallee Hour radio show and attracted publicity as a regular on The Gillette Original Community Sing, a Sunday night comedy-variety radio program broadcast on CBS. Then came the Milton Berle Show, a variety format he would revive for his television debut.
Read more at jns.org.