In Richmond Jewish Day School's Food Lab Program, students help prepare meals once a month. (photo from RJDS)
One by one, students at Richmond Jewish Day School filter down the hallways following the smells of a delicious and nutritious meal. Waiting for them in the gym is lasagna, Caesar salad and a pesto prepared by RJDS students with the help of Jewish Family Services culinary master, Chef Zoe Sorokin.
RJDS's Food Lab Program is the first of its kind in a Jewish day school in Metro Vancouver. It is just one of the current programs running in RJDS to enhance students' access to healthy and nutritious food in a way that promotes community and inclusiveness. Every week, JFS makes and delivers hot meals at no cost to the students or their families. Once a month, students in grades 4 through 7 take an active part in this, helping with the preparation of the meals, including chopping, grating and cooking the plant-based ingredients.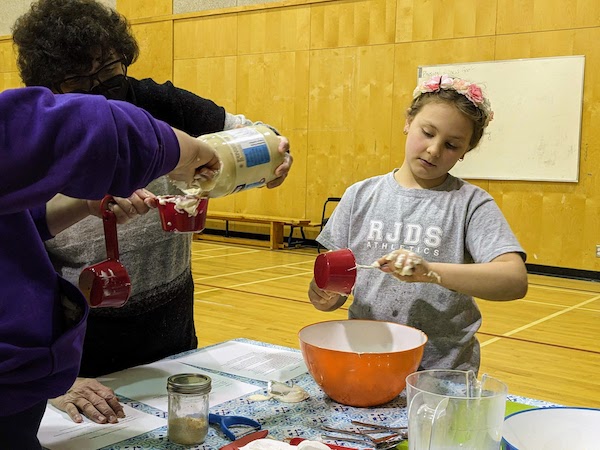 "I enjoy learning new cooking skills," said Naomi, a Grade 4 student. "My favourite dish was the bean soup."
"I love that we use all our senses when cooking," said Ella, who is in Grade 5.
With demand at food banks growing over the course of the pandemic and rising inflation, food insecurity has become a reality for more families. RJDS students and school staff have led several efforts, with the support of social service partners, to help families feeling the pinch. Last year, with the assistance of the Jewish Federation of Greater Vancouver, Kehila Society and JFS, RJDS began a community fridge and pantry program. The partner agencies, plus the Richmond Food Bank, keep the fridge and pantry stocked and RJDS families can access free healthy snacks, dry goods, fresh produce and meals during school hours. The Food Lab represents an expansion of the school's food programs.
"The students at Richmond Jewish Day School have absolutely loved the weekly hot lunches," said principal Sabrina Bhojani. "Our parents have also expressed their delight with this program, knowing that their children are receiving a warm, healthy and nutritious meal at school. The research is clear – good nutrition helps our children to focus, concentrate and self-regulate, which, in turn, results in improved learning and student performance."
She added, "Not only are the students helping in preparing food to be enjoyed by the school, they are also learning about making informed decisions about food choices, food safety, the importance of food supply and healthy nutrition."
"I love participating in the Food Lab program," said Yahel, who is in Grade 5. "It is a fun experience and I get to learn new skills that I can use at home."
Vienna, also in Grade 5, agrees, saying: "I enjoy learning new cooking skills that I can share with my family."
The RJDS kitchen has become a place for children to learn new and valuable life skills, to enjoy good food with friends and, most importantly, a place in which they can contribute and build strong relationships.
– Courtesy Richmond Jewish Day School