"At Rest" by Dov Glock, mixed media. Glock is one of several Jewish artists participating in this year's West of Main Art Walk. (from artistsinourmidst.com)
The West of Main Art Walk Preview Exhibition and Sale kicks off at the Roundhouse Community Centre May 18-19. The West of Main Art Walk itself welcomes guests into artists' studios May 28-29. Among the artists participating are many from the Jewish community, including Michael Abelman, Olga Campbell, Dov Glock, Pnina Granirer and Lauren Morris.
The preview – which is open for visitors 10 a.m. to 9 p.m. both days – features a reception at the Roundhouse on May 19, 7-9 p.m. Preview visitors will be able to buy the work of some of the 80 local artists taking part. There will be paintings, ceramics, jewelry, textiles and photography, as well as free art demos.
Artwork will also be for sale on the walk, which includes studios from Point Grey to Main Street, and from Granville Island to 41st Avenue over the May 28-29 weekend. Dozens more artists are showing their works all under one roof in larger hubs like Aberthau Mansion, Art at Knox and Pacific Arts Market. There, you'll also find art demonstrations and more. At Lord Byng Mini School for the Arts, you'll discover young emerging artists.
Also part of the month's events is the annual (since 2018) Art for All Fundraiser. More than 70 artworks have been donated – and all are on sale for $50 each. Proceeds will go to the art program at Coast Mental Health. Its resource centre's art room opened in 2000, and is a place where clients discover their creative potential while developing new ways of expressing emotions, healing pain and growing their self-esteem and self-awareness. Supported by volunteers – including clients and professional artists and art instructors – who give their time, feedback and encouragement, clients are able to work in a number of media, including paint and sculpture; supplies are provided. An annual art show brings together the artists, other resource centre members and Coast clients, family and friends and the general public to celebrate their work and their journey towards recovery.
Granirer, who was a co-founder of the very first open studios walk in Vancouver in 1993, is doing something a little different from the main event. On May 18, 7 p.m., at the Roundhouse, she is launching her poetry-art memoir, Garden of Words. (For more on the book, see jewishindependent.ca/poetry-and-painting-flourish.) Some of the paintings featured in the book will be exhibited and the books will be available during the whole time of the preview and at Granirer's studio during the walk weekend.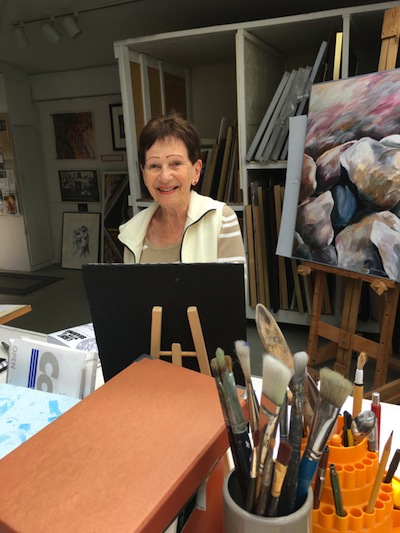 During the walk, Granirer is inviting people to her studio, where she will be offering her works for 50% off, with proceeds being donated to Stand up for Mental Health, which has helped people suffering from mental health issues to do away with stigma all over Canada, the United States and Australia.
Artists will be opening their studios from 11 a.m. to 6 p.m. on May 28 and 29. This is a unique opportunity to meet the artists, enjoy the art and ask questions. More information and the interactive online map can be found at artistsinourmidst.com.
– Courtesy Artists in Our Midst and Pnina Granirer