Orly Ashkenazy's "Strings." (photo by Olga Livshin)
The Festival Ha'Rikud group exhibit at Zack Gallery, Celebrating Friendship, presents 23 artists in a variety of styles and media. Each artist, in his or her own special way, explores the theme of friendship.
Photographer Judy Vitek interpreted the theme literally. The children in one of her photos and the texting teenage girls in another live hundreds of miles apart, on different continents, but their friendships are unmistakable.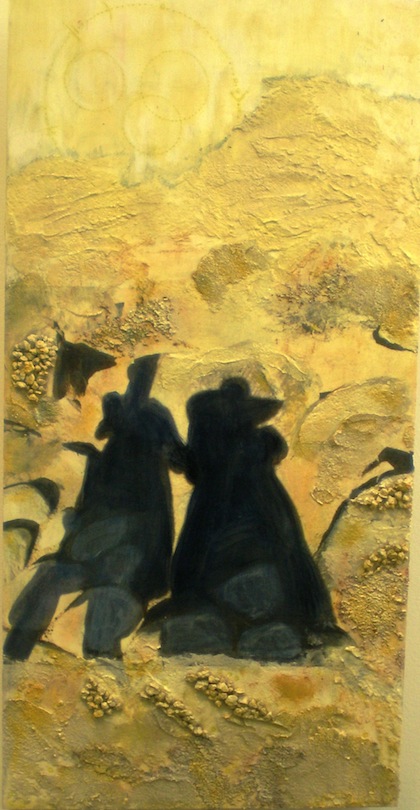 On the other end of the spectrum, the abstract canvas by Lauren Morris could be seen as a medley of lines and colours, intertwining and mixing like friends at a party. Or perhaps it is a firework explosion. Or a flower bouquet a friend brought one summer afternoon.
Flowers bloom in Carl Rothschild's paintings as well, but there is nothing abstract in his imagery. Maybe the artist glimpsed his poppies and lilies in a friend's garden or on a neighbouring street. Cheerful and unblemished, his flowers are his friends. They wave their bright petals in recognition of their creator's love for his home city.
In contrast to Rothschild's decidedly local milieu, Gaye Collins' painting, "Friendship through the Sands of Time," feels like an exotic metaphor. Two black figures stroll away from the viewer through a vague landscape, reminiscent of yellow dunes or poetic imagination. The painting is dreamlike, and the figures undefined. Friends or lovers, they tell a story everybody knows, but nobody remembers.
Another metaphor, Jennie Johnston's small and elegant quilt, is a labyrinth, a place of search and contemplation, a path leading into the heart. Whose heart? Everyone must decide for themself.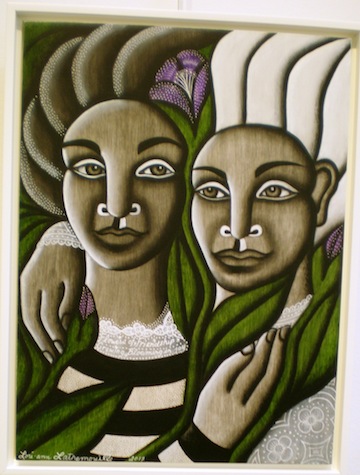 Between conceptuality on one hand and photographic precision on the other, two paintings stand out – two of the few where faces play the major role. While Yodhi Williamson's "Chance Meeting on 4th Ave" conveys the simple joy of accidentally bumping into an old friend, Lori-ann Latremouille's "Flowers of Friendship" channels a more complex narrative. In it, undertones of doubt and surprise mingle with recognition and kinship in the artist's deceptively transparent double portrait.
Faces also appear in Sima Elizabeth Shefrin's two tiny fabric panels, but here they resemble primitivistic art, innocent and childlike, ideas rather than portraits. In both panels, an Arab and a Jew refuse to succumb to the current political facts – they want to be friends.
Hope also emits from Alina Smolyansky's shining piece "Jerusalem Domes of Faith." Three temples of three different faiths grow out of the same root, united inside one hand, one hamsa, one finite world.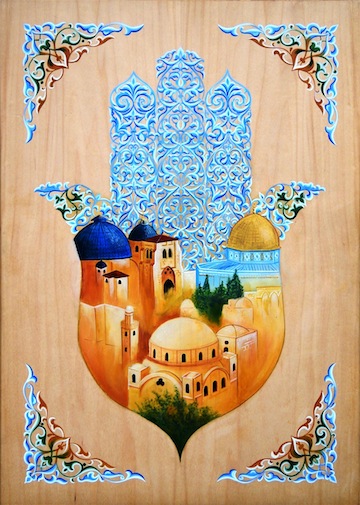 Pamela Cohen explores a different aspect of hope: an aerial view of a brightly coloured patchwork of countries and borders. Could friendships develop across those delineated borders, as the artist implies? Or is it wishful thinking?
Orly Ashkenazy's composition "Strings" doesn't feel very hopeful, although its meanings resonate on many sublayers. At first glance, the painting is a random collection of rough face drawings. They look like pencil sketches. A tangle of cotton strings stretch and intersect, cross and turn, connecting those faces. The strings bind them, bind us all; however, a splash of red paint runs from top to bottom of the painting, dividing it into two separate parts like a river of blood. No string crosses the river, no connection manifests between its two sides.
Another work, a tapestry by Vladimira Fillion-Wackenreuther, pays tribute to Prague, the city of the artist's youth. Tinged with nostalgia, the woven image is playful, uplifting. It reflects Prague's medieval architecture, its culture-infused streets and traditional Czech marionettes. The city is indisputably the weaver's friend, and she invites all of us to join in the friendship.
Many other artists are featured in the show – Aurel Stan, Ava Lee Millman Fisher, Beryl Israel, Claire Cohen, Gail Davidson, Joel Libin, Joyce Ozier, Monica Gewurz, Marion Eisman, Patricia Haley-Tsui, Sidi Schaffer – and each has enriched the concept of friendship with his or her unique perspective, talent and skills.
The exhibit opened May 4 and runs until May 22.
Olga Livshin is a Vancouver freelance writer. She can be reached at [email protected]